Events Coming Up

There are many events coming up locally in California and online, and recent interviews to listen and learn with Sandy.  Keep checking back for updates, and make sure you are on the Animal Wisdoms eNewsletter list. 


Get out of Overwhelm, Get Unstuck.  Get Clarity. Make More Powerful Choices. Join us for this Illuminating Talk in San Luis Obispo on April 24, 2017. Registration and Contact info below.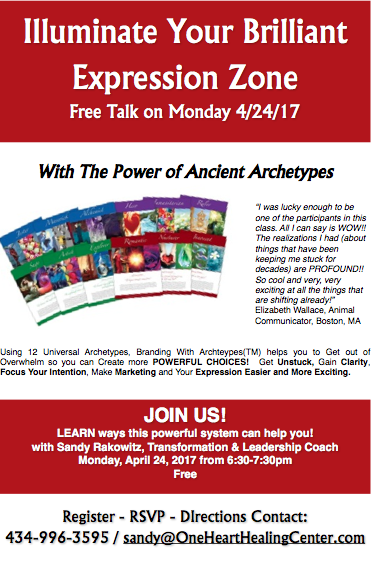 TTouch for You and Your Dog
 An Afternoon Workshop
Sunday 3/26/17 from 1-4 pm
Info and registration details Click Here
Give yourself and your dog a wonderful Gift for the New Year and join us for an afternoon….
Experience the joy of putting your heart in your hands, and your hands on your dog, with a method that approaches learning and performance with Joy. 
Tellington TTouch Training enhances behavior, performance and health while deepening your relationship between you and your dogs.
Reserve your Space Today!  CLICK HERE to Register for this Introductory TTouch with Your Dogs Workshop in Arroyo Grande, CA with long time TTouch Practitioner, Sandy Rakowitz
Come see us at the Meet and Greet on February 10 – see below.

Listen to Sandy Rakowitz talks with guest host, Jennifer Stover, about the gifts that animals bring to us, and ways they help us… even dare us… to open our hearts – and, abnout enhancing confidence, performance, and health with your dogs, cats and horses.  Click here to listen to this and other inspiring and informative interviews with Sandy!

Learn 7 Ways to Safely Use Young Living Essential Oils With
Your Pets in a 7 day mini eCourse Click Here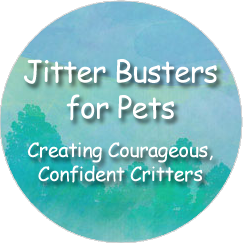 In This five-week Holistic Wellness Training Series you will learn: How to develop skills using a variety of time-proven, easy-to-learn, holistic, natural methods that give you a solid base of tools to use with your dogs, cats and horses.
Jitter Busters gives you 6 + hrs of course presentations to help you to create calm and peace in you favorite fuzzy friend using methods that you can put into practice as you listen with your dogs, cats, horses.  PLUS….
…Audio downloads, exercise handouts, checklists, quick reference guides, with Bonus fully illustrated 74 page companion workbook guide, video demonstrations, step-by-step instructions, and more…all personally taught by me to help YOU develop empowering and effective tools you can use immediately for any and all of your animals, or animal clients.  We've been adding additional video demonstrations, question and answer classes so your learning can deepen and expand over time.  You get class access weekly for 5 weeks to help you spread your learning out, though you can watch and access all the classes as often and whenever you like, on your own time schedule.  You then have ongoing 24/7 access.


Make sure you are getting the Animal Wisdoms ezine for details on all upcoming events as they are announced!  2016 has many wonderful events coming covering stuff like essential oils, animal communication, money breakthrough methods, animal spirit guides, sacred money archetypes and MUCH MUCH MORE.  
If you are not getting Animal Wisdoms sign up now so you don't miss a thing! 


Comments from Class Participants

"Sandy, thank you for giving so much in the phone conference tonight, for making it simple but profound.  Your deep love of animals comes through. 

Also thank you for teaching us that we, I, need to look at myself, when living with my cat family just as in any human relationship." 
~Judith Greene

"Wow, Your Class!  Thanks.   I tried one of the methods you gave us in class with my dog.  She almost immediately stretched out and closed her eyes – a very different reaction.  Usually, she'll accept petting for a minute or two, but then move away – especially if we stroke her legs. 

This time, however, she looked very relaxed, so I paused for a few moments and then continued with the steps you outlined.  She stretched again and moved around so I could get her other side.  After a few minutes of that, I paused again, let her absorb that. 

Then I continued using the methods as outlined and she loved it.  Stretched out, eyes closed, completely relaxed, even when I stroked her legs.  What a difference!  Thank you for such great information!"
~ Kristin Neubauer, Writer, Virginia


"Sandy's knowledge is astounding. Just by talking about the subject at hand, she taught me things I might never have had access to…"   ~ Anon


"WOW Sandy!  You really knocked my socks off.  That class was incredible.  Thank you so much. I can't get enough of this stuff!"  
~ Tara Dean, Horse Trainer, Virginia


"I really learned a lot from your class last night. Ginger and one of my cats Buddy were there with me. I can feel a weight lifted off of me with what I learned and can't wait to re-listen to the program. I think all the negative is what was being an issue with Ginger and I. I could also see a difference with my dogs at work with using what I learned. 

Ginger and I thank you for helping us. I had to laugh at the question asked at the end from the lady with the Malinois. That could have been me. Ginger barks at me all the time. I told her we need to work on a different way of talking and I think she is trying.

Almost a year later, Joanne shared this story with me of how she continues to use what she learned from this class:  "Logan and I had a big SAR certification test last weekend. I was very nervous and worried about the test. I sat and talked to him like I learned in the class I took from you a while back. I told him how he needed to find the line (the scent trail) and show me where it went.

Well we did a 1.4 mile trail in 58 minutes. Seven turns, two water crossings, two road crossing fields and woods. He was awesome. I just kept telling him to find the line. The evaluator said after the test it was like he had an earpiece and some one was telling him where all the turns were on the trail. 

I explained to the evaluator what I had been telling Logan and about what I had learned. He actually started using the same phrase the rest of the weekend. He said it made sense.

Thank you so much for what you do and the information you shared in your class. I just had to share this with you."

~ Joanne Kuchinski and K9 Logan IPWDA certified trailing dog, Virginia