What is Animal Communication?

Tapping into human and animal potential…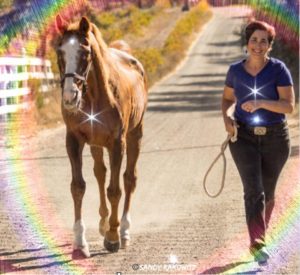 In Animal Communication, you enter the magical world of a deeper connection with animals.    Information is transmitted back and forth between a person and an animal telepathically through the senses.  Thoughts, feelings, behaviors, desires, preferences, motivations, and purpose in life can all be conveyed.
Animal Communication sessions help animal lovers understand and connect with their animals more deeply and fully.  Sandy is a bridge between you and your animals, both living and those who have passed on and is a conduit for healing energy.
Understand their behaviors and reasons for behaviors from their perspective
Find out your animal's needs, feelings and thoughts about a situation
Clarify things your animal loves, likes and dislikes
Understand perspectives between multiple animals
Uncover insights to puzzling issues
Discover your animal's experiences with an illness or injury, old trauma, abuse or fears
Prepare an animal for transport to the Vet, shows, trips & vacations
End of Life Care and Hospice Support
Communicate with animals who have died
Get Confirmation of your own intuitive knowing
Receive Tips in improving communication with your animals
Deepen the bonds between you and the animals you love!
Communication with animals is powerful and can be profoundly healing for both of you.
With Animal Communication, the exchange occurs via images, thoughts, emotions and words that are heard, seen, sensed and felt telepathically rather than with words like you and I speak out loud.
Sometimes the conversation is filled with humor.  Other times fears, details of daily life, deep insights or heart felt expressions are communicated.
Each animal will convey their own personality, preferences, and purpose, just like humans.  Some animals have advice and much to say for their people, and others will be rather quiet and stoic.
The combination of Animal Communication with Energy Healing, Tellington TTouch, and Essential Oils greatly deepens the process of understanding your animal and offers many tools for enhancing the health and well-being with your animal.
To schedule your appointment with Sandy, please click here