About Brennan Healing Science, also known as Energy Healing Medicine

Through Private Sessions and Programs for You and Your Animals, Learn About and Enhance your:
Vitality and wellness
Unique Life Purpose
Hara, the intention and ability to accomplish life goals
Inner spiritual guidance & intuition
Physical, emotional, mental and spiritual well-being
Unique expression of your creative process from your divine core
How does Energy Healing Medicine work?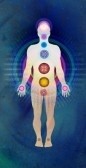 Surrounding and interpenetrating the physical body is the Aura, or the Energy Field.  Comprised of very specific levels, the energy field is made up of 7 levels of structured lines of light and fluid levels.  Each level has specific 'jobs' and relates with the physical structures of organs, muscles, tissues, blood and so on, as well as emotions, thoughts and beliefs, and our spiritual connections.
By working directly and specifically with these levels and chakras, day-to-day functioning on all levels (physical, emotional, mental, spiritual) can be supported, restored and enhanced.
I work with both of my hands directly on the body when in person, and also through the energy field and chakras which surrounds and interpenetrates the physical the body.  People remain fully clothed.  When working during phone or online consults, I also work through the energy field and chakras.
When working long distance via phone, FaceTime or Zoom, the process is the same.  I work as you as if you were here with me, on the table and connecting with you as if you were here in person.  People and Animals such as dogs, cats, horses, ferrets, birds, fish, etc, from all across the U.S., Canada, Mexico, Caribbean, Europe, Japan, Guam, New Zealand, and Australia have found the work to be deeply life changing and enhancing.
Sessions and Programs:
Private 1:1 sessions for you, or any of your animals are available via phone, FaceTime for a single session, or a series or program for more in depth growth and healing.
Sandy is a former faculty of the Barbara Brennan School of Healing and can assist you in developing your energy healing skills from beginner to advanced.
Confidentiality & Supervision
Any information you share with me is always kept confidential.  I may however, discuss clients with a professional mentor or supervisor for the express purpose of continuing my professional development and so that clients can receive the best assistance possible.
Self-Care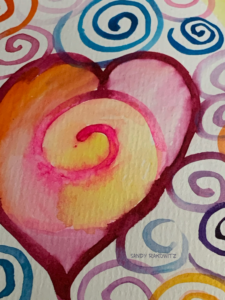 Self-Care is an extremely important part of this work, and is always encouraged at home in between sessions and during sessions.  If at any time during a session you are uncomfortable, please let me know.  I can always adjust how I am working to better accommodate you and what is happening in the moment.
Drinking plenty of water will help to support you. Taking extra showers or baths will also help to enhance your energy field.  Eating foods that are nourishing for your body is always important, and equally so for the next days after a session.  Refraining from using alcoholic beverages and recreational drugs for at least 24 hours following our session is also recommended.
What I do and don't do
I will read and sense the information that I perceive energetically in your energy field and relay this information to you.  Usually I offer recommendations that can enhance your healing.  When people follow this guidance, typically their experiences are greatly enhanced.
I do not diagnose or prescribe treatment, and I am not a medical professional with people or animals.
If you or your animals have any physical injury or disease condition, I recommend that you or your animals also be in the care of a licensed medical professional.  I will not advise that you discontinue any medical treatment you or your animals may also be receiving. I will refer you or your animals for medical assistance or other appropriate practitioners as needed.  I always seek to enhance whatever other treatments you choose to use.  This work is compatible with many modalities.
Sandy's background with Brennan Healing Science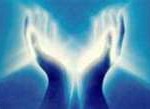 I attended the Barbara Brennan School of Healing from 1991-1995 and in 1995 I graduated from this amazing 4 year Professional Training Program, the world renowned Barbara Brennan School of Healing (BBSH).  I continued on with my studies at BBSH, completed the rigorous Teacher Training and am very proud to have been faculty from 1995-2001. And I have been a guest speaker at numerous Healing Medicine and Disease lectures with the school.
Combining the hours of training as a student over the four year training program, Teacher Training, Teaching as Faculty, and on-going Supervision, I have well over 3,500 hours of training in Brennan Healing Science with over three decades of experience with many thousands of animals and people.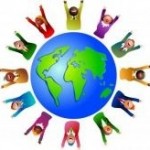 The School is a global healing institute dedicated to the evolution of the human spirit and is the world's premier institute of hands-on healing and personal transformation.  The specialized form of holistic health-care taught at BBSH is a hands-on healing system that works with an individual's energy consciousness system.
I look forward to helping you and your animals live vibrant, intuitive, fluid & inspired lives.
FOR ALL CURRENT ACTIVITIES, OFFERS, SESSIONS, COURSES & CLASSES
GO to OneHeartUniversity.com Click Here