The Tellington TTouch® Method for Horses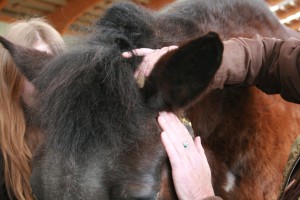 TTouch has tools to help you and your horse!
Without using fear or force, through the three areas of TTouch – Bodywork, Learning Exercises from the ground, and The Joy of Riding, horses demonstrate marked improvements in: the ability to learn and perform athletic skills, developing a deeper rapport with people, an increase of understanding, trust, wellness, balance, coordination and focus.

View the simplicity and ease of using TTouch with your horse with Linda Tellington-Jones demonstrates the basic TTouch®.
"We are progressing on ALL levels & dimensions since your visit to work with my horse!  Again…..Many Thanks!"

"Just got off Garcon – did TTouch on his legs before I rode…well, I couldn't BELIEVE how up he was – I've never seen him like that.  He kicked off into a really forward trot…I had to do a bunch of sepentines to settle him down…and even dropped my crop.  He sure didn't need it.  It had to have been the TTouch."  K. Neubauer
Want to learn TTouch but don't live close by?
Do you have questions? Not sure if you are doing the circles right, or need help knowing what to do next with your animal?
Using video conferencing on Zoom I will coach you through what to do. With live video conferencing I can see what and how you are doing the TTouches and help you so you can help your animal! This is a great way to learn TTouch basics, or learn in depth when you can't travel to see me in person.
FOR ALL CURRENT ACTIVITIES, OFFERS, SESSIONS, COURSES & CLASSES
GO to OneHeartUniversity.com Click Here
Learn more about using TTouch:
About TTouch
Companion Animals
Horses
People
From a Veterinarian
Top of Page