Download a Chapter from the
Upcoming Book
Continuing The Connection
The Eternal Light of Love
Continuing the Connection is about connecting through your heart with your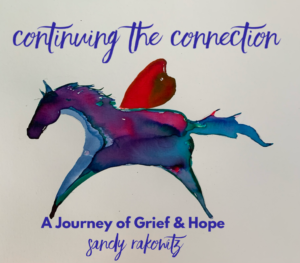 your animals, nature, Source, yourself – and, with your beloveds across all time and space after they have 'dropped the wrapper of their body.'
What could life be like if your days and nights were immersed in continuing the connection with your loved ones after they've passed…
…Instead of feeling and focusing only on the loss and what has already transpired?
This chapter includes the sacred messages from Ibis the horse shortly after he passed over called The Eternal Light of Love, and Light Ascending.
In this book, Discover Heart-Healing messages to:
inspire you
soothe your heart

 

ease your mind
release the past
access your deeper wisdom
tenderly connect with your animals
be more present with those you love
Explore ways connecting with animals after they've passed can enrich,
transform and empower your life.
Send me the free chapter – Click Here

Fill out your info, then check your email for the download link.
Here is what people are saying about the Journey Of Continuing the Connection with Sandy Rakowitz and Ibis the Horse as guides and mentors:
"Your messages with Ibis are a powerful gift to all of us.
I could feel the presence of all my horses who have passed while listening to you.  Many blessings to you through this time. I see Ibis cantering happily, in his own Heaven as on Earth.  Love to you Sandy."  ~Patricia, Charlottesville, VA


"This is one of the most beautiful send offs I've ever seen, Sandy!  The flowers, the song, the atmosphere… he looks so at peace!"  ~Terri, Afton, VA


"Reading and crying at the beauty and wonder of all of this, and you, Sandy and your epic relationship. This is truly a Song for the Ages.  Angels are rejoicing and you will carry The Connector to many more to come. Deepest love to you, my friend." ~ Eliza, New York, New York


"Thank you for sharing these detailed images and activities of such a poignant moment. You are not alone in your sorrow. We are shedding tears with you. Although I never met your beloved Ibis, he was an inspiration to me and my relationship with my animals. I felt his presence come to me so strongly… As I was spending time with my own girl, remembering to be present to share love and gratitude."  ~Penny, California


"Weeping at the beauty of your love for your boy and the deep relationship you share with each other. Thank you both for your gift of sharing your deep love and tenderness. May Ibis be galloping softly into a new dimension while your bond transforms into this new reality. I send you love and compassion and energetic soup from the East Coast." ~ Joanna, Northampton, MA