Compassionate Care for Aging Pets:
Online Class Series To Empower Yourself

Enhance Your Pet's Quality of Life
During their Golden Years: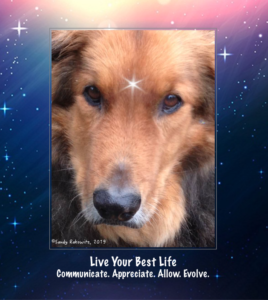 * Address Aging Issues 
* Gain Clarity with Difficult Health-Care Decisions
* Learn Supportive Natural Practices in addition to vet assistance
Purchase the Pet Hospice Class Series 
Click Here

You'll Receive:
• Practical Tips when the vet says they don't have anything else they can offer
• What to do when your dog or cat is: No longer hopping on the couch; Unable to go up the stairs anymore; getting stuck in the corner; Slowing down on walks; No longer hearing you when you call; Not eating as much; Can't hear you anymore
• Insightful Stories about Dying naturally at home
• Compassionate Steps for Making Difficult Decisions about Euthanasia
• Important Talks to have with your animals before they go
Plus you will Learn:
• Ways to know when "It is Time" – and when it is "Not Yet Time"       
• Signs and Signals of pain and discomfort
– and what you can do for supportive care in addition to Vet care.
• To Create Meaningful Rituals
• A Potent Practice for Honoring animals who've already passed away
Get these 3 Pet Hospice Classes for the price of Two classes!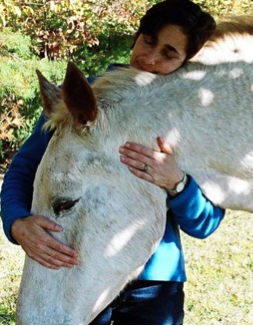 You get 3 Inspiring MP3 Audios & 3 e-workbooks
These are Digital Recordings (not live classes) 
For Peace in your Heart with your Pets
Click Here to Purchase the Pet Hospice Class Series
This one-of-a-kind Pet Hospice Training Series includes:
* 3 E-books (120 pages total)
* 3 downloadable MP3 Audios (4+ hours)
* Delivery to your computer or electronic device
Gratitude from people who have taken these Pet Hospice classes with Sandy Rakowitz:
Reminder to Take Time To Live
"This Pet Hospice class helped me see the death and dying process with pets in a more positive light. In particular, I loved your message from Grace the horse.  It was so beautiful, and is a wonderful reminder to take the time to live through the process."
~ Deborah Kushner
More than a Class, This Felt Like a Healing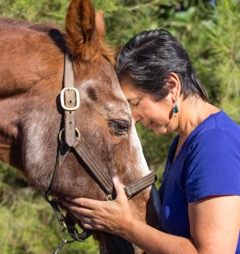 "Thank you for sharing such deep, personal experiences, stories and tools to use.   Sandy, you are amazing…I want you to know that your Pet Hospice class was much more than just a class. I feel like it was a healing for me. 'The Honor Prayer' is amazing and life changing. Thank you for a beautiful gift of healing, I sure didn't expect that. Thank you, thank you, thank you!"  ~Sharon Daussin 
Helpful to Hear Experiences
"Thank you for your generosity in offering the the Pet Hospice Class and sharing your personal stories with us. I found it very helpful to hear your experiences and those of fellow listeners on the call. I think it takes an extraordinary person to be in the hospice care field as well as pet hospice. Being with another, patiently and gracefully thru their process of end of life care and dying is amazing and beautiful and also really challenging for me. Thanks for shedding some light on the process and bringing up some great points." ~ April A Whiston

Released Feelings of Grief
"Thanks so much for addressing this very important issue that so often gets swept under the rug. It is very comforting to know ahead of time that there are things we can do to make this a better transition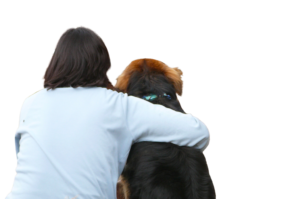 for our loved animals. Although my dog is young, I am so glad to have this information for the future. It also reminded me to spend more personal time with my parents who are in their 90's!
The sharing in Q & A helped me to release some of the feelings of grief for our other sweet dog who we had euthanized last year. I had wanted to spend more time after he passed and still feel that I missed out, but am glad to know about waiting a while for burial in the future. It's also a good lesson for me in remembering in to follow my intuition because I had not wanted to bury him right away as we did.  Thanks again for your sharing."   ~ SRb
These Courses are an Immense Help and Source of Support
"What a wonderful class last night (Pet Hospice Class 2) – very touching and inspiring. I learned so much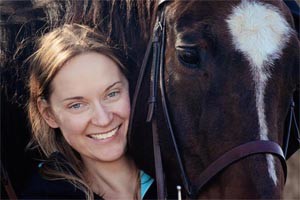 and also felt such relief that we seem to be on the right track with Charlotte in her golden years.
Thank you for talking about Bear's story! He loved how you described his life, especially when you talked about his strength of spirit – that he never gave up. A sense of contentment fell across him when you said that. He says that's what he wants people to remember about him more than anything.
Thank you – and thanks to Haley, Ibis, Zoey, Scarlett, Liza, Sunny, Grace, Pasha and Jetta – for all the work you have all been doing on these courses. They are an immense help and source of support!"
~ Kristin Neubauer
Every moment you have together is precious,


P.S.  Even if your animal is not yet a senior, get this series now, and create
an enhanced life NOW, and which will serve you through all their days. 
Meet a few of the special elders you'll hear about in class: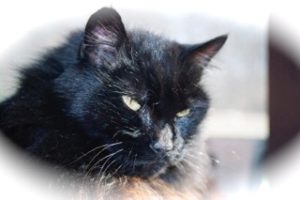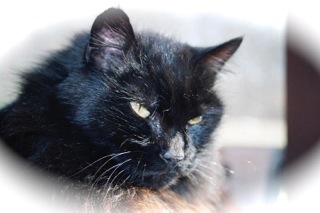 Harmony, a Golden Retriever – Hound Mix was 17 when she passed and was just a few months shy of her 18th birthday. She's one of the many inspiring elder dogs featured in the "Pet Hospice" Series.
Scarlett, with 18 years cat of wisdom, she shares her messages of a peaceful passage, another highlight of the Series. (Pictured)
Click here to Purchase the Pet Hospice Class Series
About Sandy Rakowitz: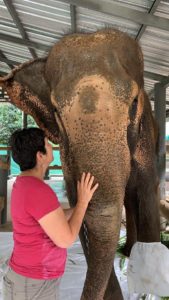 Sandy is the founder of award winning One Heart Healing Center for People & Animals.  Awaken to the Truths of your Innermost Being through Animal Communication, Tellington TTouch for Self- Help, Energy Healing, Pet Hospice and additional Transformative Practices.
Get Started with Your Free 'Communicate with Your Animals Kit' ~ Click Here
Sandy pictured with Motala, a 60 year old Asian Elephant, while they worked together in Thailand, December 2018, at Friends of the Asian Elephant Hospital.  
Listen to Sandy's messages she has been receiving from the Elephants on her Youtube channel with Reminders of Who You Truly Are, Journeys Into the Cosmos and Back with Elephants. Click Here