Mustang Magic Series

An Inspiring Healing Adventure
for your Heart-Mind-Soul
with Mustangs & Spirit Horses
Engage your Heart, Mind & Soul
with the Empowering Medicine of Spirit Horses & Wild Mustangs…
Let the Magnificence of Mustangs activate
Inner Quiet, Harmony, Strength & Freedom in you.
Join this 5-part Series



Class access of recordings & simple supply list will be sent via email upon registration.
Highlights:

EXPERIENCE magical time walking with the Soul of Mustangs
DISCOVER Your Spirit-Horse 'Totem Medicine' – Unique for YOU
CREATE your own Mustang-Magic Messages
REVITALIZE through your Spiritual Connections
REKINDLE a Return to Freedom inside your heart
UNBRIDLE Creativity that may have been dormant
Find peace, connection and wonder
when spending time with your
Spirit-Horse and Mustang-Heart-Medicine.
Be inspired in this 5 part, healing adventure series of classes,
delivered to your computer, so you can relax and spend time immersing
into this world of spirit horses, mustangs, and creativity.
Class 1:  Spirit Horse Guide Journey
You will be lead step-by-step to: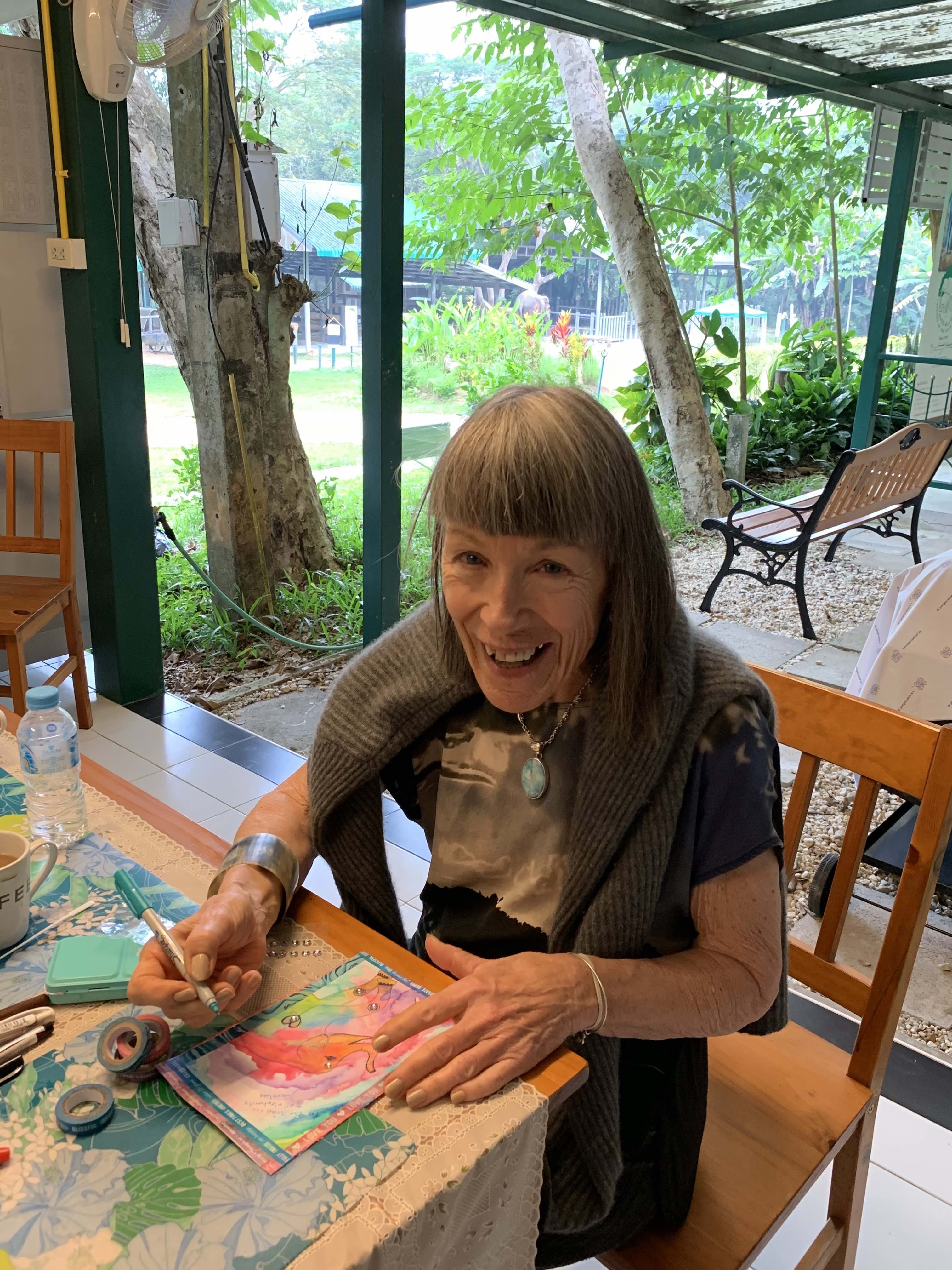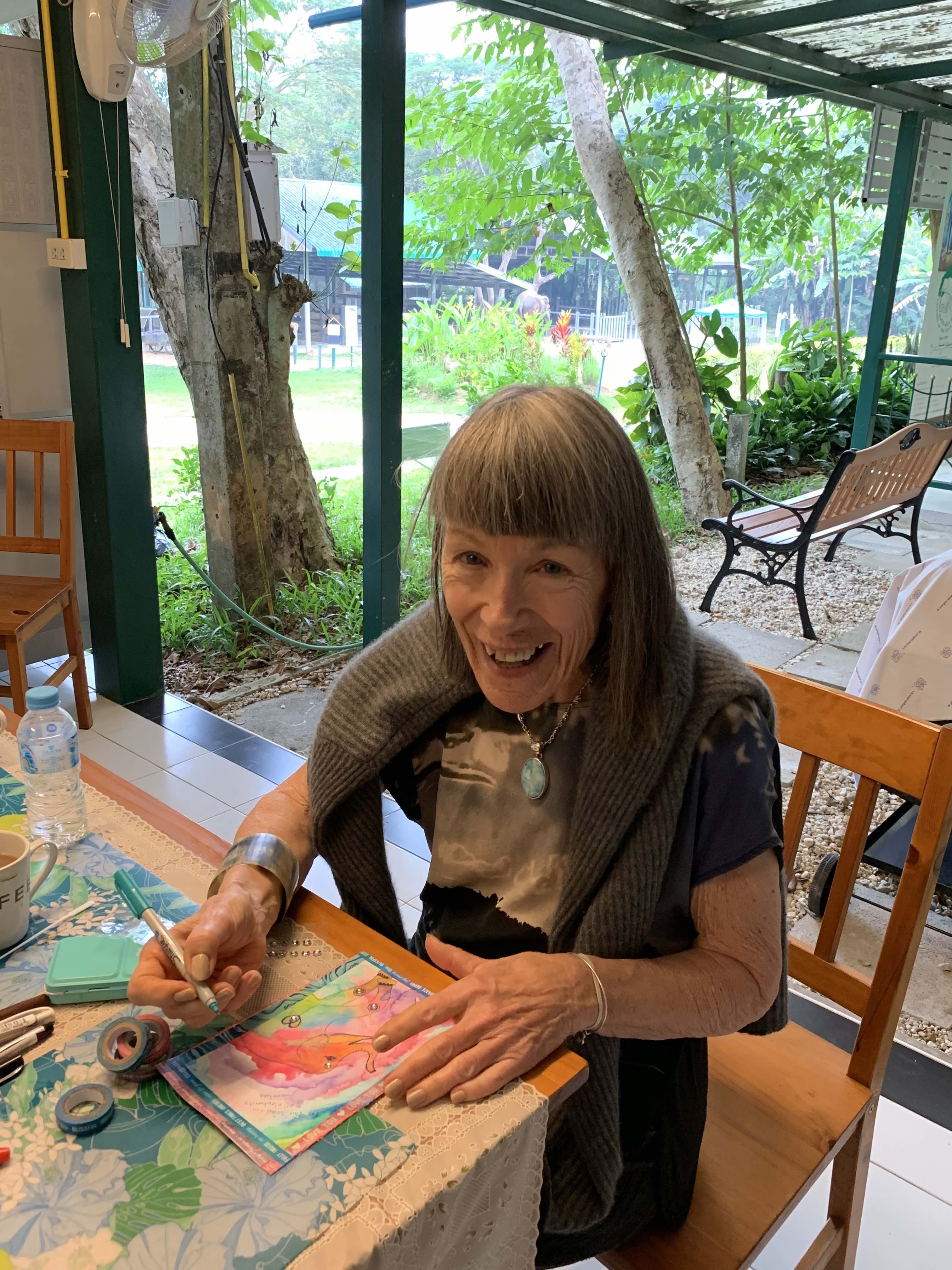 Explore your connection with your Horse Spirit Guides
Meet Zoey the Pony, workshop assistant.  She shares her heartfelt connections, and offers deep grounding support for your spirit-horse journeys.
Find out key messages to guide you with the mustangs, and in your life
Gain clarity to bring back into your daily life
Begin your Spirit Horse Art Journal (Simple supply list given to you)
Also in class 1:
Unleash Your Creativity – Learn Step-by-Step to: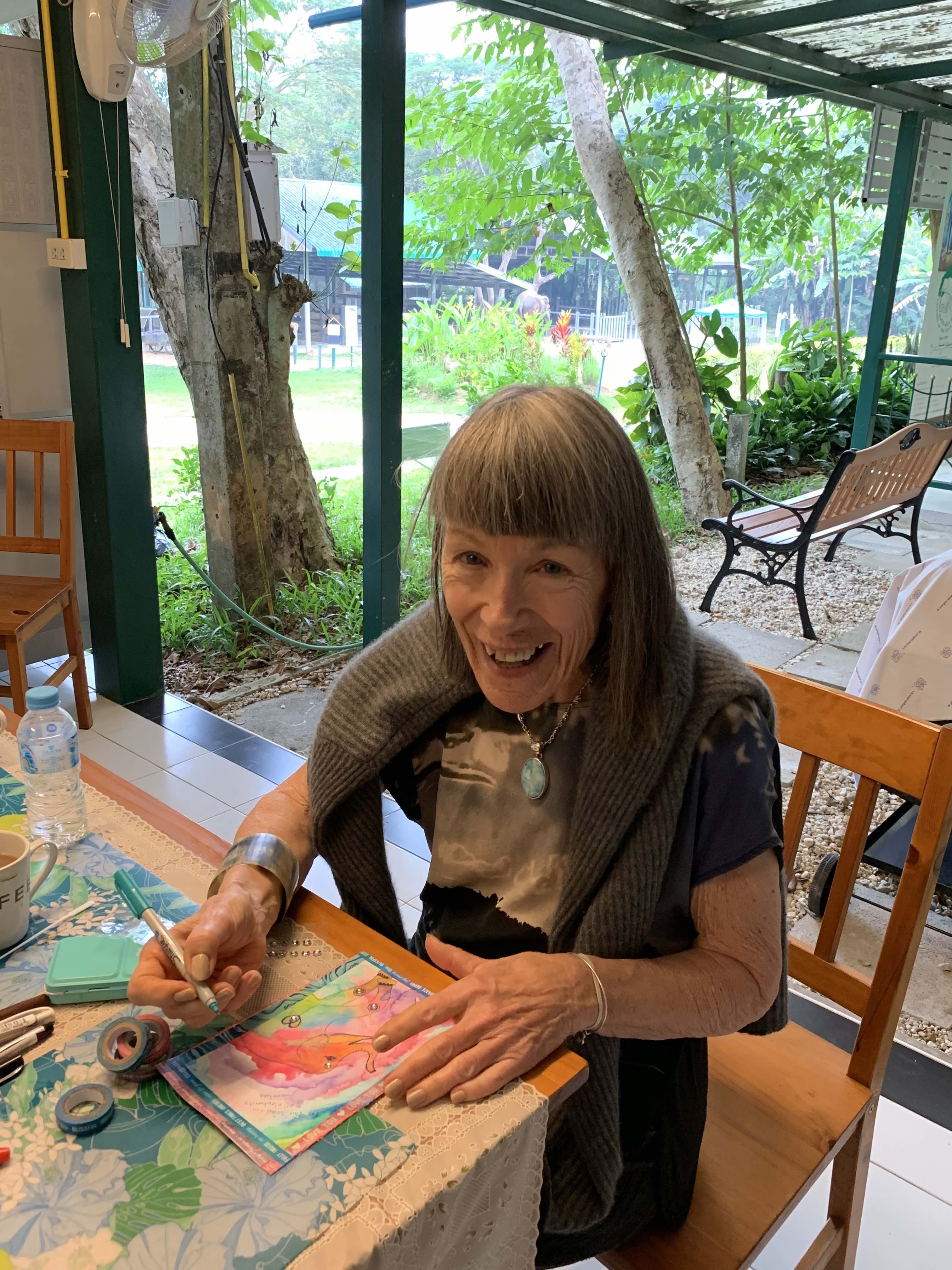 Meet with your Spirit Horse Guide
Learn the medicine specific for you and how to work with this in daily life
Write powerful, insightful messages
Begin your inspiring and beautiful mixed-media visual journal

 

Tap into Soulful Truths and Wisdom
"I just love the events you lead. For hours I forget that there's a global pandemic.  Instead I feel alive.   Joy, excitement & freedom fill the air within the comfort of my home. It's as if the universal energies of love, painted a heart around the globe with the colors of the sky."
~ Natalie M., California
Class 2: Soul of Mustang Journey
You will be lead step-by-step into a new world: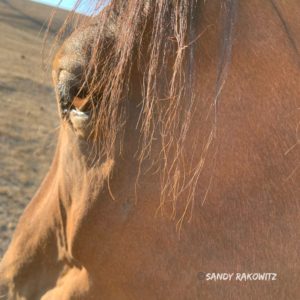 Experience a powerful journey with a herd of wild mustangs unlike any journey you have ever taken before
Understand your role in the herd as you gain insights into your purpose in life
Gain insight into specific steps for you to move forward in your personal life
Become a potent ambassador for keeping Mustangs safe and free
You will continue to turn your Spirit-Medicine Experiences into a Beautiful Keepsake
Class 3: New Depths of Creativity
Continue diving into the meaning of your experiences with your Spirit-Horse Guide and Mustang Magic Medicine
Learn to create an empowering and profoundly integrating way to record your thoughts, memories, and emotions through images and words
Expand the personalized messages to continue guiding you through life
Release constricting thoughts
Access Intuition
Class 4:  Spirit Horse Magic Wand
Make a Fun, Playful, Whimsical Magic Wand

You will get the steps to create your magic wand along with a supply list for this fun project.
Delightfully, there is nothing serious about making a Magic Wand… This is simply to add more child-like fun, whimsy, magic and beauty into your life these days!
You can even make a herd of Spirit-Horse Wands if you wish!
Class 5:  Tour of Mustang Sanctuary – Virtual
To further enhance your connection, you can go on a virtual tour of the beautiful, magical,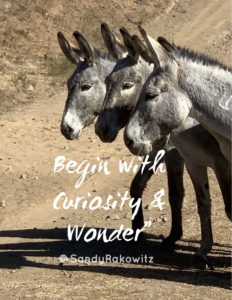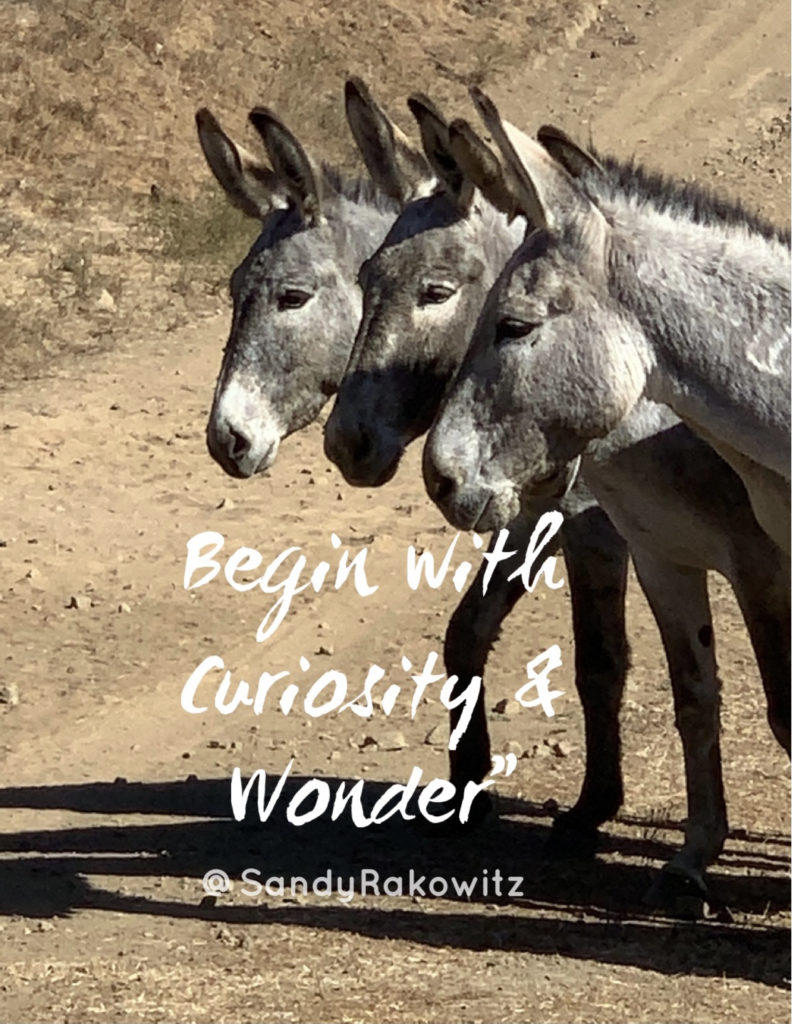 mustang sanctuary as if you were there right beside Sandy.  Imagine being in the open air, on a 4wheel drive road in search for mustangs and burros, exploring 2,000 acres.
A herd of adorable Burros may even greet you!
We will virtually tour:
Drive through Ancient Oak Groves, feel their magic, wisdom, steadiness
Stand on hilltops with extraordinary views of hills, ocean, ancient tree groves
Drive through the Sanctuary, viewing different grazing areas of the Mustangs in an open air vehicle
Drink in the powerful landscape
Visit with Mustangs from afar, and nearby
Imagine walking with Sandy as she visits and interacts with the Mustangs
(Most of these mustangs are wild born, captured, penned and then after years in holding adopted by this sanctuary to return to freedom in safety.)
Benefits of the virtual tour combined with the connections you have already made from Spirit-Horse and Mustang Journeys together with your Creativity Unleashing:
Feel a sense of quiet, connection and belonging
Listen beyond words
Expand into a sense of connection and unity
Delight in virtual Mustang interactions
Get a respite from the chaos and challenges of the world
Drink in the revitalizing beauty of being out in nature that feels remote but is close to town
Spend time together with wild born horses living free"
The relaxing, empowering, self-paced, 5 part healing adventure evokes self-care, inspires an unleashing of your inner-creative while revitalizing your heart, mind and inner-environment.
Truly Magical, I didn't want the day to end…

"Thank you so much for this amazing workshop.   I absolutely loved the day. I didn't want it to be over.  It truly was magical.   I absolutely loved Zoey and how spiritually connected she is.  I will always remember this day." ~ Marlene P. 

Only $97 for this magical experintial series



Class details & simple supply list will be sent via email upon registration.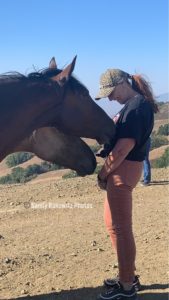 These are not just any horses….
…most were wild born…
…living in a large herd -on thousands of acres…
…it is truly breathtaking to be in and near their presence…
…most people never have the opportunity to experience any of the amazing power…
…80 horses thundering by…
…peacefully grazing, walking together as a herd…
…silent signals back and forth communicating among them, turning as one,
running as one, resting as one.
Please reach out to Sandy with any questions. Sandy@OneHeartHealingCenter.com
About Sandy Rakowitz
Sandy specializes in creating empowering, life-changing, transformational experiences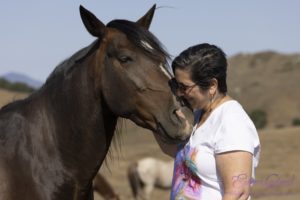 in connection with animals for over 30 years.  She is well known for her inspiring Animal Connection Healing Adventures.
Pictured left is Sandy being surprised with Mustang Heart Snuzzles!!!!
She wasn't expecting any interaction close up like this….
…this guy kept putting his head in Sandy's hands, and touching her heart.

What people are saying about working with Sandy Rakowitz:
"This Animal Communication Adventure has created a Haven for self-discovery and galactic connectedness. The safe place that this adventure created by Sandy is something that will forever shift my life. Meeting the Big Cats two years in a row, feeling the long standing connection with them, and deepening it through 4 days was something beyond the English language.  My life has forever been changed.

Sandy, you will forever be a mentor who I hold deep in my heart and soul. The appreciation I have for you will extend across lifetimes."

Emily Jones, Ohio, Animal Communicator
"Toby and I have just had THE BEST retreat weekend with Sandy. It was everything we needed, we both learned so much. I feel like a whole new me…A me I'm meeting for the very first time!"
~ Jana Wagner, Pennsylvania, Animal Communicator
"I highly recommend Sandy Rakowitz's class to anyone interested in communing with horses/animals. She is world renowned, and such a multi-talented Lady. She's also a former BBSH teacher.

She has authored and created her own programs for decades – in short, she's one Magic lady! You don't want to miss this one."

~ Joy Adler, Graduate and Department Head of Advanced Studies, BBSH, FL
Dean of N.Y.C, Barbara Brennan School of Healing
"Working with Sandy has given me lasting tools and living medicine to change my life for the better.  I've also had the privilege and inspiration of witnessing classmates grow, change and blossom into happier, emotionally healthier and newly energized women using those same tools, but in the way that's most powerful and appropriate for them.  There's healing for each of us in the medicine Sandy so lovingly teaches and shares. "
~ Penny Case, Tennessee
"If you have ever wished you could communicate more consciously with your animals, Sandy can help. She is the 'Whole Package."
~Laura Ainsworth, Animal Lover from Oklahoma

"I just love the events you lead. For hours I forget that there's a global pandemic and we are "sheltering in place." Instead I feel alive. Joy, excitement & freedom fill the air within the comfort of my home. It's as if the universal energies of love, painted a heart around the globe with the colors of the sky."
~ Natalie M., California
"I've been deeply moved by your channeled messages you share with us.  You inspire me every time you share.  And I am grateful to you."
~ Bernadette Yao, Massachusetts
"Through this program I feel a deeper bond with my dog and with client's animals.With animal clients there are more non-verbal connections opened.This is one of the beauties of this work.Before taking this class, my dog would often focus on others when out walking.Now she is listening and paying attention to me.In training she is more receptive and willing."
~ Barbara Iwanaga, California
"I am talking with people and sharing.
I am getting positive feedback vs being invisible.
I am dreaming and remembering my dreams for the first time in years since
my my consult and class with Sandy."
~ Alicia, Charlottesville, VA

"The experience working with Sandy was very opening for me and formed an alignment in me that I hadn't seen before.It brought the awareness of my life's longings and how I have been readying myself to the essence that they have distilled into.  It was a very opening, powerful, energetic, heartfelt and sacred experience for me.Sandy is an extremely grounded and heart-centered healer."
~Deckllan Hartte, Texas
"Appreciating you for your integrity and aliveness, and for the generosity and authenticity of your being for animals and people alike."
~Hope O'Brien, Tennessee