Thank You For Registering for 
the Pony Painting Party – Online!
Join us Live in Sunday August 16, 2020 from 10-11am pacific
(zoom info, supply guidelines and Video of Previous Pony-Painting Parties below)
You will be painting from an image of Zoey on paper
at the same time I paint and decorate Zoey – Live while we are on ZOOM! 
How Fun!!!
SUPPLY GUIDE
A Few Notes First:
You do not need any art experience at all. 
Keep this as simple as you like, or make it as elaborate as you desire.
Images of Zoey will be sent to you closer to the day of the Event for you to Print out.
Use any Supplies you have on hand:
~ For Painting – Any Kind of Paint will work – Finger Paints. Watercolors, Acrylic
~ For Coloring – find any Colored pencils, or Fun Colored Markers, Pastels, Gel Pens
~ For Collaging – any magazines, old cards, tissue papers will work for filling in the Images of Zoey  (Have a Glue Stick if you will be Collaging paper – or using embellishments.)
~ Embellishing Ideas: Stickers, small feathers, ribbons, whatever you find around the house. 
You'll get more details with the Supplies Guide emailed time you closer to the Day of the event.  
ZOOM INFORMATION – look for the email being sent to you right now.  
Watch this Video of previous Pony Painting Parties!  Click Here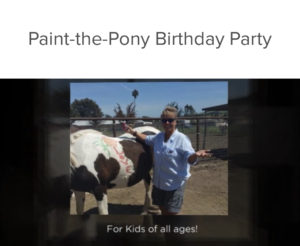 See you soon!
Sandy Rakowitz