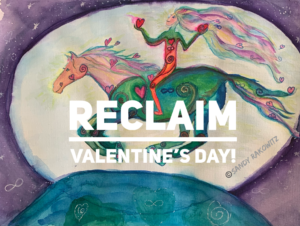 Confirmed, You are Enrolled in Reclaim Valentines Day Class Series!
#1 Step: check your email and confirm your subscription.  
The email will come from sandy@onehearthealingcenter.com
Reclaim Valentine's Day is a NEW, Exciting, Playful and Fun Way to Live Life More Purposefully and create a new reality for yourself…
…Where you can:
Become friends with a New Range of Positive Feelings in a TOTALLY Creative, Easy and Innovative way
Make A Unique V-Day Card Deck – as a Gift for You
Create Card-Gift to Send to those you Love
#2 Step: Mark the Class Dates in your calendar:
Class 1) Wednesday, February 10 @ 10-11 am pacific
Class 2) Sunday, February 14 @ 10 – 11:30 am pacific
(Class times are approximate length)
#3 Step: Find out what time this is where you live:
https://www.thetimezoneconverter.com
#4 Step: Look for emails for your templates, supplies list, how to access the class, and all you need to know.

With Questions or need help, just email me: sandy@onehearthealingcenter.com
See You Soon!