Stress Busters for Pets
& Their People
Have a dog, cat,
horse, bunny, bird or other animal?
Learn a simple, gentle, hands-on approach
so your animals can:
Adjust more easily to a new home
Build Trust, Connection together
Gain Confidence together
Introduce Animals together
Get to know ways to relax with your new animal
Reduce Anxieties
Decrease Reactivity
Ruby exhibits much more self-control and stability in challenging situations since working with you. My husband  I are noticing that she has been more focused than ever.
~ Bev D. California
Learn simple & easy-to-apply ways to:
Increase ability to bond with people and other animals
Lower stress levels

 

Learn more easily
Promote calm and relaxation
Reduce body & mind tension
Increase coordination and focus
Enhance socialization skills
And Just To Feel Good!
Great to learn for People who have:
Recently adopted an animal
Adopted an animal in the past
Volunteer at Animal Rescue organizations & Sanctuaries
Staff at Animal Rescue organizations & Sanctuaries
Vet Techs and Vets
Anyone who has an animal
People who want to deepen their bond with their animals
Those who want to help their animals feel better, more relaxed, healthier
For less than a month of food for your pet, learn techniques that you can use for the rest of their lives.
Through Sandy I have learned how to understand my dogs in a way that I never thought possible. I have more understanding and more patience for our most loving companions. It has definitely made me a better person, and I believe a better trainer.
~ Ellen B. Florida, Dog Trainer
Frequently Asked Questions:
Q: What animals can attend?
A: Any species!  Dogs, cats, rabbits, Guinea pigs, pot belly pigs, snakes, horses, farm animals are all welcome.
Q: Do the animals have to be present in class?  For instance,
I have a dog, cat, bunny or bird who is shy of the camera.
I have a horse and she can't be in the house!
I have farm animals who live outside.
My snake won't stay in my lap.
My bunny does not like being in my lap.
A:  No, Your animals do not have to be on camera, in the house, or in the room for you to learn in class.  You can learn these simple techniques, practice on yourself, and then apply them with your animals after class.
Q: Can I use these techniques with my puppy, kitten, baby animal?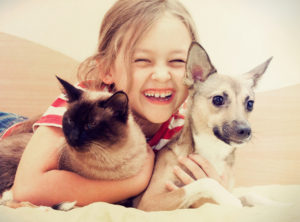 A:  YES! The techniques you will learn work beautifully with any age.  For pups, kittens and any young one, this helps any animal learn more easily and to be their best self!  
Q: I have a senior animal, will this work for them?
A: YES! For Senior & special needs animals, you will gain new tools for added support.
Q: Can kids join in too?
A: YES! Children and adults of all ages are welcome!  This class is wonderful to take as a family.
"Bringing my two kids and our two new puppies to Sandy's class helped us all learn about ways to get along really well, calm the pups, calm the kids, and helped us all focus more easily.  As a parent, I benefited just as much as the kids and pups!"   ~Robin B. Virginia
What will happen in the class?
You'll be guided Step-by-Step through simple-to-learn, gentle techniques to help:
Socialize more readily
Gain confidence for timid & shy ones
Enhance self-control for impulsive, exuberant or demanding behaviors
Increase coordination
Address reactivity
Increase coordination
Develop Trust, Communication & Connection
There will be time for questions and discussion.
Additional resources will also be given.
About the method being taught in this class:
Techniques taught in this class are based on The Tellington TTouch Method®, a unique approach to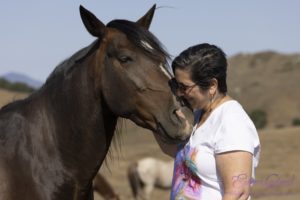 animal training and care developed by internationally known trainer, teacher, and author, Linda Tellington-Jones.  This method is based on understanding and respect for your animal friend.
This gentle method promotes well-being and adaptive behavior through an integrated approach that helps to reduce stress and build confidence.
Tellington TTouch is well known for over 40 years in humane societies, rescues, training centers and with lay people to help animals be more easily adoptable, for pet retention once in the home to keep pets and people happier, healthier and more well-adjusted.
For less than a vet visit, learn techniques you can use for the rest of your pet's life.
About Sandy Rakowitz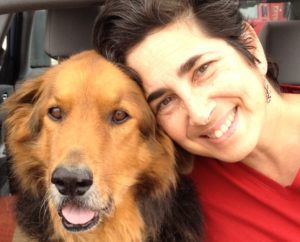 Has been a Tellington TTouch practitioner for 32 years, and worked closely with its founder Linda Tellington-Jones for many years with horses, companion animals and people.
Recently, Sandy and Linda collaborated together creating four signature global programs in TTouch-for-You Online, serving over 600 people around the world learning TTouch for Self-Care for people, and their animals.
Sandy, is a professional Animal Communicator and practitioner of many holistic hands-on methods to enhance people's connection with their animals for over 30 years.
You don't have to have any problems with your animals to benefit from learning these Stress Busters Methods.  Anyone can benefit to deepen their bond, and find additional ways to relax and enjoy your relationship even more fully.
Got Questions?  Email Sandy