Discover Tellington TTouch®
For your own self care
and to support others.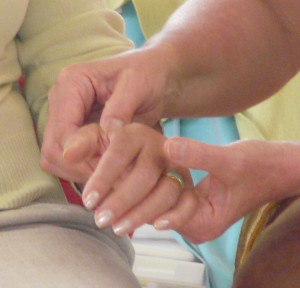 TTouch is a gentle yet effective type of non-invasive bodywork for people in addition to animals!
Who can benefit?
Individuals in Pain or Discomfort, Athletes, Caregivers, Educators, Health Care Professionals and anyone in need of nurturing, gentle yet powerful and effective bodywork.
"I cannot believe how much my TTouch session helped me. It has been almost 4 months now with no pain after suffering for years.  I am a big fan of TTouch now. I know it has helped our agility career too."

"In the night I woke feeling bloated.   I took time to use slow circles with a slide on my belly, all around the intestines, and it felt wonderful. What was especially wonderful was the empowerment I felt in trying this new way of working, both for myself and for others."
Want to learn TTouch but don't live close by?
Do you have questions? Not sure if you are doing the circles right, or need help knowing what to do next with your animal?
Try an online ZOOM session using video conferencing and I will coach you through what to do. With live video conferencing I can see what and how you are doing the TTouches and help you so you can help your animal! This is a great way to learn TTouch basics when you can't travel to see me in person.
To schedule your appointment with Sandy, FOR ALL CURRENT ACTIVITIES, OFFERS, SESSIONS, COURSES & CLASSES
GO to OneHeartUniversity.com Click Here
Learn more about using TTouch:
Tellington 'TTouch-For-You' now has ONLINE programs!  To view on demand classes and upcoming programs check the One Heart Events page.  Click Here
About TTouch
Companion Animals
Horses
People
From a Veterinarian
Top of Page