Reclaim Valentine's Day
Paint and Play with Purpose Classes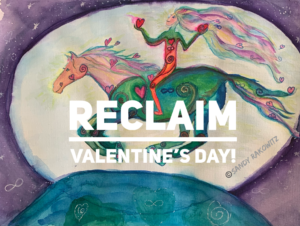 Valentine's Day is a highly charged emotional day for many people.
Some people want to avoid it altogether.  Others feel sad, anxious, annoyed by it, judge it, are frustrated, or even angered by Valentine's Day.
And some, love and embrace Valentine's Day.
What has been true for you around Valentines Day?
I feel pain around Valentine's Day
You are alone and don't want to be

 

You are missing someone you can't be with
Your significant other doesn't care about the day, and YOU DO!
You have had a recent break-up
Someone you love has recently died
You are a caretaker, and your person is unable to celebrate together
You are grieving

 

You celebrate and love the day
You celebrate with your friends and animals
You shy away from the day
You try to ignore it
Your heart hurts
You Dread this Day!
Will you Join us to Reclaim the Day
and create a new reality for yourself?
In this Two Class Series you can:
-Reclaim VDay and what this Day of Love means for you
-Take Luxurious HeartSelf Time for You (Be Kind-to-You Time)
-Explore your Creative Expression
-Cultivate Self-Loving Self-Appreciation
-Empower Yourself
Reclaim VDay is a NEW, Exciting, Playful and Fun Way
to Live Life More Purposefully 
Become friends with a New Range of Positive Feelings in a TOTALLY Creative, Fun, Innovative way
Make A Unique V-Day Card Deck – as a Gift for You

 

Create Card-Gift to Send to those you Love
Reserve Your Spot Now, it's only $17.00!





Reserve Your Spot and for only $17.00 you will get:
-Simple V-Day Supplies and Materials List 
-Templates for Making Your V-Day Card Deck, Cards for Yourself, and Cards to Send
-Lessons to Paint and Play Step-by-Step with Colors, Shapes and Words
So You can Create:
1) Your own Unique V-Day Card Deck
2) Powerful, Playful, Affirming V-Day Cards for Yourself
3) V-Day Cards to send to those you Love
4) A New Experience with Valentine's Day
5) Fun and Playfulness
No Art or creative experience is needed.  But Creatives will love this too! 
All you need to bring is a pen, paper and yourself!
You will get a Simple Reclaim V-Day supplies and materials list when you register.
And, In class, you will be walked through a fun and playful way to reclaim the day for yourself, make cards for you, and those you love.
CLASS DATES and TIMES
Classes are recorded and sent to those who enroll.
Wednesday, February 10 @ 10-11 am pacific
Sunday, February 14 @ 10 – 11:30 am pacific
(Class times are approximate length)
Reserve Your Spot Now, it's only $17.00!





Why Create this Series to Reclaim Valentines Day?
As a highly romantic, deeply loving, sensitive idealist, I LOVE having a day to focus and bring attention to LOVE.  However, I grew up super shy, sensitive and developed alot of shame around these aspects of my essence.  So I began to hide my exuberant love, held back my desires for sappy, mushy, gorgeous romance.
The pattern of holding back my love was everywhere, in all I did.  Most people I partnered with didn't share my ideas about romance.  I usually gave away my power to the day, and to my partner at the time.  And so there was always disappointment.
And then, I had a horrible break-up from a long term marriage, on that dreaded day… yup, Valentine's Day.
So you could say I am recovering my Love and Appreciation –  Love and Appreciation of Self; Love and Appreciation of Romance; Love and Appreciation of my Ideals, Love and Appreciation of Life, and even My Love and Appreciation of Valentine's Day.
Like all of life's ups and downs, this is an ongoing work in progress.  I have found that in offering special Valentine's Day creative offerings over the years, I heal, I learn, I love, I share and then we collectively get to share the creativity, love and healing for all of our hearts!


Join us, Reserve Your Spot Now and Reclaim the Day with Heart-Play!
This class series is only $17.00!

Please Share the Love and share this page with your friends.


More About Sandy Rakowitz: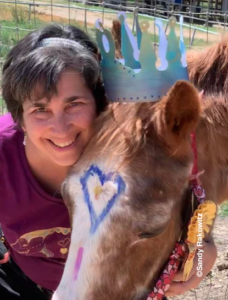 Sandy guides people to find their voice and realize their dreams through innovative Multidimensional Coaching, Animal Communication and Soul Path Programs.
At 27, Sandy 'came out of the closet' as a Lesbian.  She understands her choice to incarnate as a Lesbian, Jew, Woman, as one who communicates openly and professionally with animals, nature, energy and consciousness across time and dimensions as co-creatively healing for herself, humankind and universal consciousness.
Sandy stands for believing in 'What is Possible' co-creating realties that have never before been able to be in existence – altogether, at the same time, openly, safely, in her personal life, publicly, professionally, in the name of the highest of Light and Love, all while getting paid well.