Does your dog slide on slick  or uneven floors?
Has your dog had trouble getting up from a wood, tile, uneven or other slippery surface?
Is arthritis, hip dysplasia or back issues preventing your dog from moving around comfortably in the house?
Struggling and slipping to get up can be very hard on your dog's hips and knee's,
not to mention hard on their psyche.
Here's some ideas to help your dogs feel more secure and steady so they are more able to get a grip on the floor to create traction.
For those who have weak hind ends, injuries or other issues where they tend to slip-slide away on the floors, use one or more of these to help them move around the house more readily and safely.
Mats and Carpet Runners
Yoga Mats used along the floor from one place to another to create something like a 'carpet runner light weight, flexible, textured, cushioning rubber.  These are durable, long lasting and easy to clean mats that allow a good grip for balance and stability.  They protect the knees and joints and are available in a wide variety of colors.  Amazon has a wide variety of sizes, brands and pricing.
CarpetSaver, which is more economically priced, lightweight, non-skid floor and carpet protector. These are washable runners that are absorbent and foam-backed.  They can conform to stairs and other uneven surfaces, provides, grip, and easy to cut.  This would be an alternative to Yoga Mats. See www.CarpetSaver.com for ordering.
Carpet Runners can also be used to create stability and a non-slip surface for moving from one area to another. Available where carpets and rugs are sold in stores and online.
Booties or Socks
Dog Booties come in many variations from Ultra Paws Durable Dog boots, hiking boots (yes for dogs!) to lightweight house booties, all with with grippers to help dogs to get traction on uneven or slippery floors and surfaces.  See your favorite local Pet Store or order online.
Socks for dogs have non-slip bottoms, are washable and easy to use for inside use.
Great for senior dogs, hip dysplasia and arthritis. Socks for people with grippers on the bottom may also work for some dogs. See your favorite local Pet Store or order online.
ToeGrips for Nails
Toe Grips are small non-slip bands that go around the toenails. Helps senior dogs and for pain and mobility management. There may be a stimulating action to the brain which may be helping dogs pay more attention to their paws.
Although designed for senior dogs who slip or are weak, they have seen that ToeGrips may also be helpful for disabled and rehabilitating dogs. See your local pet stores or go online to:  http://www.toegrips.com
These are just a few important tips for your aging dogs to help their quality of life.
About Sandy Rakowitz: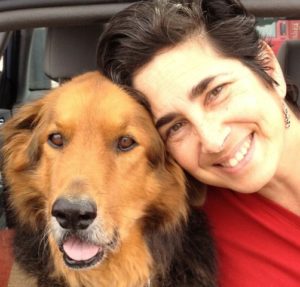 Founder of One Heart Healing Center for Animal Communication and Holistic Practices, Sandy has been leading people to deeper connections with their animals and hearts for over 30 years.  For consults Click Here 
Sandy is pictured with her lovely 13 yr old dog Haley a few months before she passed over.  She loved and lived her best life, right up to the end.