How do you feel first thing in the morning?Â
Are you often reluctant to leave bed, and
want to stay nestled as long as possible?
I know some of you enjoy lingering in the dream-world
savoring your dreams,
or remain in a half-awake state for as long as possible,
snuggle with your animals….
…eking out every last moment before waking fully to the new day.
Some just don't like the mornings, dreading what might come,
or might not feel hopeful.
Or, do you WANT to get out of bed….
…and start your day with zest?
Â
Which do you tend to lean towards?
Whichever your preference,
enhancing your outlook and switching your mind and heart
from foggy, post-sleep dreamland can be supported
with some shifts or changes in your routine.
Here are some tips to give you a boost when starting
your day that can be energizing, balancing,
and even offer a sense of protection.
I know these are far from the only tips you might use, these are six that I've found toÂ
be especially supportive out of dozens of possible helpful morning boosters.
Please adapt these tips freely to best suit you and your preferences.
TIP 1) Visualize yourself surrounded inÂ
golden – white light that permeates through every cell in your body.Â
See and feel this golden-white light all around you,
filling inside you, and going out in every direction.
See your cells shining bright from their
very center, sparkling and twinkling.
This light comes inside you, is naturally here inside you,
and is all around you already.
By bringing your attention to your light,
you can activate and strengthen your own light.
If you have difficulty seeing this light,
hold an intention for this to be present.
Notice how this feels.
Spend a few minutes to an hour with this golden-white light
visualization/ meditation.
For those with animals, invite them to join you!
Most animals love spending
time in white-golden light and enjoy this type of time together.

TIP 2) In ALL YOU DO, Visualize yourselfÂ
moving through your day with thisÂ
Golden-White light surrounding you,Â
shining and radiating through your cells. Â
In each interaction during your day, see and feel
yourself enveloped with
golden-white light with you,
no matter what happens,
you have this light, that is you.
Spend a few minutes to an hour, your
preference and choice, as to how much
time you spend with this.
See and feel yourself as a light being
moving through your day, interacting
with family, friends, co-workers,
in the stores, at the bank, on the phone,
eating, snacking, drinking water, everywhere and
with everything you do in your day.

TIP 3) Go to the kitchenÂ
and get your best body-soul nourishingÂ
drink and food, supplements. Â
Let your body take in your life-sustaining
nourishment to help get your day started.
Your body, mind, emotions and psyche all need food of varying types.
To what extent will you give nourishment to yourself?

TIP 4) Take a shower, and enjoy waking up even further,
feeling the water cleansing and clearing your body, cells
psyche, emotions.
Before, or just after your shower, use pure,
therapeutic grade essential oils that are either
invigorating and revitalizing like rosemary,
peppermint or pine. Â (Order here)
Or, if you need calming or soothing, use scents
like lavender, Ylang Ylang or Jasmine.
If you can stand it, turn the water to cold or cooler
temperature, then hot again,
then colder for helping to pump your circulation.
TIP 5) Tell yourself,
"I Expect Good to Happen.
Today is a GOOD Day"Â
Smile at yourself knowingly in the mirror BEFORE
heading out the door, or
jumping on the computer,
or feeding the kids,
or your animals.
TIP 6) If something happens that does not feel so great,
come back to finding and visualizing the white light
to help support yourself through this situation, helpingÂ
yourself to come back into balance.
Try these tips every morning for the next weekÂ
for at least a few minutes. Â
Notice what happens each time you do these visualizationsÂ
of golden-white light, as you nourish your body,
mind, emotions, psyche with these morning
boosters as the week progresses.
Continue after the next week and watch,
experience your mornings, your days, and life change.
====================================
Like this article?
Want more goodies for you and your animals to deepen your relationships?
Check out my New One Heart Healing Center FaceBook Page
Click this link, Then click 'Like,' add your comments, and, check out the SPECIAL running this weekend – from Facebook Only – Get 10% off – go here to find out more!
=====================================
About Sandy: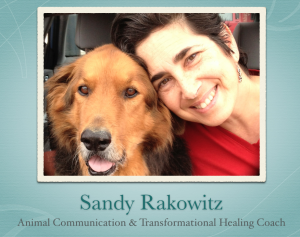 Sandy Rakowitz of One Heart Healing Center coaches women who love animals and are ready to take their work to the next level in their personal life and in animal related professions while bringing out their life-soul purpose, with the animals they love.  She adeptly helps women access and finely tune their natural intuitive and psychic abilities to learn what their animal's are saying and develop skills in holistic, transformational healing methods for ever-improving health, wellness and empowerment.
With over 30 years in private practice with animals and people, and as a graduate and former faculty of the Barbara Brennan School of Healing, the 4 yr. professional training program and "Ivy League" of Energy Healing Institutions, Sandy has deep roots as a practitioner of Brennan Healing Science Energy Healing, Tellington TTouch for Horses, Companion Animals and People, Essential Oils, Flower Essences, Centered Riding and professional horse trainer.
Sandy has been a pioneer in translating and adapting Brennan Healing Science to be used with all species of animals. Â She has synthesized her 30 years of multi-passionate work into the Awaken Animal Communication System so people can live their best life possible, with the animals they love.