Horses saved me growing up when I felt different, on the fringe.  My connection with Animals gave me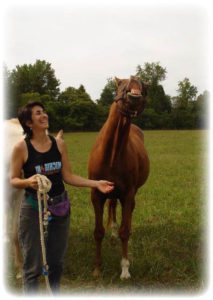 strength, direction and purpose at a time when I felt like an outsider, and lost.
We all need to hear each other's stories.  I'll share a little bit about mine.
Growing up, there are some really important pieces about what happened.   I know that I'm not alone and experiencing these kinds of emotions and experiences. 
I had a tremendous amount of anxiety which grew into panic attacks. 
When I was a teenager, around the age of 14, debilitating, panic attacks began.  There was a spiral over
time in out of depression.
My needs were met in so many ways.  Yet, under the surface, one of the big things for me – I was a lesbian.  My sexual orientation was not the same as what was around me. 
I had not one presence of anyone else that I knew of, or that I saw, heard of, read about, or saw on TV.
Nobody in my community. No discussion.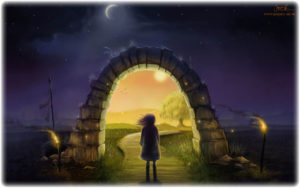 Having a connection, developing rapport with someone where the connection was key, where we could speak and be together without words, with unconditional love was so important.
Being with women was not visible. I was living in a world of heterosexuality where my insides didn't match
what was in my outer world.  My inner reality was not validated, or accepted.
As a girl, life was oriented to always being about the boys. Who do you like? Who do you want to go out with.  When you get married (to a boy), Your Wedding, with a boy.  having kids, with a boy.  Everywhere.  In TV, in school, magazines, politics, newspapers, friends, family, books…. Everywhere.
When I was growing up, it was illegal for same sex marriage.  It was even illegal and dangerous to have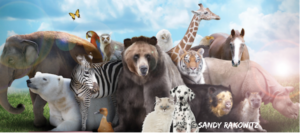 public displays of affection.  
I didn't know how detrimental this focus was. This created a very deep hidden internal bias, shame, and profound anxiety.  
Having a connection, developing rapport with someone, horses, where the connection was key, where we could speak and be together without words, with unconditional love was so important.
Fortunately, in this day and age we can have these conversations much more openly then when I was growing up. In generations before me, it was even worse. 
Each generation is opening more and more, and bringing things more and more to light, and how important these conversations are.
Now I'm an animal communicator now.  So much of my work is focused with animals.  My work has grown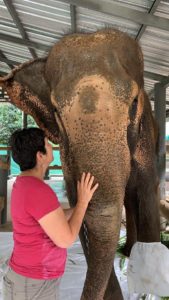 into helping predominantly women cultivate self-worth and net-worth.
Creating rapport with horses was life saving, literally. They continue to save me with connection. 
I see life as a Pathway of Connection.  In that regard, animals in our lives, and in the wild save us all. They bring us that sense of contact and connection.  This picture is when I was working with Elephants at the Friends of Asian Elephants Hospital in Thailand.
This photo is myself with Motala, who gave me the message that we all need to see ourselves as the Queen Gem in our hearts.
What is a pivotal story of an animal connection and how that helped you find strength and connection? 
When you share you being caring and daring – for yourself, and for others.  You help people validate their own experiences for strengthening and uplifting.
This helps you have positive influence and impact. These are ways that you can do that in a very simple way. It's also great for me because I love interaction, I love connection.
How it's been important for you, what that connection has provided for you?   Please share in the comments a pivotal story of how animals were important to you at some point in your life.
About Sandy Rakowitz: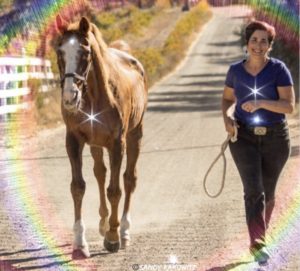 Horses Saved Her.  Now, Sandy helps women save themselves, connecting with Self, Soul, Source enhancing Self-Worth & Net-Worth by Unleashing their Creativity, Hearts, Dreams and Visions.
Founder of One Heart Healing Center; The Awaken Method of Animal Communication®; Jitter Busters for Pets®; Multidimensional Soul Path Program®; One Heart Journaling®; Magical Medicine Transformation Method®; and Money Empowerment®.
Sandy Rakowitz pictured trotting with her friend and Master Teacher, the wise and wonderful Thoroughbred horse Ibis.  He is pictured here at age 35.  They shared 32 years together.
Ibis peacefully passed at age 37.   He is now on the Spirit Animal Guide Advisory Board.