Tending to your Precious Heart…
Art-For-Your-Heart for Pet-Loss CLASS
Monday, October 25, 2021 @ 4pm pacific online.
Register with this link to get in live
or get the recording even after the class.
bit.ly/ArtForHeartPetLoss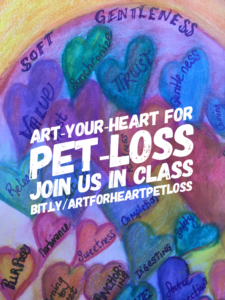 I created this process to get me through many deaths, including my beloved horse Ibis after 32 years together, and after my dad died.
This process saved me from crumbling
into the grief as I used to do in the past.
To feel -on purpose -the connection as one way to receive their love and wisdom. 

…to use the grief as fuel for moving forward…
…allowing expression beyond words to emerge.
Connect even if there's a desire to disconnect, go numb.
It is possible to connect even through massive, challenging transitions into life without my beloveds in the physical.
That is what I want to share with you…
…so you can find the fuel for your own
precious, tender, beloved heart.
Whether a recent loss, or one long ago…
…you do not need any creative or art experience,
Just show up to the class,
and I will lead you through the steps.
Monday, October 25, 2021 @ 4pm pacific online $45 click to register 
There's a super simple supplies list –
Pen and paper.
Though you can add in any colored pens, pencils, markers, paints.
If you know of anyone who would like to join this class, who could use some gentle and yet potent heart tending,
they can register using this link:
bit.ly/ArtForHeartPetLoss
Dedicated To Your Precious Hearts Thriving,
Sandy Rakowitz
Please share, like, love and comment on this post so more hearts needing connection, comfort, ease and empowerment.