"Change Your Mind, Change Your Animal" says Mandy Pretty, TTouch Instructor.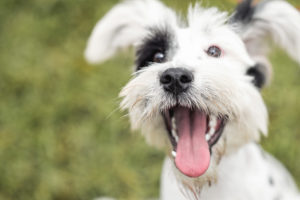 The words you use convey important intentions.  This is true even if you think you mean something in jest, or speak from habit without thinking much about what we are saying or describing.Â
Have you ever used a label to describe behavior for one of your animals? "He's naughty." "She is pig headed."  "He is dominant."Â
The label becomes how we think of this animal. This word, or phrase becomes the picture we hold in our minds when talk about them. We mix personality and context regarding behaviors when we use such labels. Â
We see behavior through the descriptive lens of this behavior as permanent, static and also often believe this particular behavior is their core personality. Is this fair? Is this the deeper truth about your animal?
Let's say you label your best friend's overall personality as 'hot headed' based on one context of their reaction to rush hour traffic. Or, you describe their self-control around chocolate after a particularly stressful day.  Is it fair to say this is who they are as a person?
Behavior is separate from core personality.
Changing the words we use to describe your animals can profoundly influence the way you see them. Changing your the way you think, by changing the words you use, changes the messages you give your mind.  This influences how YOU react to THEIR behaviors. This allows you to diffuse and redirect it, and for YOU to behave differently.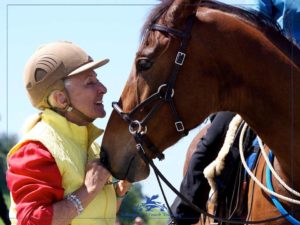 Linda Tellington-Jones, founder of Tellington TTouch, Â
sees "the perfection" in every being she meets.  Her deep committment and knowing in this has an amazing impact on her success in her profoundly positive influences with behavior.Â
Linda's ability, and willingness, to see the best in everyone has certainly influenced me over the last decades of my working with her. Â
Approaching your animal and their habitual behavior by changing your habitual thoughts about them gives you the space, and ability to act rather then react. This creates an optimal environment for change, and success.
The more you open, become willing and listen deeply, the animals will always show you "The Way." Let their 'bad' behavior inspire you to turn things around inside your own mind, to be an even more positive influence in your life, with them, and in the world.  The ripple effect of your thoughts can have a far reach.Â
Change Your Mind, Change Behavior, Change Your Animal, Change Your World.
Thank you, please share the love, and feel  free to pass along this newsletter. Â
I appreciate your referrals.
May the Infinite Love you know throughÂ
your animals be your guiding light,