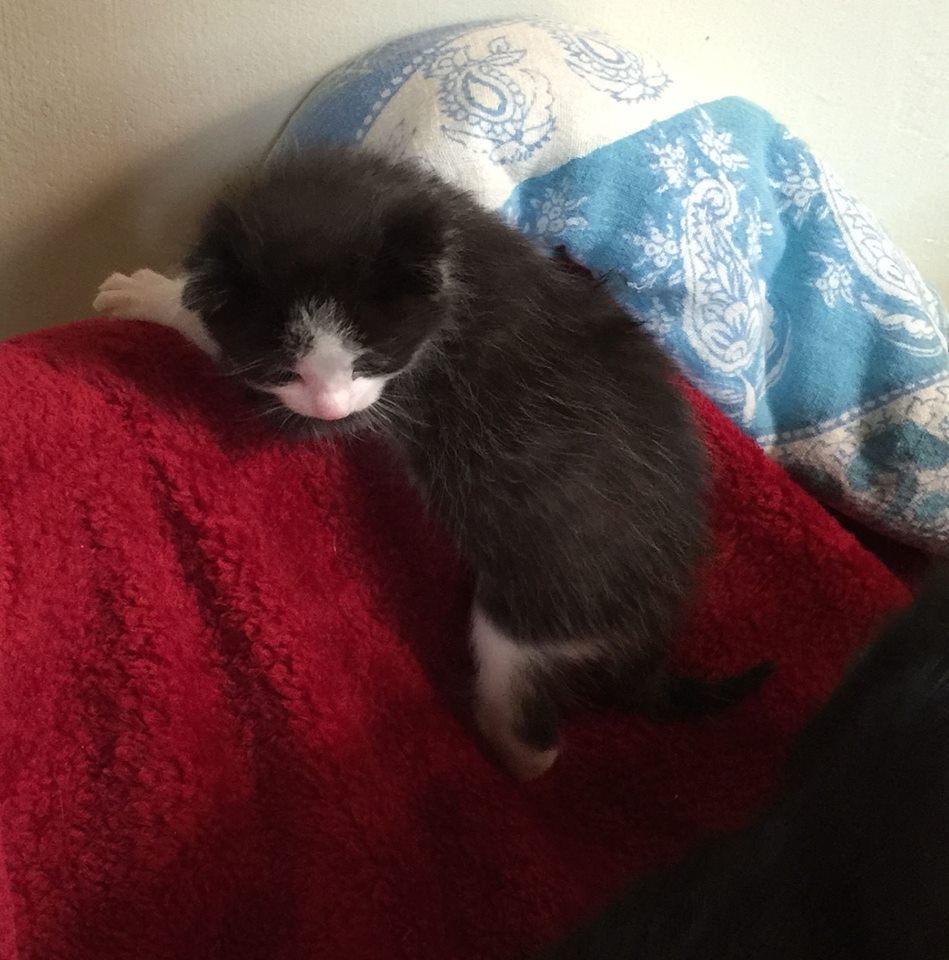 Training kittens?  Is it possible?  
YES.  I am here to tell you, definitely, you can train cats – and kittens….
…..despite all the myths about cats, this is possible!
Well, truthfully, sometimes they are training me, and sometimes I am training them….
Right now, we're working on them sitting before they eat.
Sometimes it is comical.
Other times it is frustrating.
A few times it's been nerve-wracking.
And, it is really, truly cool!
There is something magical, and comical, and always 
entertaining….
….when a cat, or a kitten sits when you ask!
We started training earlier this week after I returned from a weekend trip. You know the saying, "Necessity is the mother of invention?"
This was the name of the game when I came back home.
Those sweet, patient, cute kittens had become vocal, demanding, and, well, a bit obnoxious by some standards.
Training 3 kittens at once was a bit daunting initially. We are all on a learning curve.
My #1 Animal Communication Tip

Keep a clear picture in your mind of what you want.
I realized after the first day of asking them to sit – with a clear picture in my mind – or so I thought…..
….that I was only picturing one kitten at a time sitting.
It sounds so simple once I realized it – Of course you'd have to picture all three sitting – but that detail had escaped me initially…
And so, they did what I asked.  They sat one at a time.
 
Cassie would sit, and then pop up.
The Maggie would sit for a nano-second.
And at some point, Valor would plop her butt down.
Meanwhile, Magic Momma was sitting looking at me patiently – with a bit of a smirk, waiting for me to recognize her immediate, and superb, SIT. 
Once I got the need for picturing ALL 3 kittens, and Momma, sitting at the same time, everything got clearer, and voila!  
They were able to respond more readily – to what I actually wanted, and thought I had been already asking.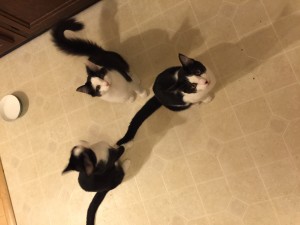 And, when I was clearer, they got calmer, less vocal, more at ease. It was as simple as that – be clear, have a clear picture, and all is better. 
Period.
We do this all the time – we THINK we are clear, and don't understand why the other person, or animal is not getting it… 
I truly feel this is such an important key to understand when communicating with animals – for so many reason.