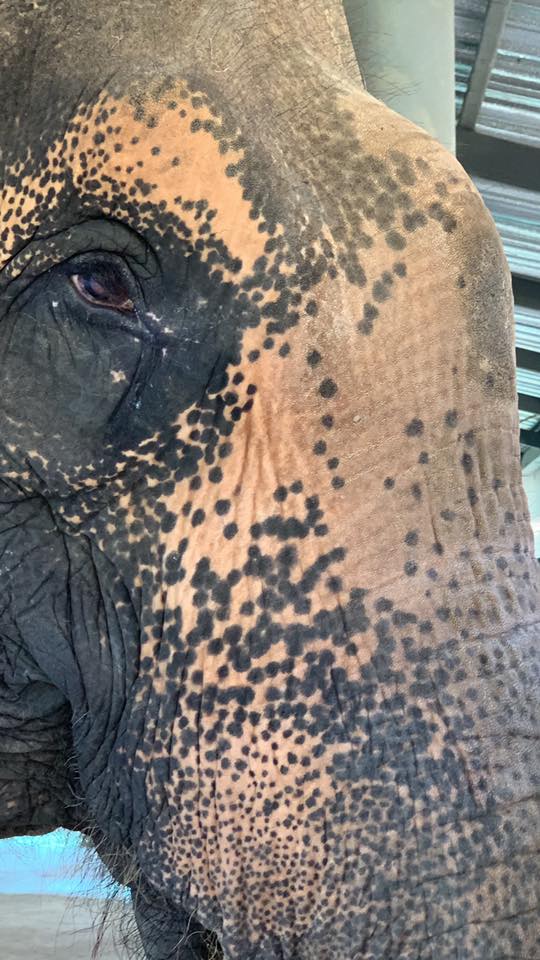 Motala, the magnificent 59 year Matriarch says to all: You are the Queen of the Jewel. See yourself as the Queen Jewel of your own Being and All will be well in the World of Your Heart. Let's dance together you and I in the beautiful Dance of Oneness.
Being with Motala is being with The Divine embodied.
I was standing at eye level with this gentle, patient being that moves with precision, and the utmost Grace. I felt Safe. She turned so her head and eyes directly faced me, looking through and with my entire being. The force of light coming through her forehead, which in and of itself is the size of my upper torso, was beyond anything in the physical realms. I caught my breath at the sheer force of this LIGHT beaming through me…. the Presence of The Divine Mother, Quran Yin, and many others were all together like a huge Beam – full size of her forehead.

At one point all three of us were standing in a triangle around her, for the second time crystalline energies came, I saw a tetrahedron fill in more fully throughout her and including us.

Motala says:
"My people, my people, you are my herd. All elephants going back to our largest of ancestors, the Mastadon are my herd. My people are all people my herd is all beings. My birth herd is not forgotten, each are deep within my heart and being. They are not forgotten. They are always felt.
I am One with good fortune to live here with my Queen Jewel Soraida Salwala. Together we form a bond that is long lasting educating many far and wide. Our Soraida is the Jewel of our many Elephant Herds far and wide She brings attention to our loved ones. Progress is made. No more land mines.

Your voices are our voices among the herds of humans spreading The Jewels of Your Hearts around the Globe. Coming home to your own Queendom deep within your own hearts and herds.

Raising the Trumpet of your own Voices to the Call of The Wild; to the Call of Your Own Hearts, for all Herds are One. We dance together You and I as we all dance together in the beautiful Dance of Oneness."

???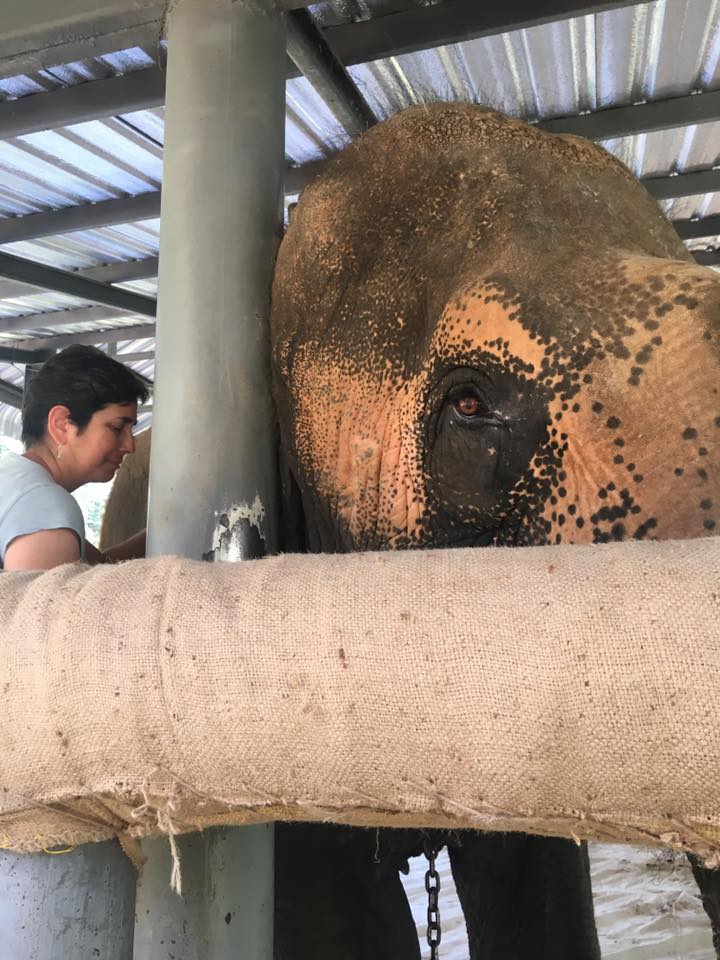 I was being with Motala's upper shoulder region while standing on the support bar. At the same time, Motala was instructing me to stand like a tree in life, to be like her leg. The bones in this leg are formidable. She was 40 years or so, having worked all her life moving timber in the high forests. Her bones were fully formed, fully grown. "I was Sturdy and Strong," she says. She emphasized, "My bones were strong when I stepped on the land mine. I have strong fully formed bones. I have the benefit of a strong, fully developed body to support my weight now. The others who are injured here do not have fully formed bones to support them. Their experience is different for them. It is important to stand strong like my bones. For all herds, Stand Strong."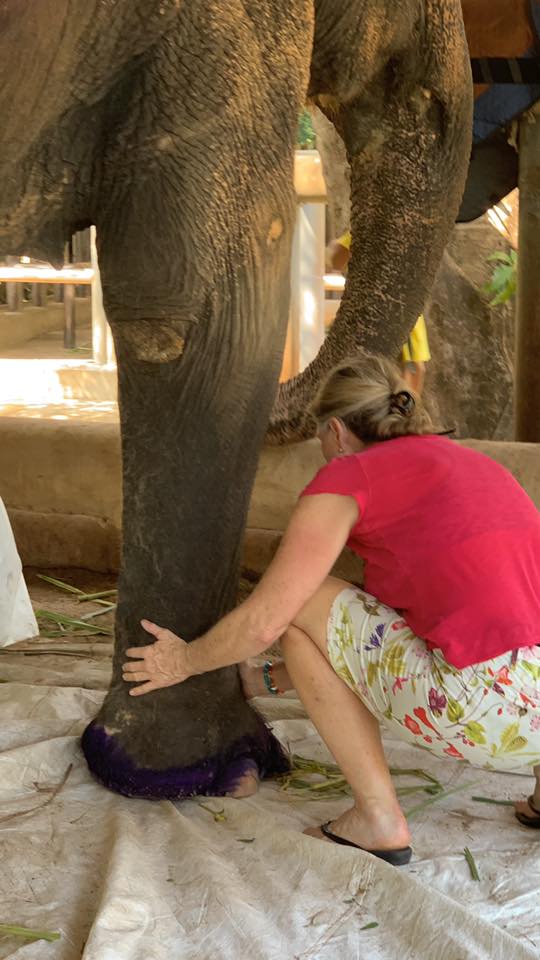 Helena Assisting ease through Motala's weight bearing front right leg. Helena moves between using Cranial Sacral, TTouches, energy work and deep contact and presence.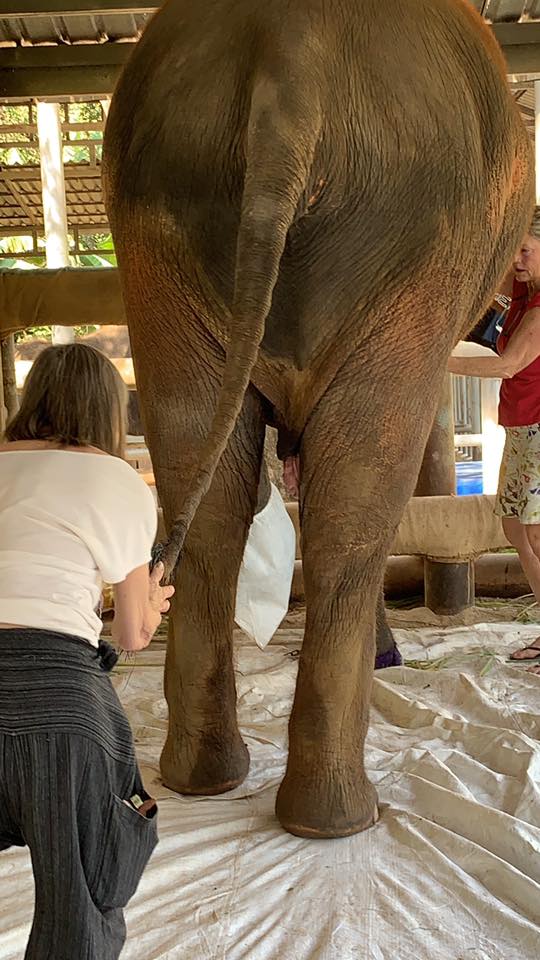 Ann following Motala's energy through her tail while Helena supports her front right. Helping unwind through her body, support cranial flow through her spine, while easing muscles that do tremendous extra work form compensation across her body from not having a full front left leg.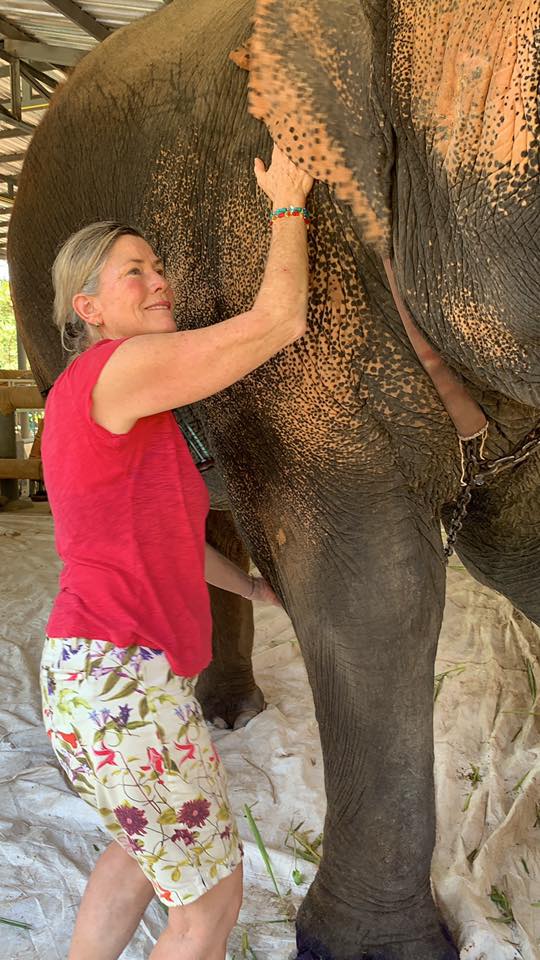 Helena supporting Motala's elbow and shoulder while receiving deep messages.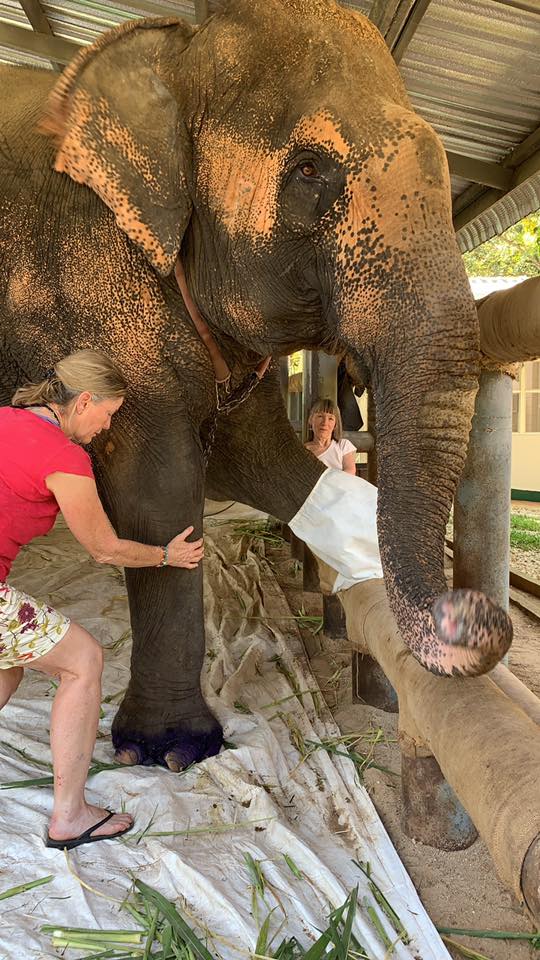 Helena applying TTouches with Motala's weight bearing front leg. She rests her stump on the support bar. Anne watching.
The footing is soft sand covered with a thin, sturdy material. There is a support bar all around her enclosure so that everywhere she goes she can have support when not wearing her prosthetic limb.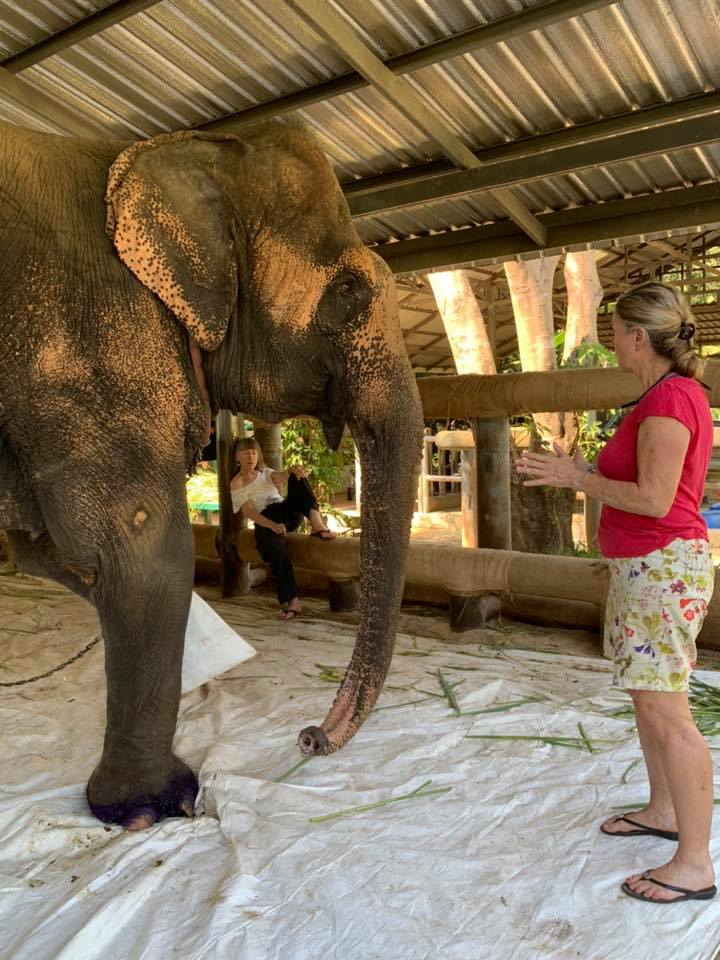 Motala with Anne and Helena.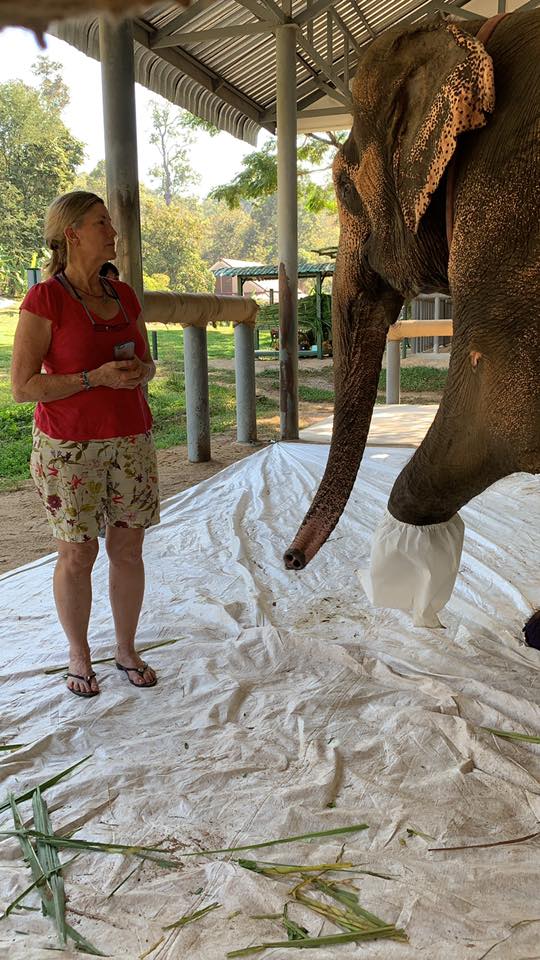 Helena and Motala greeting. She shows Helena her stump leg.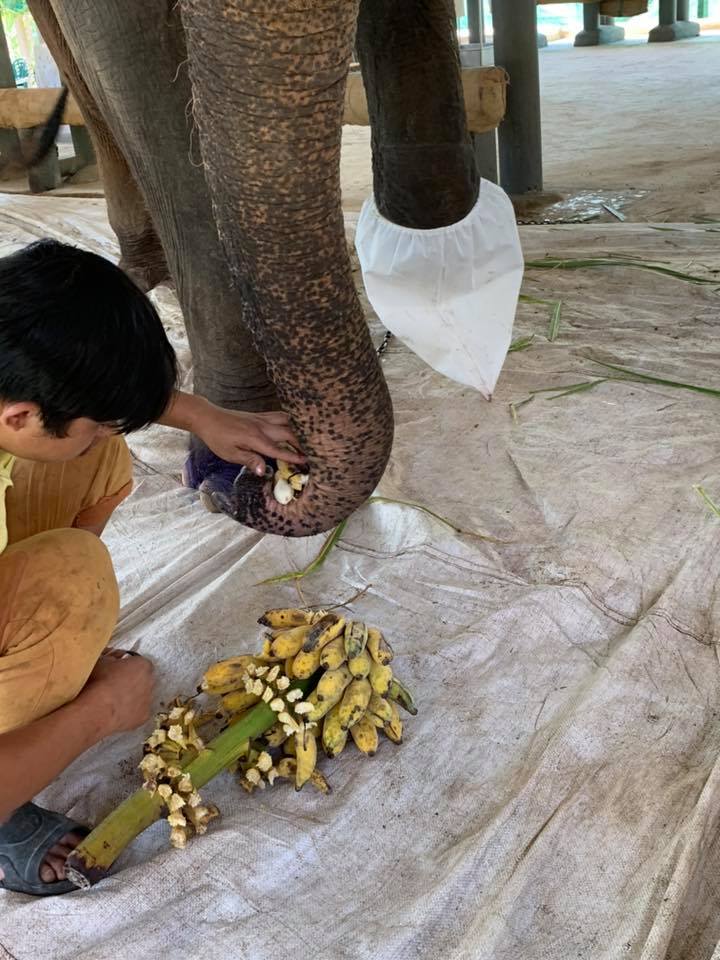 Motala's caretaker, called Mahoot giving her a snack – yummy bananas.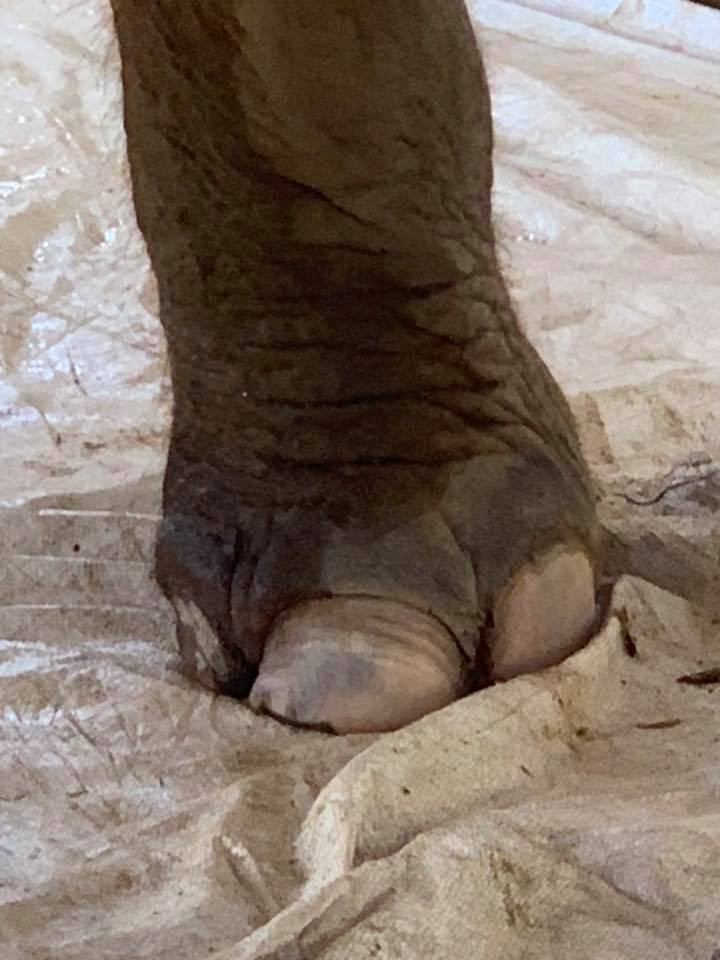 Motala: "Be like the Tree."
#ChaingMai #Thailand #elephants #friendsofAsianElephants #sandythailandadventure
Â

Please join me on Facebook for more pictures and insights (https://www.facebook.com/sandyrakowitz) as I visit the "Friends of Asian Elephants" elephant hospital in Thailand. See my posts about my trip and to join my Facebook Live videos. (If we do not have any mutual Facebook friends please send me a note and let me know how we know each other so I know you are real person.)
Search the hashtag #sandysthailandadventure to see all my posts and videos as we bring healing to these gentle giants.
Â
About Sandy Rakowitz…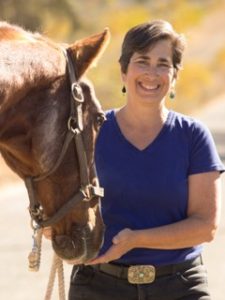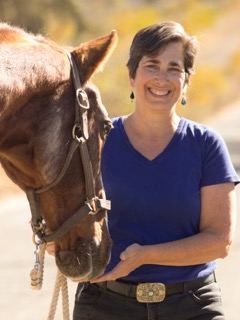 Sandy is the founder of OneHeartHealingCenter.com where she has guided and trained animal lovers, animal care professional and those seeking self-empowerment through her content, products and certification programs.
She specializes in Animal Communication, Energy Healing with people and animals, Tellingon TTouch, Essential Oils and channeled holistic healing methods, including her Creative Journaling process and the Awaken Animal Communication Method.
She empowers people to access and develop their natural intuitive instincts and psychic abilities, while awakening their life purpose, along with the animals they love and have loved.
Get tips and an info rich subscription to Sandy's popular "Animal Wisdoms" eZine each week. We respect your privacy and will not share your information!