In Delilah's Eyes: Dog Training From A Dog's Perspective by Cheryl Falkenburry is such a wonderful, humorous and instructional book on the how to's of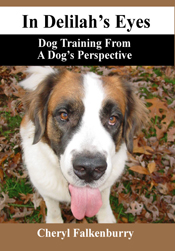 training. I love this book!
**Have you ever thought your dog is stubborn?
**Or thought they are doing something just to make you mad?
**Have you ever been frustrated by repeated behaviors that just don't make sense to you?
Well, this book comes from the dog's perspective to help you understand many typical behaviors – and I think this is ingenious and long overdue! Cheryl and Delilah's positive approach and perspective turns Dominance Theory with notions about alpha or any other dogs only wanting to dominate you on its head. It also breaks through the idea that dogs have few brains, can't really think or that dogs have no conscious awareness. But they sure do have a perspective that is different than humans, and that perspective makes a lot of sense when given a bit of air time!
Most humans have a hard time understanding why dogs do the things they do. Cheryl Falkenburry, author of In Delilah's Eyes and owner of Center Hill School has been a dog trainer for over 20 years.
Giving the dog's point of view, Delilah says, "It's not misbehaving in our minds; it's just responding to the environment around us and satisfying our needs." She goes on to point out that "If humans understood how dogs view the world, I'm sure they would approach dogs in a different manner."
The humorous topics and chapters are clever and give a picture of the issues; "Catch Me If You Can," "Helping the Chewaholic," and "Dogs Bark, Birds Sing, Humans Talk" for instance make so much sense. Cheryl and Delilah are a great team, and combined they offer humane and positive outlooks.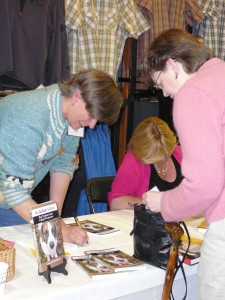 I love how the steps are 'chunked down' into bite size and easy to understand sequences as seen through the dog's eyes. This bridge to understanding behavior goes a long way to enhancing our ability to share our lives with dogs in much easier and more harmonious ways.
Many typical dog behaviors are demystified in this book. It really is different to understand behaviors from the dog vantage point rather than just the human perspective – and just as importantly, how to enhance our training and relationships.
I have been recommending this book to all my clients with dogs.  I have learned a few things myself and have been refreshing my training with my own dogs and horses using some of Delilah's tips! I very highly recommend this book! And, it makes a great holiday gift! To order; http://centerhillschool.com/book.html
From Sandy Rakowitz, Founder of One Heart Healing Center, Practitioner and Host of Essential Oils 101, an educational forum for holistic health and wellness with people and animals.
Want to know more about holistic ways to help your horses, dogs, cats, or yourself?
I invite you to explore One Heart's educational offerings. When you go to my site there is much information awaiting you. Here you have free access to listen to many pre-recorded classes on holistic health and behavior topics. Register for the next class!
When you sign up for the One Heart Newsletter you will also receive free updates. https://onehearthealingcenter.com
Mentoring People and Animals for Healthier More Vibrant and Inspired Lives!