Words, Words, Words:
Can Our Words Effect Change and Transformation
in Animals?
A small group of women came for a group intensive to learn Tellington TTouch with their dogs.  
As we walked towards the house to go inside to focus our TTouch time with learning TTouches,
one of the women called to her dogs and just said their names. 
I understood she was calling to them to get them to come in this direction so they would follow us inside – but the dogs only looked up and continued along their merry way investigating all the interesting smells from 2 groups of Geese, their new goslings, the fox, deer and all the other critters that share the land.  
So I followed with a call out to the dogs, also saying their names, but used my voice in a playful light hearted tone, picturing them all coming along towards us to go towards the house with us, and said, "Come this way with us!"   They promptly changed direction and followed along with us.
We then had a lively discussion about how we talk with our dogs after pointing out what had just happened. 
As we approached the door I had walked slightly ahead to hold open the door.  
For emphasis, I called to the women just saying their names in the same manner and tone as
the dogs had been called by them.  As if on cue, all 3 women stopped up short and just looked at me.  
I smiled, laughed out loud and said, "That is exactly what we do with our dogs when we just call their names!" 
Everyone joined me in laughter.  It was one of the most outstanding and effective demonstrations ever!  
Often we think we are being clear when we speak with one another. Right? 
So many times we don't say what we really want and don't give directives
or create an invitation. 
When we just call out a name, we think we are also including what we want within saying their name but, as this example shows, we do not.  Calling a name out just alerts our attention.
We can direct with commands – or we can invite someone to join us and create very
different responses and reactions.  This is true whether talking with people, or with animals.   This is especially relevant when training animals. 
This lesson was really brought home to me when looking at Masuro Emoto's book Messages from Water.   His research began by freezing water from many sources (tap, river, lakes,etc) and observing it with a microscope.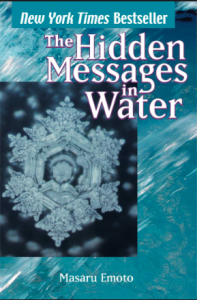 Why?  He wondered what effects would be seen by: 
1. Observe the crystal of frozen water after showing letters to water
2. Showing pictures to water
3. Playing music to water and
4.Praying to water.
Emoto says that they "…always observed beautiful crystals after giving good words,
playing good music, and showing, playing, or offering pure prayer to water.
On the other hand, we observed disfigured crystals in the opposite situation."
In Messages From Water, he shows the dramatic difference and impact on the crystalline structure
of water crystals when saying the encouraging words
"Let's Do It," and the commanding words of "Do It." 
The crystals for "Let's Do It" was a beautifully fully formed snowflake like crystal. 
However, the crystal for the command "Do It" was disfigured, dark and somewhat unformed.
Emoto also looked at words or phrases such as thank you, love/appreciation and love thyself. 
Each produced a variety of beautiful snowflake crystalline snowflake forms.
Phrases such as 'you make me sick' or 'you fool' produced crystals that were completely different, 
somewhat gross, disconnected or chaotic.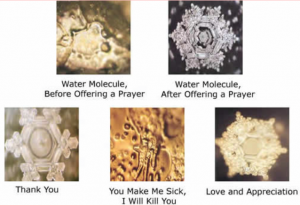 We are 70% water, and so are our animals.  We effect each other in so many ways!
How we use our words in training and in daily life along with the names we call each other, and the names we give our animals are significant. 
What do you want to create in your relationship with your animals?
Consider paying more attention to how you call out to each other,
ask or tell your animals, friends, family to do things and watch the responses. 
What would the water crystal look like for the name of your animal? 
For how you speak with those in your life? 
We can change our relationship with our animals by simply using language differently. 
What are some of the words you can include to encourage and invite your animals more
fully — so that you can resonate your words with the love you have in your hearts?
Try out using words differently and see what happens.
About the author, Sandy Rakowitz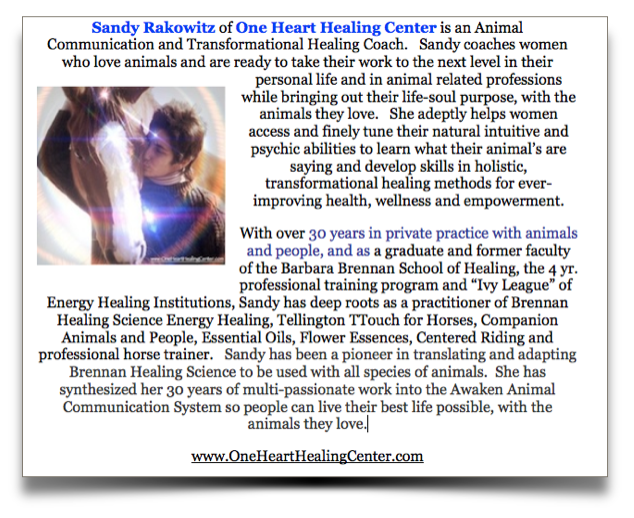 Do You Wish You Cold Be An Animal Communicator?
Join me for this exciting – Free – Event: 

Click the link below for more information and how to register: