Inspiration can come in so many forms!
I love to find things that are inspiring, things that touch my heart and show 'the heart of the matter.' I love movies, books and things that touch my soul through things that touch on something I have experienced, that gives perspective and insight. I love the feeling of satisfaction in finding my way through a problem. And, I love watching someone find their way though an issue or dilemma when they can find the other side of something that has been troubling. And, what about watching the light switch back on in someone's eyes, to see the twinkle and magic shine though once again? Sublime!
Sometimes, 'The Magic" is found in the touch between an animal and a person. It might be a breath of a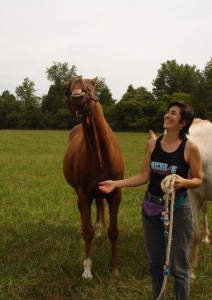 moment, but something is touched in your heart and soul. Even if it happens for just that moment, light shines through, showing us, touching us deeply and letting us know that we can feel deeply in our heart, that Love is Here.
Sometimes, the magic is with another person. Something clicks. Something is 'heard,' something between you connects. You 'get' someone and they 'get' you. Not very tangible, but you know that feeling, right? Things of the heart are not always tangible but our connections are so important and part of the fabric of our lives!
Sometimes we loose the magic inside. In the movie Eat Pray Love, "Liz" the main character, said that she had lost her appetite for life. She used to feel a zest and wonder. I loved watching her journey to find her spark again.
When "Richard" talks about his past, what moved me, is feeling his heart open. I think it is one of the most beautiful scenes in the movie. It is quiet, yet so poignant to watch their connection with one another, their understanding with one another shift and go deeper. The sometimes rocky, abrasive and challenging dynamic smoothed out and softened. Compassion and understanding enters the scene. His character sure shows us that forgiving ourselves is not always an easy road.
I love these images and metaphors of life he gave; Going across the moat to the treasures inside the walls of your castle- it is just part of the journey called Life. And, how being in 'the ruins' of your life is not such a bad thing. It is from the ruins that the transformation occurs. There is such wisdom in this perspective.
We are the Castle, usually surrounded by walls of defense and even a moat for protection. Part of life is the swim across the moat to ourselves and to our inner resources and treasures. It is good reflection I think, to ask ourselves, 'What walls have I built up for protection? What is My Castle and inside treasures like?'
We often think we need to ask forgiveness from someone else, or that we need to forgive someone else for their behavior. But really, I think it is the forgiveness in our own hearts for our own behaviors that we need. Watching this movie, especially the scenes from India really touched me so deeply. I went right back to a few things I thought I had 'resolved.' And low and behold, I was right back in the middle of old relationships, reminded of some of my own behaviors that needed a bit more breathing space, loving and for-giving inside myself! Even though those relationships are long gone and things of the past, in some regards, they had continued to live inside – because I had not forgiven myself!
So I ask you, "What is it that you have not yet forgiven yourself for?"
Forgiveness is for-giving. Giving to the self.
Eat Pray Love.