In honor of your father
and the infinite potential in us all,
Let Your Heart Run Free on this Father's Day using simple doodles, art and mindful breath to allow your emotions to move and transform.  Make room for growth!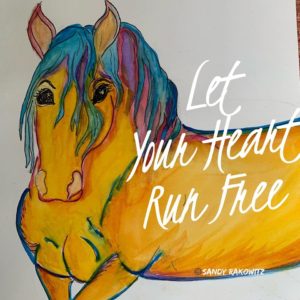 This 'Cosmic Horse' painting I did was inspired by a stallion I met.
He'd been rounded up from his home where he ran free, separated from his family, and then rescued.
When I met him, he had just arrived at his forever home.
I was mesmerized by his immense presence. 
His message is similar to the Big Cats I've met who have been born in captivity and rescued from bad circumstances.
The Big Cats ask us to Free Ourselves from our constraining beliefs,
the cages that create our own inner prisons, so that we may all be free.
So that the circumstances for their being caged are dissolved,
and then they can be free as well.
Be A Voice
Take a moment to visit BigCatSafetyAct.com
and make the Call of the Wild weekly
to Empower Yourself to make an important difference, and to
Be A Voice For Big Cats.
This stallion simply says, Let your Heart Run Free.
Breath into Your Heart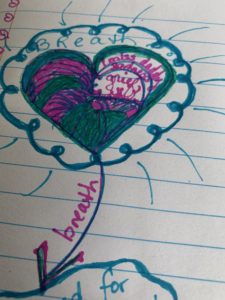 On this Father's Day, take a moment to breath into your heart.
Find a feeling in some tucked away for safe keeping nook in your heart.
Bring your breath here.
Give yourself permission
to breath anew, roam free, be wild.
Doodle
Do a little doodle, drawing,
painting for yourself
for some expression. 
Add color, it changes everything!
Or sing a little song in the shower,
or car to give some freedom.
Doodling to move emotions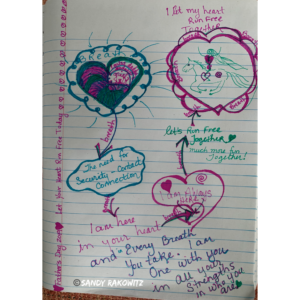 Infinite Potential
Let your Heart Run Free today,
letting more Love & Appreciation
move through you
in honor of all of our hearts…
…your Father,
yourself,
for the people who capture and breed wild beings…
…and,
for the Infinite Potential
for us all to grow beyond what we have known before…
…into More of our Best, Deepest, Most Free Selves
in connection with Infinite Potential.
 About Sandy Rakowitz:  
Sandy is the founder of OneHeartHealingCenter.com where she has guided and trained animal lovers, animal care professional and those seeking self-empowerment through her classes, coaching, programs, products, books, articles, and certification program.
She specializes in Animal Communication, Energy Healing with people and animals, Tellingon TTouch, Essential Oils and channeled holistic healing methods, including her Creative Journaling process and the Awaken Animal Communication Method.
Sandy empowers people to access and develop their natural intuitive nature, wisdom and infinite potential, awakening their life purpose, along with the animals they love and have loved.
Get tips, inspiration and updates with Sandy's popular "Animal Wisdoms" e-zine newsletter. Sign up here:  https://onehearthealingcenter.com/gift2/
The purpose of One Heart Healing Center is to help people and animals learn, to grow, live vibrantly and co-exist more peacefully, with greater compassion and understanding. And, to cultivate the deepening of our connections with ourselves, our animals, each other and Source for individual and universal, evolutionary expansion and growth.