Attitude is everything.

What an extraordinary example of the celebration of life over limitations!
This is the most inspirational video I have ever seen and it has over 2 million hits on YouTube!

When you don't think you have the strength to get back up, from whatever you are doing,
Think of this video and Nick ….. Gather yourself up, and try again.

Watch, you will see what I mean.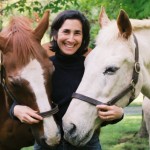 Need some help gathering yourself up?Â
Take a look, and and let me help.
Helping People and Their Animals Lead Healthier More Vibrant Lives!