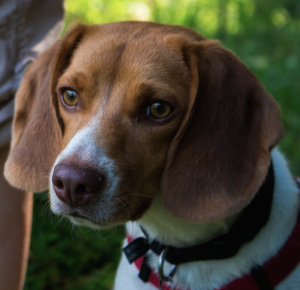 Darwin was one of the dogs who joined us for the Essential Oils and Animals Retreat this past weekend.  He's young, less then 2 yrs old, adopted a year ago from a shelter with an unknown background.
Darwin is sweet and affectionate, and has that Beagle curiosity to 'surge' forward into life. He would constantly pull on the leash so he could explore everything near and far, with nose to the ground.  Beagles are tenaciously dedicated to following their noses!
Initially during the first morning while we gathered in a circle, he was wandering this way and that, pulling on the leash, never sitting still for more then a moment.  
Using Essential Oils to Enhance Behavior
Our first demo's began with offering him various essential oils to sniff followed by topical applications. 
He'd settle briefly, and then be on the move once again. 
Each time he'd pick up and move around, he'd welcome more oil sniffs and topical 'wipe downs.'    He'd settle for a bit longer with each application.  
I also realized he didn't understand a few things about being in the circle participating with humans or what being on the other end of a leash meant.
Change Leash Pulling?  A New Perspective

As we went along, I asked if he could stay within the circle and kept inviting him to join us in the circle.  His expression of surprise was adorable. 
We all watched him pause, think, turn around and join us!
His mom kept exclaiming with surprise that she was learning so much also as she watched Darwin respond to everrything that was explained to him.  She expressed her gratitude how she was also learning a 'new way of being' with Darwin, and her animals.  
The Other End of the Leash – Explained in dog terms
I also explained a few things about being on a leash and asked Darwin for a heads up – to pay attention to something new.
I pointed out to Darwin that when he got to the other end of the leash and felt the pull or tug, that this meant he was at the end of the leash…
 
The tug he felt meant stop, and to not keep pulling. To balance himself and not get held up by the weight on his neck from the collar and tight leash. 
Sounds simple right?  How could they NOT know what being at the end of the leash means?
You'd be surprised how much we humans take for granted and just how much of our world the animals don't understand.  YET, WE think we are being SO Clear! 
I asked him to notice how the tug, and pulling, felt on his neck.  I offered a way to stop that feeling – by paying attention to the tug, stopping, or by coming back closer to his person. 
He just didn't understand so many things from humans before this weekend….

many things just didn't make sense to him
he came up to me several times thanking me by giving me a sweet, tender little lick
for helping him to understand, but also for helping his person understand him better.
As the weekend progressed, his person also expressed her gratitude for learning a 'new way' to be with her dogs.