How to Transform Your Leash Pulling Dog, and Your life.
Lunging, plunging, leash pulling dogs are no fun!  Harmony used to lunge forward, pulling me off my feet when she got her hound dog 
nose to the ground with a scent. Ouch to my shoulder, neck, 
arm -(and my pride)!!!   
I began to DREAD taking Harmony for a walk.   Neither 
one of us were happy with the other.  
Our Fun Factor was WAY DOWN!
 
Being pulled off my feet was not exactly living in a balanced or centered way….lol….
Our animals often offer us a reflection of how we are in our lives.   
One of the very cute and wonderful dogs who came in to see me
recently pulls on her leash when walking.  
Ever experience that shoulder, neck, back wrenching experience
with one of your dogs?  I know I have experienced this! 
I love helping people with their dogs turn leash pulling around.
Harmony, one of my dogs helped 'train me' into being a better person, 
and helped me learn some important lessons about
'being pulled around' – or not!
Harmony was my prompt back in the 1990's to find another way to
deal with leash pulling, dogs who are lunging and plunging on leash.
Harmony offered me a very loud, though not immediately obvious, 
reflection of how I was being pulled around in my life and not walking in a centered, 
grounded, balanced manner with her – or in most areas of my life at the time.  
At the local event here in San Luis Obispo last week, I was speaking
with a couple about the ways dogs reflect our 'stuff.'  
They commented on how this work would be so useful with couples as it offers 
so many insights into being in relationship.  
I so appreciated his feedback, as this is exactly what the 
work is all about, even though it is often focused with animals.  
This is about the deepening of our connections with ourselves and each other – 
whether the 'other' is your dog, cat, horse, person partner, business 
partner, spirit, nature – we are in relationship all the time.
I've written recently to you about my my cross country move this summer and
recording over a dozen audios on various transformational topics….
One of the audio's I made was one I had promised to get to you on Why Dogs Pull On Leashes.
Well, here it is, with quite a bit of added extra info about the transformations possible
when we work with our leash pulling, lunging plunging dogs.  
Sound like a weird connection that a dog pulling on a leash 
can help create a personal transformation?  
I know, I know…
Click Here to listen in, as it has Practical Tips about 
Leash Pulling, and Personal Transformation. 
Please note that this is worth listening to even don't have a leash pulling dog!
Here are just a few of the highlights – 
How we inadvertently reinforce the behavior we don't want!
Ways you can understand the dog's body, mind and heart more deeply
Create a bridge between the two of you so that your bond deepens
Ways you can use the insights from leash pulling to totally turn your life around
Just use this link to listen in:  http://www.audioacrobat.com/email/EwMDbywNG
(Audio is 20 minutes)
I am creating an interest list for a Lunging Plunging, Leash Pulling Dogs Transformation
Master Session or a Class just reply to this email OneHeartHealingCenter@gmail.co to let me know.
""""""""""""""""""""""""""""""`
On another note….
Here's the One Heart Market Place
Do you have a Holistic, Wellness oriented service or product
for people or animals?
There are so many awesome people, services and products that
I've been finding out about with those of you on my list!
I want you to find out about each other and get the benefits that
each other has to offer!
To help you find each other, I've created a new service, 
called the One Heart Market Place.
I am putting the spotlight on select and exclusive services and products 
that are holistic and wellness oriented – and of excellent quality. 
 This has proven results already in an increase of exposure and new clients through the One Heart marketplace!
This will be in addition to continuing with my regular Animal Wisdom articles, tips and 
highly educational content.

One Heart Market Place Options
1) Success Spotlight in the One Heart Market Place- 
Your service or product will be spotlighted in
* Your service or product and upcoming article will get a
   preview post in my popular One Newsletter
* Your article will be featured in the One Heart Newsletter
* Your article will be featured in the One Heart Blog 
* Additional Marketplace listing in a future One Heart Newsletter 
2) Sprint – 3 month Market Place Business Listing– 
Includes one listing, 1 time a month, of up to 100 words
in the One Heart newsletter for 3 months.
3) Business Establisher – 6 month Market Place Business Listing
 Includes one listing, 1 time a month, of up to 100 words in the One Heart
newsletter for 6 months.
How to get into the Marketplace?
Email OneHeartHealingCenter@gmail.com
with 'I'm ready be in Your Market Place!' 
and I will help get you going right away.

To Enhancing Your Fun!  
Sandy
About Sandy Rakowitz

Sandy Rakowitz uses Animal Communication, Hands of Light Energy Healing, Tellington TTouch, Sacred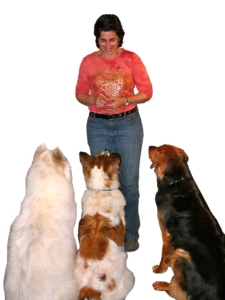 Money Archetypes Money Breakthroughs to help people access their natural intuitive and psychic abilities and apply their skills with their animals, in their life and businesses via 1:1 private sessions, classes and programs for over 25 years.
Sandy has created many successful programs using Proven Methods to Enhance Health, Behavior & Performance while people DEEPEN Communication, Understanding and the Bond with their animals. 
Get your complimentary Animal Communication Kit at www.OneHealingCenter.com