We are all Multi-dimensional Beings.
Messages across dimensions, the cosmos, time and space come to me through The One Heart Council for coaching you.
A recent message from Cameron The Lion as part of
The One Heart Council:
"We offer Messages of Light Consciousness,
A Language of Light,
of Animal Consciousness. 
We are all points of light across time and space. 
You just happen to be in physical bodies. 
We are not. 
Some have been. 
Some have not. 
We seek to speak with those who 
desire to open into new realms 
for evolutionary growth 
across species,
across time and space. 
You seek a larger awareness and here we are." 
Who is the "The One Heart Council?
The One Heart Council is a group of multi-dimensional beings who come to me with their messages, council, and direction for personal and evolutionary growth for humanity and all beings.  
Who are the Multi-Dimensional Beings of the One Heart Council?
Elephants, Big Cats of the Great Felines, Whales, Dolphins, Pegasus, St. Francis, Quan Yin and others beings of the most radiant light.
Elephants 
When I was in Thailand at Friends of the Asian Elephant Hospital with the elephants Boon Mee, Mosha & Motala, I was given many messages and taken on multi-dimensional journeys with them.  Boon Mee LOVES physical & emotional contact across time and space.
Boon Mee's very practical message today:  
"Do it with ALL Your Heart."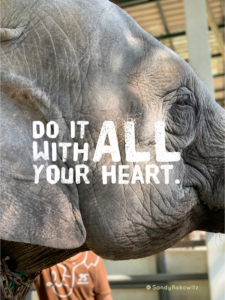 Boon Mee Pictured from my recent trip to Thailand at Friends of the Asian Elephant Hospital.
Multi-Dimensional Coaching includes:
Deepening & Transforming your Connections
with your Intuition, Insight, Creativity,
the Soul of Your Heart, Your Animals,
Relationships, Direction and Life – Soul Path.

Making friends with your future, to step into your dreams.

Coming Home Into Your Self
This week participants in one of my Multi-Dimensional Groups, "Live Your Best Life Animal Communication Program" said this about their participation:
"I feel more confident."
"This is my third time in this program, and I intend to keep going.  This is validating my communications.  I feel like I'm home."
"I am beginning to Trust myself. This is my home-space."
"Tonight I am so grounded.  I am not anxious or tense.  I am learning this process."
"This is my 2nd time in this program.  My connection with my dog is getting better and better."
Contact me for 1:1 Multi-dimensional Coaching, or to see which group program is best for you.  
Just reply to this email and let me know a little about yourself, and why you'd like multi-dimensional coaching.
To your beautiful self,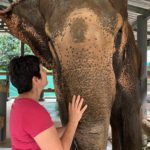 Your Multi-Dimensional Coach
pictured with Motala