'Paint-the-Ponies' birthday party celebrated Ibis, the old horse, turning 37 and Zoey turned 27.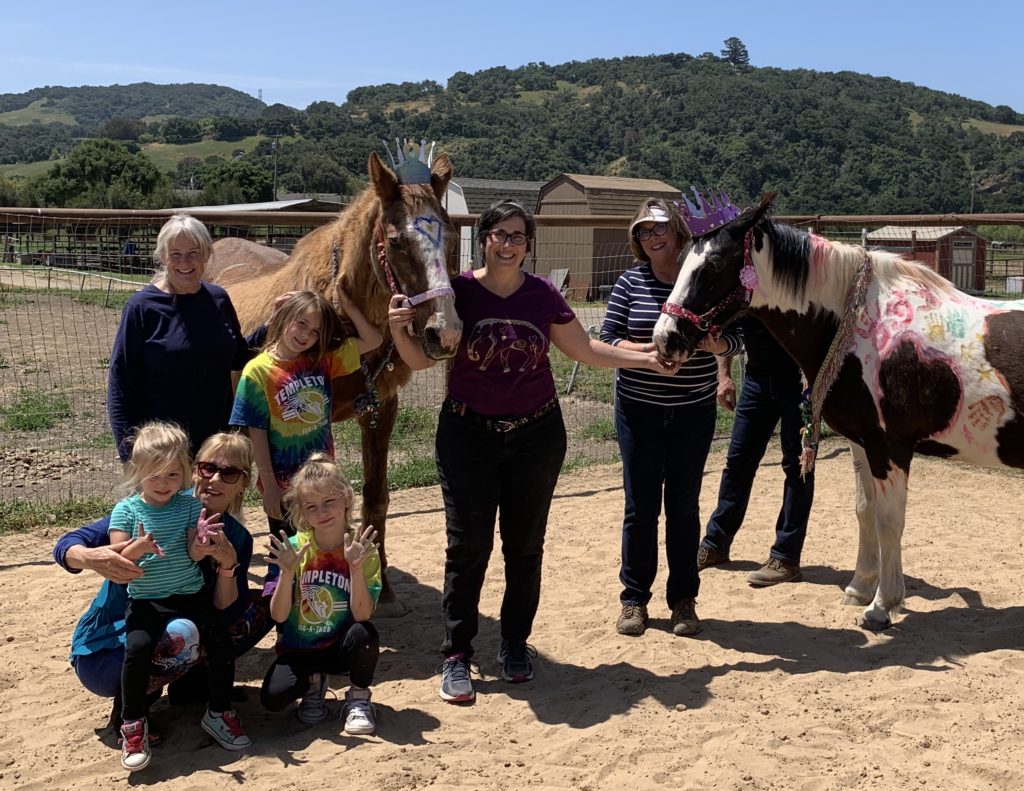 Painting Ponies and decorating them has been a tradition I created to honor my horses beautiful aging. I began when my previous horse Sunny turned 35 in 2007.  Ibis was 10 years younger and only 25 at the time  
Since Sunny made it to this 35th birthday after after a decline and then bounced back, I decided we needed to celebrate his choice to stick around.  Sunny made it to his 37th birthday party, and then passed away five days later.
It has been over a decade since that first party, and Ibis galloped up to and past his 37th birthday.  He is showing some age, but he is so bright, sparkly and continues to love his gallops.  
I asked Ibis what celebrating his brithday means to him:
"Celebration is for the wisdom that comes with aging.  The recognition of the length of the journey and all that we have learned together is important. 
Our love, bond and affection is what is most important.  Recognizing and celebrating our connection is what makes a day shine and meaningful.
Sharing our days with friends also makes the day shine.
When you 'paint' us, you create the day
in a way that is filled with love and laughter.  
Zoey and I appreciate sharing our lives in this way.  
People coming together to share loving us, finding fun together, creating beauty with horses and being playful is needed in this world; with horses, and each other.  
We welcome this celebration and many more."
I love learning and hearing from the perspective of the animals, and Ibis. 
The vantage point from the animals is often simple yet profound, and so different than our human way of seeing things. 
Thank you Ibis for being who you are, for romping on this journey together with me for the last 32 years.  Memorial Day weekend marks 32 years since I found you in New Hampshire when I was looking for a "lesson horse" to teach people how to ride.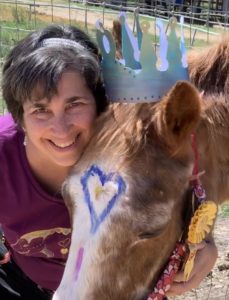 While you never really liked people rising you, I thank you my friend. for teaching myself, and thousands of people how to ride through life more fully, with greater presence, deeper compassion, new vantage points and to remember always we are souls in a body, always connected with Source.
Watch this fun slide show of the party Click Here  
One of the young girls who joined us said to me, "Having a birthday party for the horse's was a good idea.  Painting them was really fun.  Everyone should have birthday parties for their animals, they have feelings too.  I think the horses really liked this!"
To finding the fun with your animals and each other,