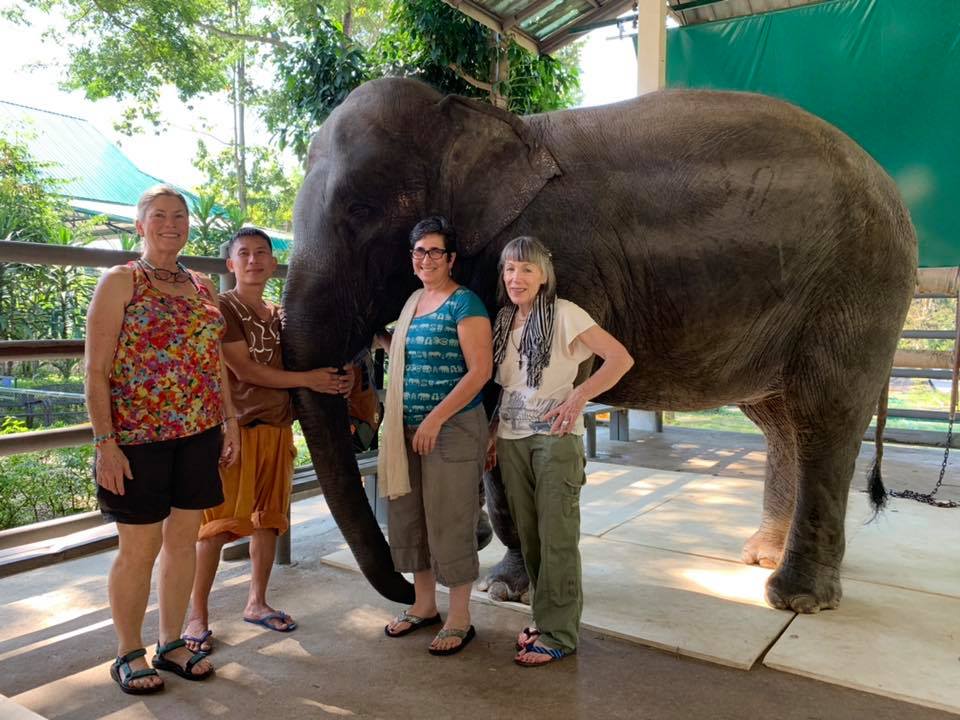 Boon Me, Beautiful One, was calmer, and walking more evenly yesterday. She was very precise in telling us with her trunk exactly where she wanted TTouches, how much pressure, and for how long. Her appreciations readily apparent.
She then asked her favorite and adored Snowball to show her (Boon Me) how to do TTouches on her own foot!
At the end of our first day, which was the Day before yesterday, we began introducing gentle 'leg circles' with Mosha to help her loosen the very tight shoulder muscles from her weight bearing legs. Mosha has a portion of her front right leg amputated from a landmine injury as a youngster. She was also the first Elephant to have a prosthetic limb.
When we arrived to be with Boon Me first thing yesterday, she showed us how she was doing leg circles on her own! Soraida had told us they will talk with each other while we're here and pass along information with each other. This was a beautiful display!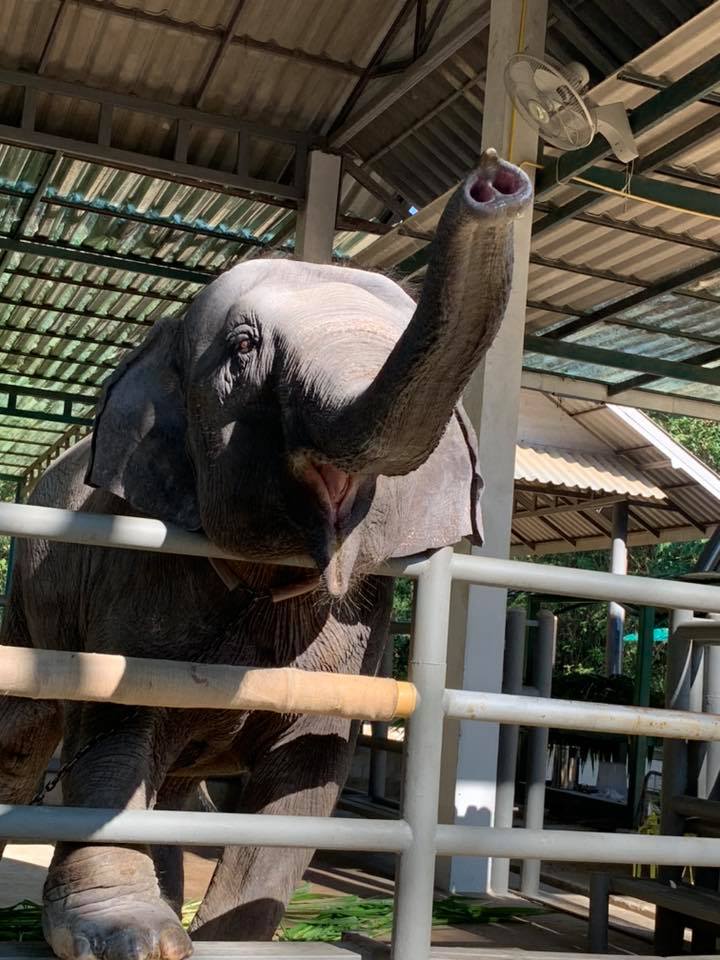 She then asked her adored Anne Snowball to show her (Boon Me) how to do TTouches on her own foot!
To ask us to do something she'd touch us with her trunk, like a person tapping you on the shoulder to get your attention, and then point to an area on her body. If we didn't respond right away, she'd repeat the gestures until we got it!
Initially she wanted us to do the TTouches and showed us precisely each location. Then she began taking the medical device which we had placed on her support rail, turned on so she received the signal while we settled in. We always wait for the Elephants to let us know if they want the device nearby, or on them.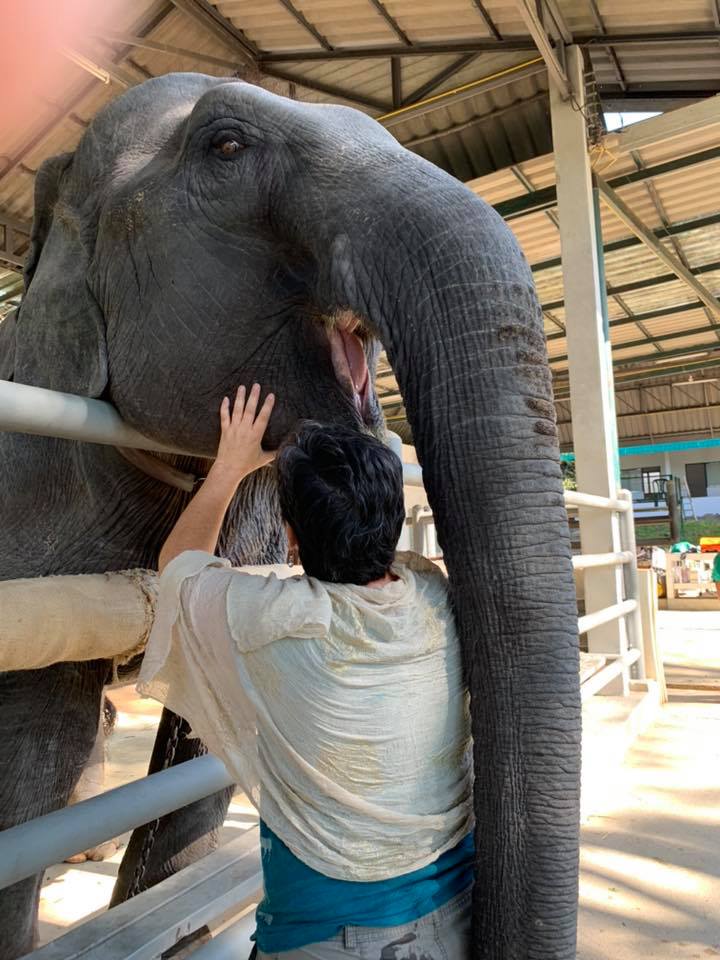 At one point, Boon Me began reaching for the edge of the device with her trunk and began placing it on her leg she'd placed up on her support bar. She'd pull it over her knee, then over her injured foot. She'd adjust her leg, her foot to change where the device was placed.
Then she indicated she wanted it on her back. She got very, very quiet.
Her muscles were significantly softer. Her eye soft. She was patient. She was responsive to all we asked.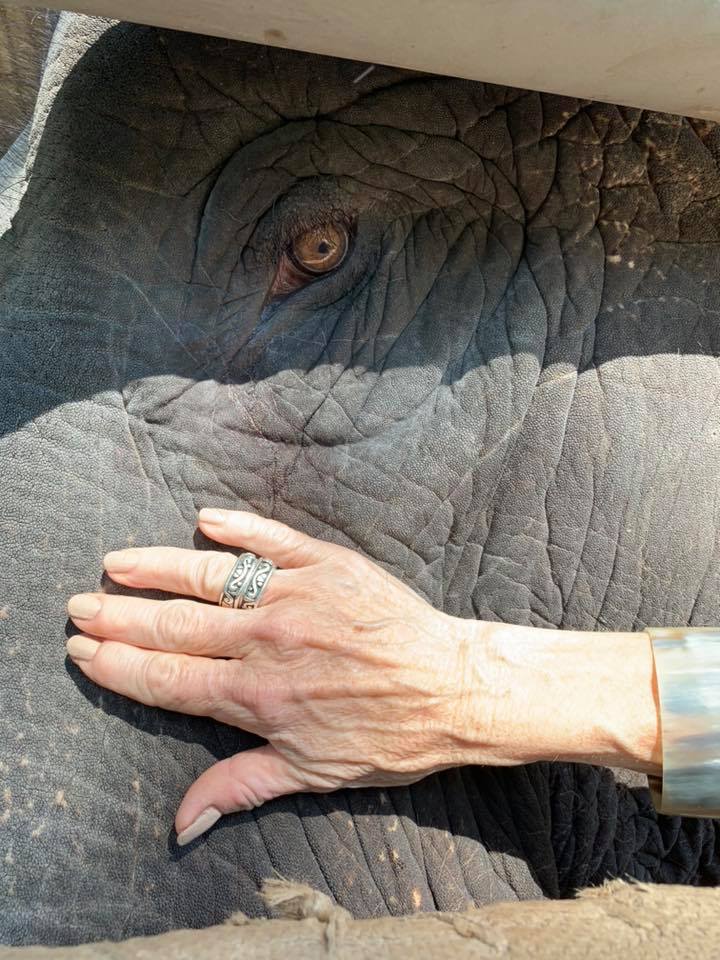 Boon Me is known for her high energy, excitability and thought to be a challenge to calm. She reminds me of a thoroughbred, elephant style.
The more we asked of her, the more willing and responsive she became. The previous day I'd asked her to be gentle with her trunk. Yesterday she was positively tender and mindful with myself, and each of us.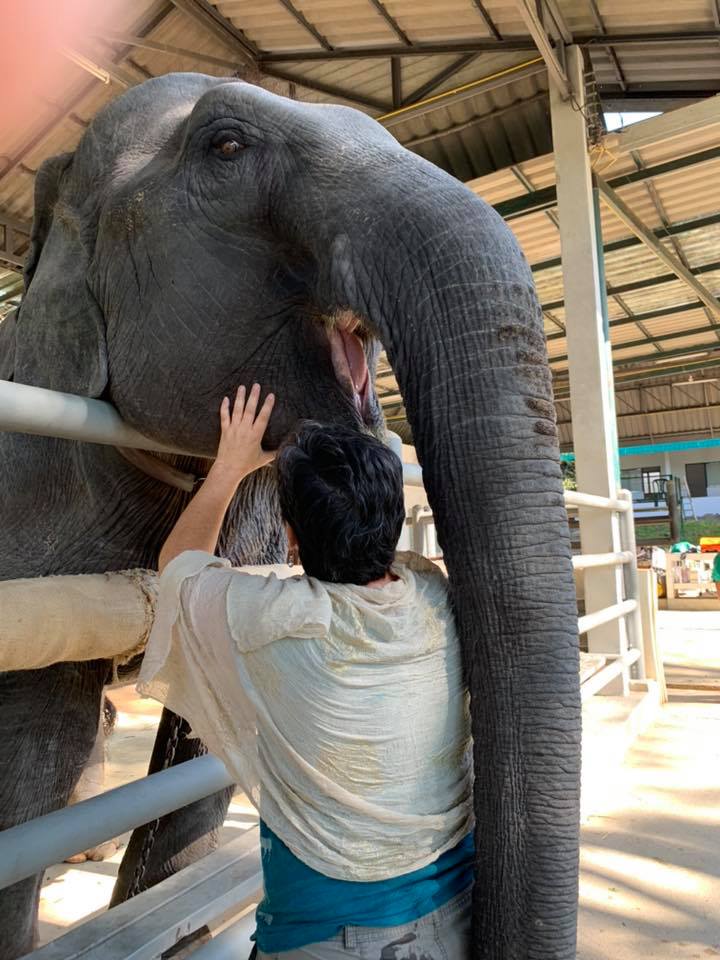 So many historic milestones with Boon Me: We were allowed into her enclosure with her. Anne said in the 8 years of her coming here and working with Boon Me, this was the first time allowed in.
She was allowed to roam with us untethered.
No one except the elephant's keepers, the dedicated 3 vets who care for them, and Soraida are allowed in with these elephants or allowed to touch them for safety reasons.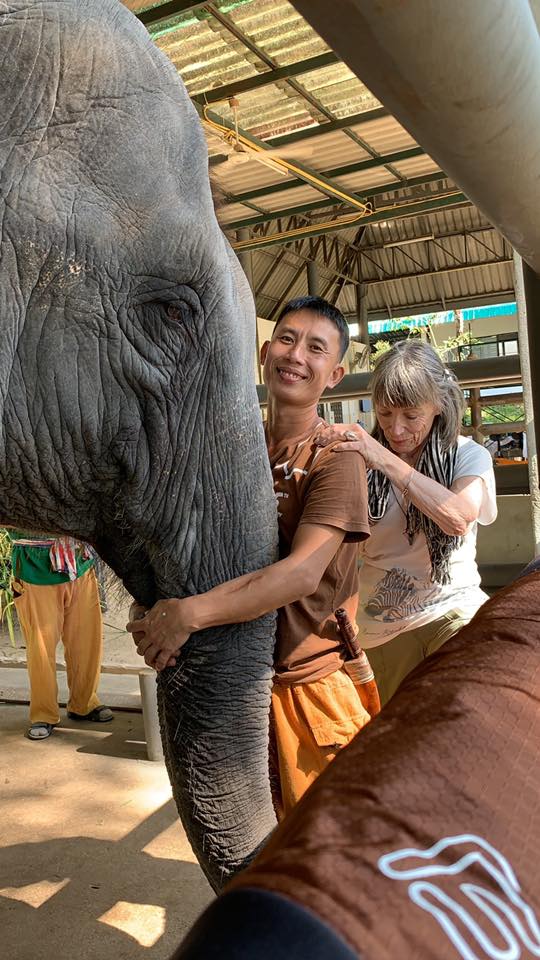 We continued working all over her beautiful body wile being able to stand directly with her!!! We were then more freely able to share how to apply the TTouches with both the honorable vet who has been with us as we worked with each of the elephants, and her dedicated caretaker. This brought our visit to new heights of awe and meaning.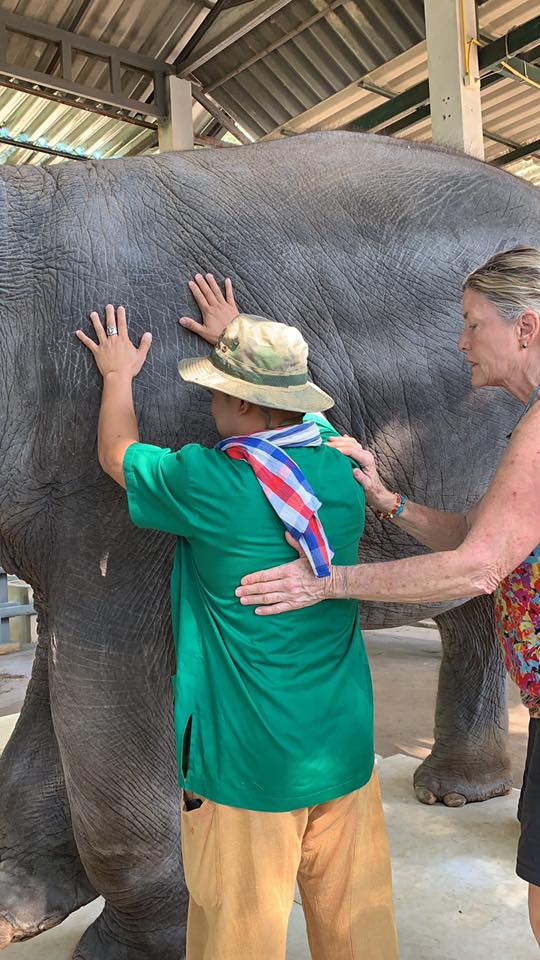 Often when working with dog, cat, and horse clients we are sharing a new way to touch, feel and listen through their hands, and to communicate what you do want vs. what I call the 'quit it, stop it' method of communicating that is prevalent in our country and around the world. Recognizing the incredible intelligence, conscious awareness, and feelings of all species combined with having gentle tools which reach across all languages – human and animal- helps us be with animals in ways where we do not have to use force, or dominance, yelling, tugging, pushing- it's how I grew up dealing with and training horses. It comes from fears of being in danger of being hurt. And comes when we simply do not have other ways that seem effective.
Our common ground is our love, care and appreciation of and with animals who reach into the depths of our beings, into the very best and most genuine of who we are and helps us know our most loving, loyal, respectful, compassionate selves.
TTouch offers a gateway into having tools for deepening of connecting, bonding, seeing, feeling, and communicating – in ways that allows, opens, and offers a gentle, respectful, and more easeful way to be together with animals – and each other.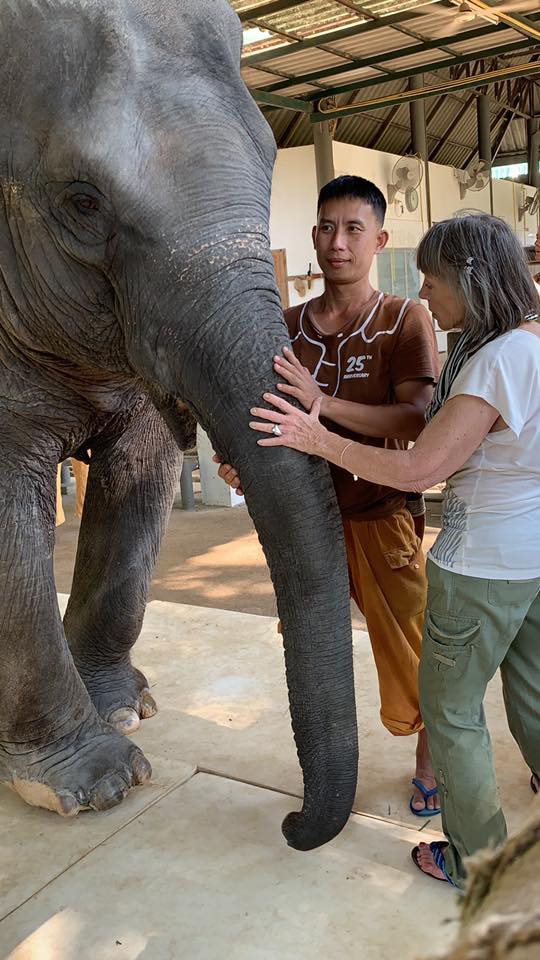 The dedication and love for the elephants here at FAE is profound. It is a deep honor for TTouch and and us to be so received with the caretakers and Vets of these magnificent beings, knowing our sharing is part of a bridge for enhancing humane care for all elephants everywhere. It is an honor and with deep regard for those elephants who have suffered deeply through time, and still do. Anne Snowball has been coming for 8 years building trust and sharing so deeply , each time sharing more and more TTouch.
As is happening worldwide, deep shifts are taking place. There is something so exquisite happening here that goes far beyond my words and these few pictures. Gateways are opening.
Our experiences the rest of the day with Young Ming, magnificent starlit Mosha, and elder Queen Jewel Motala the day became increasingly potent. Each of us, Anne Snowball, Helena Bresk, Soraida Solwala, each vet, Mahoot, staff member – and each of you Reading, along with the elephants all are playing equally needed and important roles.
We ended our day with a powerful 'meeting' with two of the vets, the wonderful staff, and all of the elephant's Mahoots where we watched a slideshow of photos of our visit so far, discussed possible enrichments for the elephants and other ideas.
If you would like something tangible to help support these elephants and the daily care, and you've enjoyed and appreciated any of our posts about the elephants, please add your donation so we can leave the device for use with Motala, Boon Me, Mosha, young Ming, and future injured elephants who come for excellent care at FAE. This is our last full day here so please hop on it! As of this writing, we need an additional $5500 in order to leave this device here for our elephant friends. Thank you for your generosity of spirit and compassion. Any amount is welcome and adds your support to their daily care. ???✌️???✌️????
https://www.gofundme.com/friends-of-asian-elephant-hospital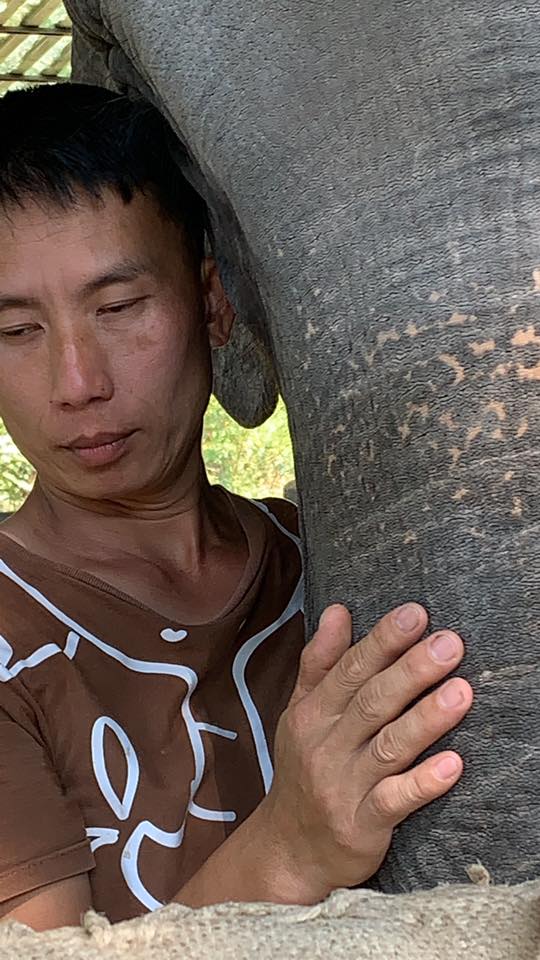 #ChaingMai #Thailand #elephants #friendsofAsianElephants #sandythailandadventure
Â

Please join me on Facebook for more pictures and insights (https://www.facebook.com/sandyrakowitz) as I visit the "Friends of Asian Elephants" elephant hospital in Thailand. See my posts about my trip and to join my Facebook Live videos. (If we do not have any mutual Facebook friends please send me a note and let me know how we know each other so I know you are real person.)
Search the hashtag #sandysthailandadventure to see all my posts and videos as we bring healing to these gentle giants.
Â
About Sandy Rakowitz…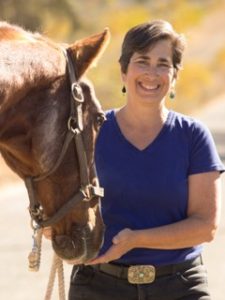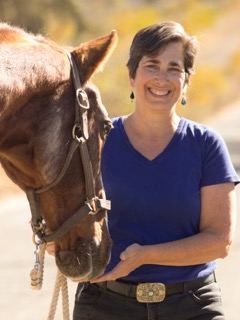 Sandy is the founder of OneHeartHealingCenter.com where she has guided and trained animal lovers, animal care professional and those seeking self-empowerment through her content, products and certification programs.
She specializes in Animal Communication, Energy Healing with people and animals, Tellingon TTouch, Essential Oils and channeled holistic healing methods, including her Creative Journaling process and the Awaken Animal Communication Method.
She empowers people to access and develop their natural intuitive instincts and psychic abilities, while awakening their life purpose, along with the animals they love and have loved.
Get tips and an info rich subscription to Sandy's popular "Animal Wisdoms" eZine each week. We respect your privacy and will not share your information!