A Wing and a Song Annual Fundraiser event for Project Perry,
The Central Virginia Parrot Sanctuary
located in Louisa, Virginia was a blast!
We had great food, song, raffles, music, dance and I got to

Sandy Rakowitz & Cheryl Falkenburry
catch up with my old friend, wonderful Dog Trainer and Author of "In Deliliah's Eyes," Cheryl Falkenburry. The video showing life at the Sanctuary was brilliant and will be public soon.
This Sanctuary is an incredible place. Cockatiels, Parrots, Conures, Quakers, Finches, Parakeets and more!
Meet Charlie, the old Scarlet Macaw
According to the limited history given, Charlie is most likely an old wild-caught who spent at least 40 years in the same family.
The story told is that Charlie's original family loved him very much. In fact, they rode around town with him on the front handlebars of their bicycle. Over time, Charlie moved from home to home within the same family – each time with a degrading quality of life. Read More about Charlie & other special stories.
"The Central Virginia Parrot Sanctuary serves primarily as a permanent home for birds that are not capable or suitable for human companionship. Many have lost faith in human compassion and are finally happy with sharing free flight with others of their kind. Keep checking the website out for updated pictures of them enjoying this. However some birds do arrive here and may be bird-aggressive or do prefer human companionship. We do our best to evaluate and adopt such birds out."
Things you can do to help Project Perry Parrot Sanctuary;
Visit, Volunteer, Donate, Sponsor a Bird! Use these links –
Birdy Booty: Shop for all of your toy needs via this link to Birdy Booty. They specialize in custom bird toys tailored to each of your bird's specific needs. You can also ask them about making toy contributions to the birds here.
Shop at Food Lion? Help Project Perry – sign up – click link –
For additional ways to help, volunteer, make a donation, sign up to receive and read past newsletters, see more info on these beautiful creatures visit;Â ProjectPerry.com
Please Share!
Want to know more about essential oil uses with horses and other animals? Sandy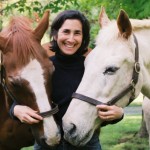 Rakowitz of One Heart Healing Center for people and animals teaches a monthly No-Cost Teleseminar. Register for the next class!
I invite you to explore our educational offerings. When you go to my site there is much information awaiting you. Here you have free access to listen to previous classes. When you sign up for the One Heart Newsletter you will receive free updates. https://onehearthealingcenter.com
From Sandy Rakowitz, Founder of One Heart Healing Center, Practitioner and Host, Essential Oils 101, an educational forum for holistic health and wellness with people and animals.
Mentoring People and Animals for Healthier More Vibrant and Inspired Lives!