Riding Horses, and Jumping have been a passion of mine since I was a young girl.  For the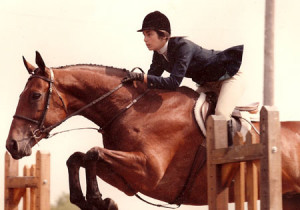 last 10 years, I didn't think I'd be able to be actively riding, training or jumping again.
I've been thinking alot lately about things that we let stop us from doing what we love, and not doing what comes naturally to us.  
(Pictured right – that's me with my junior horse Fiddlin' Around – just a few years ago – wink!)
To be able to walk, trot, canter, and JUMP, are things I honestly never thought I'd be able to do again because of all of the body and health related issues I've had over the last decade.
To feel "I have have my body back' with an increasing strength, ability to function well, and be very active feels quite miraculous.  I am filled with gratitude at this gradual shifting.
I'm realizing self-judgements had been sitting in my muscles, ligaments and consciousness. This was part of my not being able to ride for so many years as it was causing so much physical pain that they couldn't hold my bones in the right places when riding or afterwards. This was far beyond regular muscle soreness. 
Amazing…. 
…Change, and healing is so possible. 
Self-forgiveness is possible.
Internal freedom from binding shackles is possible.  
Regaining strength is possible.
I am grateful for being able to move these things through me, to have different experiences within myself, to feel physically stronger, to be able to ride, and jump once again, and to feel more freedom in my heart and psyche.  
I share these experiences because we often do not know what is actually possible.
Let my experience be an inspiration for moving through something that you have been experiencing that may seem impossible.
I posted this video below on Facebook .  
Click on the picture to take a look at my first jumping experience in about 25 years.
Someone said it looks so natural for me…which got me thinking, well, yes, I guess after thousands of hours of doing this growing up, it was still quite natural.  
Once I got over my 'stuff' and nervousness that is, and just let myself do what I know!  
Isn't that just a great metaphor for life?
Read On ….
Get Unadvertised Specials with Magic Secrets for creating calm, confident, courageous critters, make sure to sign up for the One Heart Animal Wisdoms newsletter in the upper right hand corner of OneHeartHealingCenter.com.  You will also get a complimentary gift!  
UPCOMING EVENTS:  I've got quite a few upcoming events happening… on Calming Methods for Reactive Animals; Pets Reflecting Health; Jitter Buster classes, workshops, Hand of Light Energy Healing, and so much more!  Click Here for the full listing of current events.
"Start by doing what is necessary, then do what is possible,
and suddenly you are doing the impossible."
~ St. Francis of Assisi
About Sandy Rakowitz:
Founder of Jitter Busters for Pets, and One Heart Healing Center, Sandy is a Heart & Soul Vibrancy Strategy Coach:  Empowering Women to Live Their Vision
with Authentic Expression In Business, Life and with Their Animals!