A trucker talks about his ideal job,
what he didn't like about the job he just quit,
the fork in his road,
and what he truly wants to do.
Abraham says, "You can't get to where you want to be by being unhappy with what is. You just can't get there from there."
By aligning with his desires…..something surprising happens…listen to this trucker's story and make sure you get to the ending of this – it will knock your socks off!
For more information about Esther Hicks and Abraham – http://www.abraham-hicks.com
Sandy Rakowitz of One Heart Healing Center for People and Animals is a Teacher,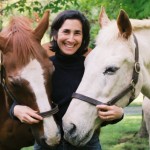 Animal Communicator, Energy Healing & TTouch Practitioner, Essential Oils Expert, Author, Entrepreneur and Host of Essential Oils 101 a monthly Teleseminar. Sandy has 20+ years of experience in the field of Holistic Wellness.
Mentoring People and Animals For Healthier, More Vibrant and Inspired Lives!
Set up a Consult so we can create a Step-by-Step Healing Action Plan designed just for You or The Animals You Love. www.onehearthealingcenter.com