Alf, a Pit Bull rescued from the fighting dog ring
of Micheal Vick gets a second lease on life.
Watch Alf go from Fear to Feeling Safe in the World
with the guidance of Tellington TTouch.
Kleenex alert!
Kudos to the many people involved in Alf's transformation! And Thanks to Kathy Cascade for her great TTouch skills and making it possible to get a glimpse into Alf's new lease on life!
Want to learn TTouch directly from a
Well seasoned and experienced TTouch Practitioner?
Learn from anywhere in the world via Skype!
Sandy Rakowitz of One Heart Healing Center for People and Animals is a Teacher, Animal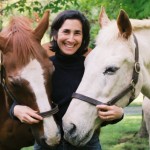 Communicator, Energy Healing & TTouch Practitioner, Essential Oils Expert, Author, Entrepreneur and Host of Essential Oils 101 a monthly Teleseminar. Sandy has 20+ years of experience in the field of Holistic Wellness.
Mentoring People and Animals For Healthier, More Vibrant and Inspired Lives!
Set up a Consult so we can create a Step-by-Step Healing Action Plan designed just for You or The Animals You Love. www.onehearthealingcenter.com