This week someone I know died suddenly of a brain aneurysm.
As I began processing this sudden death, my connection and communication with her opened quickly. It's been a remarkable journey in the last 24 hours, and we'd like to share with you.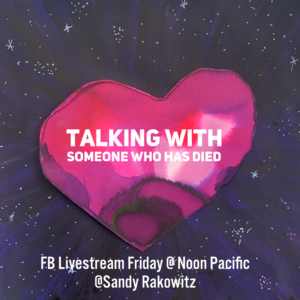 Join me Friday, June 4, on Facebook Livestream
or, watch later on my YouTube Channel. 
Let's find out together what she has to say about living life and death.
This is in honor of Amanda, in honor of living life fully, offering Ways to process Grief gently, with respect, and using Grief as Fuel for Connection and Growth.
It's a wild and profound experience!
Bring your questions and experiences of connection and communication with your loved ones- animals and people.
See you soon.
Sandy