Discover how Tellington TTouch Bodywork can transform you and your animal friends well-being, confidence and overall connection.
My horse Ibis introduced me to many things in life
and other horses want this also…
When I found Ibis in 1987 he was scrawny, beat up, and shut down
pictured below – first night he arrived, May 1987.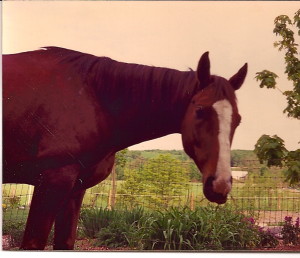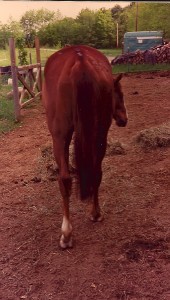 Fairly quickly gained weight, his coat got glossy like a shiny copper penny,
but his heart and mind remained shut down
Good food, living a new life with a pasture, grass, horse friends
and TLC were not enough to unlock his desire to connect,
bond, feel good being groomed and handled,
stop spooking, walking calmly without jigging,
or go for rides and learn without shutting down.
After a year of great care, food, training, TLC,
not much had changed in Ibis.  I was frustrated.
Everything I had known previously wasn't working to create changes.
Someone asked if I had tried Tellington TTouch, then called TT.E.A.M.
I had read an article about it a few years before, but poo-pooed it
as touchy-feely, hokey, and weird.
(Yes, this is really true!  I was a total judging skeptic!)
Her comments stuck with me though about TTouch
helping horses focus, learn, connect…
These thoughts, and the potential of these changes as a possibility,
kept running around in my mind.
I decided to give it a try. I found a Practitioner to come and teach us.
That was 1988.
Change began happening.
Ibis began softening and listening for the first time.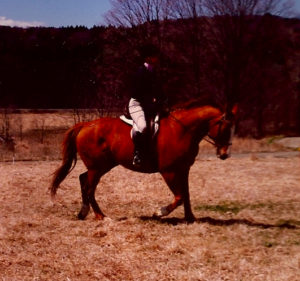 In our first animal communication session in 1989,
he said when we used the hands-on TTouches,
and all the leading and learning exercises,
it was the first time he really understood what humans expected of him.
WHAT???!!!!
And here I thought I was being clear all along!
I was a horse trainer, and all the horses prior to him understood what I was saying!
Saying TTouch changed our lives is an understatement.
Ibis wasn't the only one it helped, as I learned and opened right along with him.
As he began releasing old ways of relating to people,
he began letting me in emotionally.
The tensions of his racing days shown in string-tight muscles began melting.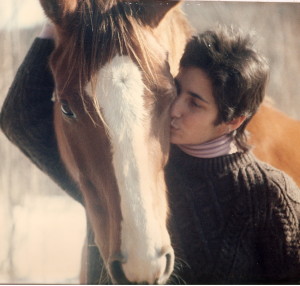 His stride got longer
– his jolting, jarring trot got smoother.
He was able to walk a normal,
flat footed walk instead of jigging and jogging on trails.
He became more confident
– he no longer let everyone else eat all the hay first, standing off to the side
Feeling safer and more secure in his body,
he no longer jumped off the ground if there was something near his feet
— subsequently, he no longer dumped me on the ground!
He was not so spacey and unfocused
– he stopped banging into branches, fence posts, doors
so he no longer got cuts in or around his eyes,
and stopped getting foot, leg or body scrapes and cuts
— my Vet bills decreased!
We began having fun together.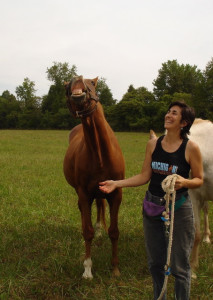 We could go out for longer and longer trail rides enjoying the beauty of Vermont woods, fields,
splashing in ponds, and walking through streams.
We could even go for gallops and feel safe across the hilltops.
We could ride in the ring and enjoy learning dressage movements.
He thought jumping was really stupid and wanted no part of it!
It was good to get his opinion instead of him being shut down.
He began enjoying being groomed,
knowing that whatever would happen to his body would feel good –
and that I would listen and stop or change what I was doing
if something didn't feel so good.
Horses want More Hands-On, More Tellington TTouch
Join Us
On Monday, July 18, I am giving an ONLINE Interactive Workshop
TTouch for Horses
And on July 24, I will be at Unbridled Thoroughbred Foundation in Greenville, NY giving an IN-PERSON, Live, Interactive Workshop.
You can do just the Online Workshop, or
Come to both.
Learn more and register here
https://onehearthealingcenter.com/tellington-ttouch-for-horses-fundraiser-for-unbridled-thoroughbred-foundation/
Both are fundraisers with proceeds going to the wonderful non-profit Unbridled Thoroughbred Foundation who protects horses from exploitation and slaughter.
They rescue, revitalize, re-home, and provide Thoroughbreds with Sanctuary.
Through advocacy, care, education, and ethical engagement with Thoroughbreds they inspire better outcomes for all horses.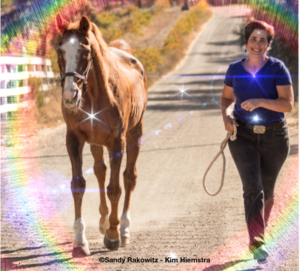 I am excited to give back to Thoroughbreds and this wonderful foundation in memory of Ibis, who lived to a spectacular age of 37.
Ibis was still galloping until a month or so before he passed, November 2019.
We both hope you will join us for these workshops so you and your horses can become the best team together possible, for as long as possible.
To Ibis, who gave us all so much wisdom, understanding and guidance.
Please join us, and share this email widely!
Got questions?  just reply email – Click here – and ask.
Sandy
www.OneHeartHealingCenter.com  – Where Potential Becomes Possible.