My first artistic endeavor following my brain injury in June 2009
was the creation of a gorgeous necklace and bracelet set for myself.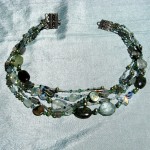 The inspiration for the necklace
came from my wish for the jewelry
to express my vision of biophotonic light;
the light of cellular communication and healing.
You see, during the first two weeks, while I lay propped up in my bed or on the couch with ice packs on my face, I visualized the healing energy of the photonic light traveling through my brain and my facial nerves, muscles and tissues re-creating connections that had been damaged or lost by the injury.
I wore my necklace and bracelet every day and felt great comfort in my connection to my capacity for self-healing, the Tellington TTouch community and to all my friends and family who shared so much love during my initial days of shock and grief.
I attribute my fast healing to the love and support from everyone and I fully appreciate how all those hours of TTouch Racoon Circles gave me relief from pain, reduced my swelling, supported the recovery of my traumatized facial nerves and muscles, and I believe, helped to gently calm and re-balance my brain.
As a tribute to Linda Tellington-Jones and her work, to TTouch and the TTouch Community, I chose to include AQUAMARINE AND LABRADORITE gems as a symbol of how these gems have held meaning for Linda in her life journey.

I added FRESHWATER PEARLS AND SWAROVSKI CRYSTALS to complete my vision of Linda's intuitive link to the oceans and the animals that live within its depths and to the mystical community of Atlantis.
I believe that Linda's creative connection to "The Field" has allowed her to trust her heart's intuitive guidance that led to her creation of Tellington TTouch, the special kind of communication that has indeed traveled around the world.
My intention for these Healing Light Necklaces is to remind each and everyone of us of our innate capacity for healing and how we can access our own potential for self-healing through our experiences with TTouch.
Please wear your necklace with the intention to remember your innate wisdom; your very own potential for perfection and to help you remember your perfect functioning.
A very limited number of Healing Light Necklaces are available for purchase.

Prices range from $35 for a single strand necklace up to $125 for multiple strands.
Each necklace is completely unique, hand beaded, and made especially to fund raise for brainwave studies with TTouch and to help people with Traumatic Brain Injuries.
100% of the proceeds will go toward beading supplies and the purchase of our new QEEG machine which will assist in our future brainwave studies of TTouch and our future TTouch Groups for People with TBI.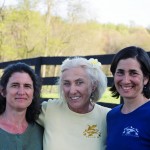 Article by Guest Blogger:  Robin C. Bernhard, LCSW, MEd
Virginia Neurofeedback Attachment and Trauma Center
Charlottesville, VA  22901
virginianeurofeedback.com <http://virginianeurofeedback.com>
To purchase Healing Light Necklaces, please contact sandy@onehearthealingcenter.com or call 434-973-8864
From Sandy Rakowitz, Founder of One Heart Healing Center, Practitioner and Host, Essential Oils 101, an educational forum for holistic health and wellness with people and animals.
I invite you to explore One Heart's educational offerings. When you go to my site there is much information awaiting you. Here you have free access to listen to classes on many holistic health and behavior topics. Register for the next class!
When you sign up for the One Heart Newsletter you will receive free updates.  https://onehearthealingcenter.com
Mentoring People and Animals for Healthier More Vibrant and Inspired Lives!
434-973-8864