TTouch has been changing the course of training and healing with animals and people around the world for over 40 years.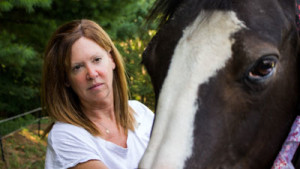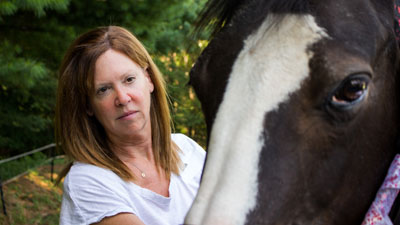 This ground-breaking work was developed by pioneer, Linda Tellington-Jones.   And certainly changed the course of my own life, and with the animals I've met for over 20 years.
First, what exactly is TTouch and how does it work?  Tellington TTouch is a gentle, non-invasive system of bodywork.  Specialized circular touches, lifts and slides that promotes communication throughout all levels of one's being as used.
The intent of TTouch is to activate the healing potential of the body at the cellular level. And, to awaken and activate our innate intelligence that is deep within each and every cell in our body.
Anna Wise also worked with Linda Tellington-Jones using the Mind Mirror.  They measured brain waves to look at the effects of TTouch with horses and people in 1984.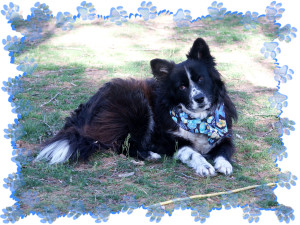 The "Awakened Mind" is described by Wise as a specific activation of delta, theta, alpha, and beta brainwaves. This is a particular kind of mental processing that enhances intuition, creativity and insight that can only occur while the body is completely relaxed.
 TTouch enhances the ability to move into 'The Awakened Mind."

Amazingly, TTouch simultaneously helps the body relax and release muscle tension.   Activating the thinking mind also enhances the ability for new information to be readily absorbed, i.e. learning is enhanced.
 The 'Thinking Mind" is precisely why TTouch facilitates training and learning.  The capacity for taking in new information, new ways to be readily absorbed is a highly unique and remarkable aspect of TTouch.
TTouch is quite a simple method anyone can learn to use for themselves, and with their own horses, dogs, cats.  Training gets easier when you incorporate the use of TTouch.
Ability to Settle and Focus Improves Dramatically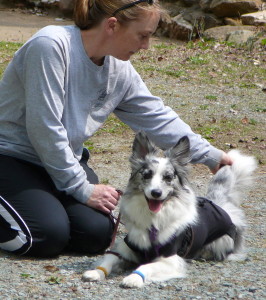 Casey is a young mixed breed who lives as if he is on high octane.  He loves life, and loves and needs a high level of physical activity.
Previously he needed hours of exercise a day just to take the edge off.  Casey had trouble maintaining focus for more then a few seconds at a time.  Training was tedious, and not so much fun.
Cecelia began using some of the circular TTouches.  Casey began to settle more readily, did not need extensive exercise and became a 'better student.'
She said it was like MAGIC – he began to relax more easily and didn't need hours of running to settle.  He began focusing in their training classes.
Casey would enter class and be able to 'get right to work.'  Previously he would have to spend 10-20 minutes checking out everything and everyone before he could settle and begin to work.
TTouch practitioners all over the world utilize this system of touch, movement and body language to affect behavior, performance, and health, and to increase an animal's willingness and ability to learn in a painless and anxiety free environment.
As your brain becomes more relaxed and functions in a more balanced state, your nervous system is less stressed, your muscles are more relaxed, you think more clearly, learn more easily, have less pain and, more of your authentic, intuitive, wise selves can come shining through.
This studies show precisely the importance of why I integrate this form of touch into all of my work – with dogs, cats, horses…with all species, and with people too!
ABOUT SANDY:
Sandy Rakowitz sparks people's intuitive abilities to awaken and coaches courageous breakthroughs to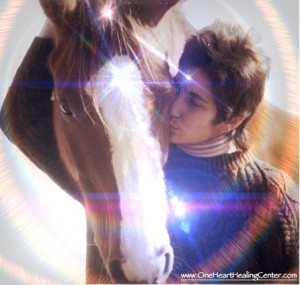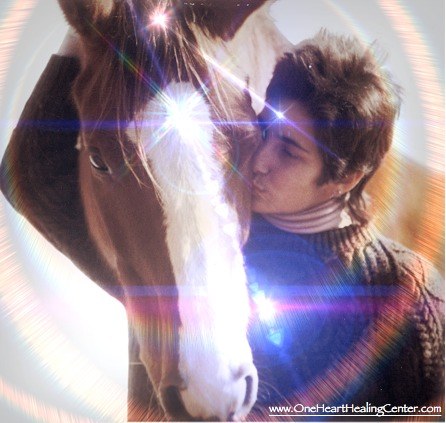 living a more empowered life.
Her expertise has been honed with over 28 + years in private practice ranges from holistic modalities, money empowerment, and business breakthroughs for healing and wellness experts and leaders.
Sandy teaches, coaches and guides people 1:1 privately and with groups via telephone, Skype with people and animals worldwide, and in person.  
Get started with your complimentary "Animal Communication Kit" at OneHeartHealingCenter.com