Dear One, Unleash Your Creativity!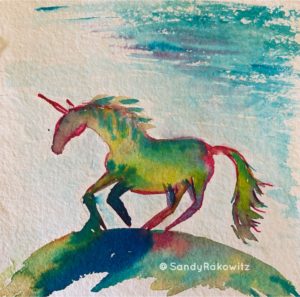 Within 24 hours of posting this painting, 'Galloping Unicorn,' the original painting was sold!
I am celebrating my first original painting to sell!

This painting was inspired by Ibis, my horse who passed over recently.  This majestic Unicorn brings movement, galloping across the earth, weaving magic and creativity.
The real benefits of connecting with the creative forces inside me aren't just in the sale, though that is fabulous for someone to have this painting magic in their home.
The real benefits of unleashing creativity is the inner journey of creating.
Things like:
Resilience
New Ideas
Feel uplifted
Living Dreams
More Self-Trust
Meditative state
Connecting with Magic
Transforming Sadness
Calming, comfort and soothing
Magic Medicine from heart and soul
Connect with the frequencies of colors
Creating New Ways of dealing with old issues
Contact with loved ones who have passed away
Messages that come through and get onto the page
Connection with Positive, Bountiful, Loving, Light filled Energies
A Way to Connect with Energies that are around all the time, but not always felt
Through this process, I help people get unstuck
both on the page creatively and in their life.
A client I worked with described growing up in a very conservative family
where her brains and achievement were emphasized.
Yet her heart and dreams felt stifled.  She learned to stop herself
from creating all she had dreamed. She didn't follow her intuition.  
In working together her confidence in herself is growing.
She sees she can create anything and is letting her imagination go wild. 
Another benefit of unleashing her creativity,
her clientele -of ideal clients -is increasing as a result.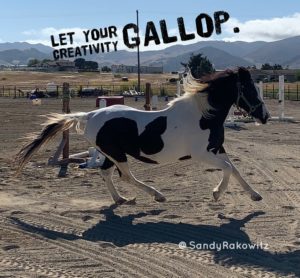 Other clients have been stuck in old emotional patterns and physical pain.
In opening connections with their deepest self, and freeing their creativity,
they are finding new awareness, freedom from old constraints, and inner resourcefulness. 
They're not relying on others to define their sense-of-self or self-worth. 
They are defining themselves instead.
They are triggered by others less.
Their relationships are improving.
Their relationship with MONEY is changing – and freeing up.
They are making decisions more easily, freely, not constrained
by a sense of scarcity or a sense of lack of deserving.
They are feeling more self-confident and empowered.
They are tapping into, unleashing their Divine Codes.
If you are ready to get unstuck,
start trusting yourself and find your medicine from within,
click here to schedule a "get unstuck" call with me.
These are no cost calls
where together we'll identify exactly what's keeping you stuck
and how you can overcome those obstacles.
Because the obstacles aren't actually what's stopping you.
The obstacles are the path to getting unstuck and creating the life you want.
With Galloping, Loving Appreciations for you,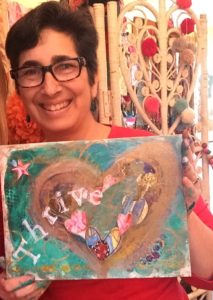 More About Sandy Rakowitz:
Animals Saved Her through Connection.  Animals continue to teach her ways to live with meaning and purpose.
Now, Sandy mentors women 1;1, in classes and programs to save themselves with Animal, Nature & Spirit Wisdoms, unleashing their Creativity and Capacity for Connection with Self, Soul & Source, enhancing Self-Worth & Net-Worth.  Live to Thrive. Turn your dreams into reality.
Sandy Rakowitz is the Founder of the award winning business:
One Heart Healing Center for the Evolution of Humanity and Universal Consciousness