Do You Want to Understand Your Animals Better?
Listen to This!
Begin Your Journey Now…
Thanks for your interest in this class! However….
THIS TELESEMINAR CLASS IS OVER. 
Please join the weekly One Heart  Newsletter/Ezine Animal Wisdoms in the upper right hand corner to stay updated on upcoming classes and special offerings – and get a weekly does of Animal Wisdom, right from the animals.  You'll also get a complimentary E-Course Video series on using Essential Oils with people and animals!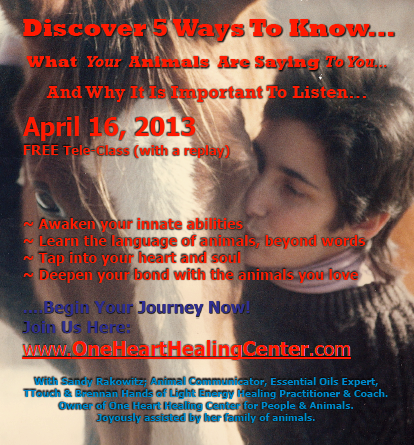 Sandy Rakowitz: Helping You Discover…
What Your Animals Are Saying To You.

Animal Communicator, Essential Oils Expert, TTouch & Brennan Hands of Light Energy Healing Practitioner/ Coach.  
Owner of One Heart Healing Center
for People & Animals.
Joyously assisted by her family of animals.
Get Your Complimentary Video E-Course Sign Up Now!