What's Happening:
Animal Communication Adventures
with Big Cats and Elephants!
Plus Join us in the Next Animal Communication Group – Time sensitive offer
Last month I lead the Big Cat 'Animal Communication' Adventure in Tampa Florida….the experience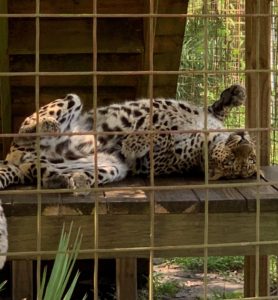 went beyond my hopes and dreams! 
Pictured to the right is Sundari Leopard lounging and showing off her beautiful self at the Big Cat Rescue.
Next I travel to Thailand!!!
I was invited to join my dear friends and long time TTouch Practitioners, Anne Snowball and Helena Bresk to be with Elephants at an Elephant Hospital called Friends of Asian Elephants (FAE)!
Two of the lifetime Elephant residents were captured as babies from the jungle and "tamed" to work in logging camps.  They stepped on land mines when younger.  Thanks to Soraida Sorwala, hospital founder and visionary, they now have a life filled with love, excellent care, and a prosthetic limb to help support their massive weight and walk more easily!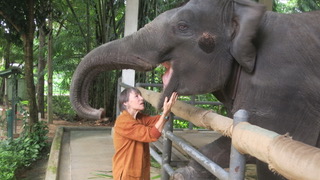 Our purpose on this trip is to introduce the BEMER, a medical device to increase blood flow in the microculation, particularly in the amputated limb region where circulation needs enhancement.  
Anne has been traveling to FAE and working with these magnificent beings for about 7 years.  She has already introduced TTouch, which is used regularly with these  elephants!  Pictured to the left is Anne using the TTouch of Trust with one of the happy to receive TTouch Hospital residents.
We are excited for this historical introduction of BEMER for Elephants!!  We are so excited to have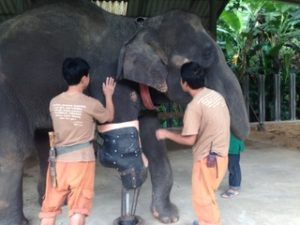 amazing support with daily contact in consulting with Linda Tellington-Jones, founder of TTouch and BEMER spokes person for BEMER with with animals and also consulting regularly Dr. Augustus Brooks, a Veterinarian well versed in using BEMER with domestic and exotic animals. 
Join me as I share on Facebook while on this trip.  Friend me on Facebook and keep watch Dec. 1-12 for our adventures.
Mosha Elephant being fitted with first Elephant Prosthetic, and learning to walk with new support after many years without a lower limb.
Meanwhile, back to the Big Cat Adventure last month….
When I first saw him, my breath caught in my chest.  His head and jaw are enormous, his rosettes, sleek, agile, magnificent with eyes like lasers, piercing right through you.
He was described by our tour leader as the 'Pit Bull' of Jaguars because of the size of his head and jaw.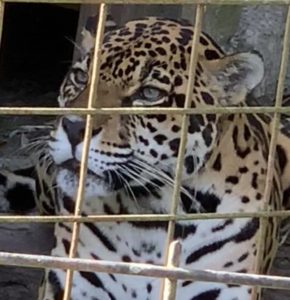 I looked into Manny the Jaguar's eyes and as I stood in his presence, a mix of tears filled with grief, joy and a deep recognition of something far greater then myself swept through me.
Manny Jaguar pictured right.
To see those gorgeous jaguar markings and his immensely powerful physique was initially intimidating if not somehwat overwhelming.
He shared telepathically with me about allowing all good things to be coming my way.  It was a surprising comment coming from this powerful Jaguar.
Feeling his spirit, soul and heart carried me into experiencing him beyond his magnificent physical body into experiences that even now I do not quite have words to describe – except that it was beyond what I normally know and feel!
Prior to any workshop or class I offer, I do many 'preparation meditations.'
Several Big Cat 'Guides' came to me in these meditations.  They posed questions for us to ponder; "What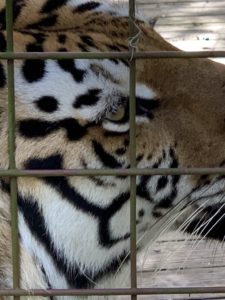 does Divinity mean? What are divine qualities?"  
Then these divine qualities were named: "Loving, kindness, connection, patience, honesty, tenderness, positive, generosity, courage, confidence, trust, self-respect, self-esteem."  
Pictured right: Duchess adoringly looking up at one of her favorite keepers, a divine expression moment that melted all our hearts!
The Big Cat Guides encouraged us to to recognize them in ways that went beyond their physical existence when we connect with them.  When I asked them what they desired of us in our time with them, they said they wanted us 'To challenge our perceptions, to allow for new openings, new thoughts, new feelings and new experiences."
Then this quote came to me: "To err is human, to forgive is divine.'
along with this message for all of us: "Forgive yourselves for your mistakes, and forgive others for their mistakes."
This is a poignant perspective given most of these cats have been taken from awful situations.  None of the Big Cats we met were dwelling in resentments from their past about how they were treated.  
Instead they consistently expressed a very deep gratitude and appreciation for all those who care for them at this Sanctuary.  Pictured below is Prya Tiger's beautiful nose.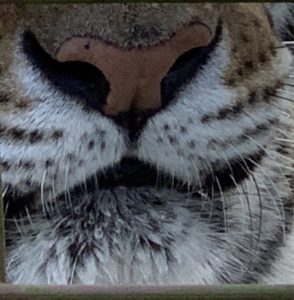 Several of them showed me telepathic pictures of their delicious food.  Most expressed appreciations for the kindnesses, deep love and respect they daily receive.  They love their specially made toys they receive daily which they get to pounce and shred!  
They showed me telepathic pictures outlining their environment at the Sanctuary, rich in tropical plants, and a palpable sense of safety and peacefulness.  
Most of these Cats have come from some form of neglect or abuse which includes breeding mills.  This is like a puppy mill, but for Tigers. In Tiger Breeding mills the cubs are taken from moms at VERY early ages, used in petting zoos, and sent to circuses, private owners, and pseudo sanctuaries.  
Manny's current outlook despite his negligable circumstances at the hands of humans prior to arrival at Big Cat Rescue is 'All Good is coming my way!'   I know I've written this quote three times in this article.  Don't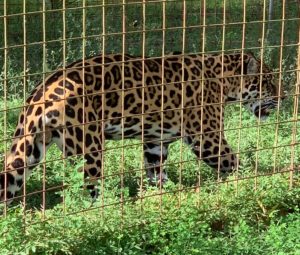 we all need to hear this over and over?  Thank you Manny the Jaguar!
To emphasize this point, he showed me mind picture after mind picture of all the good surrounding him now in his environment.  Manny the Jaguar pictured to the left, walking.
Being with a group of animal communicating folk, and being in the presence of these Big Cats at this Sanctuary was unique to anything I have experienced before, and far surpassed my hopes and dreams.  
Recently, I gave a bonus class to those in my online Animal Communication Program.  
While online, they connected with Priya, one of the Tigers we met at the Big Cat Sanctuary.  Priya was born at Big Cats of Serenity Springs in 2003.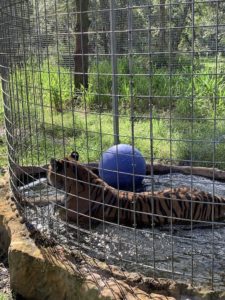 Priya pictured lounging in her pool at Big Cat Rescue, 'living the life.'
Priya had been used as breeding stock at this overcrowded Tiger breeding mill.  The very young Cubs are taken from their mothers to be used for the 'pay to play' schemes at Big Cats of Serenity Springs and elsewhere.  
Cubs were also frequently transferred both in and out to GW Zoo, Jungle Safari AKA The Zoo, Wildlife in Need, Dirk Arthur's magic act, Tanganyika Wildlife Park, Hanson Exotics, T.I.G.E.R.S. and others. (info from www.BigCatRescue.org/Priya)
Ever wonder where the animals come from who are in the zoos, magic acts, commercials, etc?  I sure didn't know!  
But, now that we know, we can do better then allow Big Cats to be bred and kept under such awful circumstances.  For Big Cat Laws and other things you can do go to:  www.BigCatRescue.org and BigCatLaws.org
Priya the Tiger and Manny the Jaguar do not sit in the wounds of their past.  They don't stay in their past trauma. They simply do not dwell in those times. 
Clearly these Big Cats live in the present and let go of their past.   They have much to share and teach us all.
In our online group, Priya brought forward messages of friendly appreciation, love, tenderness and brought forward a divine motherly kind of presence felt by many participants.
This leads me to my next Animal Communication group that I am currently forming. 
I would love to have you join us!
Imagine being able to connect freely with your own animals, gathering their wisdoms, more easily problem solving issues – and just deepening the bond you already have.
Would you love to connect with your own animals more fully, more deeply?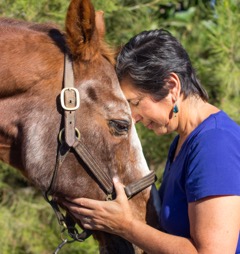 To support your work with animals more efficiently and accurately? 
To also connect with the Big Cats and Elephants? 
With Nature, and other animals?
Please join us for the next Online Animal Communication IMMERSION Program.  This program is for beginners, as well as those who are more experienced.
You will get three core components in this program:
1) An in depth Self-study, Step-by-Step series of lessons created for you to dive in deeply so you can develop your intuition and psychic animal communication skills. As soon as you register, you can gain access to the self-study part of the program and begin right away!
2) A live practice group that will meet twice a month for 4 months from January – April, 2019.  This will give you time to practice your skills, receive mentoring with me, and receive tremendous group support. move through self doubt, and enhance your confidence allowing your communication connections to flow more readily with animals of all kinds – including your own animals; with nature, and even with the spirit realms with animals who have passed over. 
3) Participation in Two Aroma Freedom Technique Classes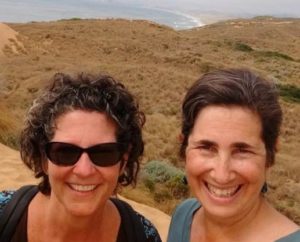 I am also bringing in a very special guest, my dear friend and colleague Teresa Hermann for two bonus classes.  She will bring you a unique technique for moving through internal restrictions and blocks to gaining confidence using a special method which uses essential oils.  
Pictured left are Teresa and Sandy at the magical Montana de Oro State Park, Los Osos, CA
Plus, there are many more bonuses than I can name here….
PLEASE Note this SUPER EARLY BIRD Offer – Just for YOU:
Register by Friday, November 30, 2019 midnight Eastern time,
USE THIS LINK to register: http://bit.ly/LYBL2019
& use this coupon code at checkout: LYBL300
So you can receive $300 off regular pricing!!! 

That is only $697 for a 4 month program which includes Live practice sessions, along with an in depth, self-paced study program with tons of bonuses. 
The price goes up $100 December 1.
Get the full details and register here –
https://onehearthealingcenter.com/animal-communication-certification/
I look forward to seeing you in class!

About Sandy Rakowitz…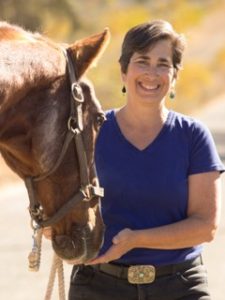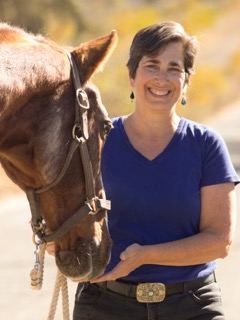 Sandy is the founder of OneHeartHealingCenter.com where she has guided and trained animal lovers, animal care professional and those seeking self-empowerment through her content, products and certification programs.
She specializes in Animal Communication, Energy Healing with people and animals, Tellingon TTouch, Essential Oils and channeled holistic healing methods, including her Creative Journaling process and the Awaken Animal Communication Method.
She empowers people to access and develop their natural intuitive instincts and psychic abilities, while awakening their life purpose, along with the animals they love and have loved.
Register by Friday, November 30, 2019 midnight Eastern time,
USE THIS LINK to register: http://bit.ly/LYBL2019
& use this coupon code at checkout: LYBL300
So you can receive $300 off regular pricing!!!