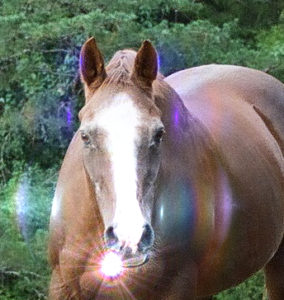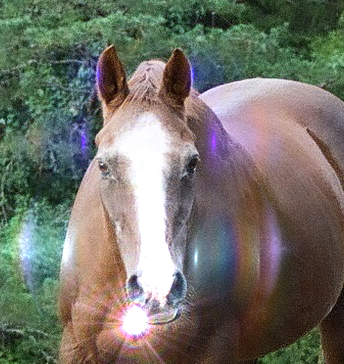 Give animals a voice.
This is a thought that came much later.
First, this horse kept calling me…
…He was an off the race track thoroughbred…
…there was a wonderful horse underneath his challenging traits,
I just couldn't reach him – he was shut down…(and so was I!)
…The phrase Animal Communication didn't exist when I was a teenager….
…Ibis brought me into this in 1988…
This is excerpted from an interview with me by Sarah Kirton who is a keen and passionate advocate of the spiritual and healing components within the mystical realm of the world we live in.
She resides in Cape Town, South Africa, where she enjoys spending time in the outdoors, kite surfing, and playing guitar.
As a result of listening to my intuition, and tuning into my horse, we developed a private practice working with horses, then dogs, then included cats.
This lead us to work with other animals like elephants, Mustangs and Big Cats in Sanctuaries.
And together Ibis and I created a wide range of classes, programs to help give animals a voice, and inspire people into their hearts and their own intuitive and psychic skills.
Read the full interview "Give Animals a Voice" here: https://www.mysticmag.com/psychic-reading/sandy-rakowitz-interview/
About Sandy Rakowitz, pictured below with Ibis at age 34,
the Off the Track Thoroughbred horse who called her when he was 5 years old.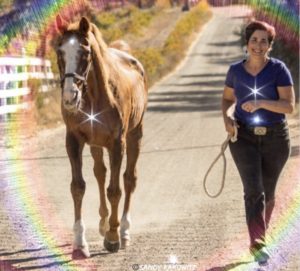 Sandy specializes in empowering people to access the Divine Spark in themselves, and 'All-That-Is' through Animal Communication, Energy Healing with people and animals, Tellingon TTouch, Essential Oils, Money Empowerment, Life & Business Coaching, Akashic Records Consultant, plus channeled holistic healing methods, including her Creative Art Journaling process and the Awaken Animal Communication Method.
She empowers people to access and develop their natural Intuitive, and Deepest Knowing, while awakening their life purpose. www.OneHeartHealingCenter.com