Please join us as we offer
prayer and meditation
to all the people & animals
of the world
"Activating Your Heart, Mind & Soul Connections with Animals & Humanity"
Deepen a profound multidimensional connection with animals & humanity with Sandy Rakowitz.
If you are interested in future classes please sign up for the newsletter in the upper right hand corner.
Sunday December 5, 2021
1 PM EST (New York)/  10am pacific/  18:00 GMT
To find the local time in your area:  https://www.thetimezoneconverter.com
This is for ALL of our Awakening, Activation and Deepening of our Connections individually,
with our animals, collectively for humanity, the earth, nature and the animals for the evolution
of all of our consciousness across dimensions.
You are invited to participate live in the meditation, and to share in the Zoom Chat
– your presence and experience makes a big difference for all.
3 years ago this week I was in Thailand working with injured Elephants.  This was one of the most profound experiences of my life.  I was lead into an incredible, life changing experience and activation by one of the elephants, Mosha.  This meditation on Sunday that I will lead is inspired by Mosha, who will also be present with us to assist us all.
Register to get the Zoom Link,
and Get the guidebook before the meditation:
https://bit.ly/ActivationGuidebook 
Invite your animals to the talk, they LOVE to join in and listen also!
This is a BBSH and BBIRH-International Global Meditation Initiative
About Sandy Rakowitz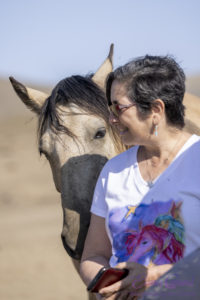 Sandy Rakowitz has been at the forefront of celebrating the human-animal bond for four decades with innovative initiatives.
A 1995 BBSH Graduate, and BBSH Faculty -95-2001, Sandy is a Master Animal Communicator, Energy Healer, Transformational Coach, and Connector across dimensions, speaker, author, artist and founder of the award winning business One Heart Healing Center.
Sandy is thrilled to be expanding her coaching, classes, programs and Adventure Healing Retreats in the creation of One Heart University – a multidimensional universe of learning and growth – online and in person.