No more drama for dogs who've been kicked out of dog training classes!
Some of these dogs were previously highly reactive towards other dogs, people, sounds, and things.  
They are now making massive positive changes.  In their second Jitter Busters© class, each of the dogs were amazingly calm and non-reactive, with no force and without dominance.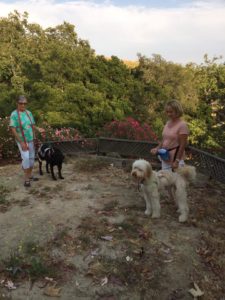 Their
people were stunned
that their
dogs were hanging out in a relaxed manner
, loose leash walking and standing, not pulling, not lunging, not barking,
just being a regular dog, polite, easy, relaxed, no drama… did I mention, just hanging out together?

If you walked into class as an observer, not knowing any history of these dogs, you would NEVER guess that any of these dogs have been kicked out of training classes, or had ANY 'problem' or difficult behaviors before!!!!!
 
This class is the live in person version of the online Jitter Busters class. The changes in these dogs in just two classes is nothing short of incredible.  And this is ONLY class two with the dogs!  
Ruby, an American Staffordshire Terrier, had been previously attacked by another dog so badly that she lost an eye. Since then, 5 years ago, she has been living with Bev and her husband.  She became highly reactive and acting dog aggressive when she sees or is nearby other dogs.  She would lunge and sound like she will rip someone to shreds.  She was reactive in the house hearing or seeing dogs nearby, barking at a high pitch.  
In her second Jitter Busters class she was able to be calm in the presence of 3 other dogs.  She was relaxed enough to lay down on the BEMER*, while the other dogs were at a distance, but still in nearby visual proximity.  AMAZING!  
YEA RUBY,
YEA BEV!!!
One of the dogs came around the corner unexpectedly, about 20 feet from her, and Ruby actually stayed laying down, no reaction, no bark, no lunging, not even a growl. With no force, and very little pressure from the leash.  Her eyes got big, and she looked concerned, but, she had no outward reaction, AND, as soon as the dog left, she visibly relaxed, staying laying down without any prompting, and remained calm.

Ruby and Bev were only on the BEMER for 8 minutes receiving the gentle signal that accelerates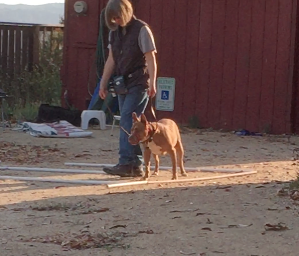 circulation and helps create a calm, yet alert focus.  Ruby 
was able to then walk through the Labyrinth easily, in greater physical mental and emotional balance then prior to BEMER.
While walking around the turns and through this type of 'maze,' the other three dogs were nearby.  Ruby was paying attention to where she was going and to what she was doing. Bev was stunned at these changes in Ruby's behavior.  She said she has NEVER been able to do these things before.  
Both Ruby and Bev are having a new and positive experiences with each other near other dogs.  Bev said this experience went beyond her wildest dreams of what was actually possible with Ruby!  
Each of the four dogs in class displayed calm, confident, courageous behaviors they have never shown before.  No force.  No dominance.  
We are finding BEMER to be an outstanding adjunct to training because it supports calming in a way that allows for thinking, focus and learning to occur much more readily – and it is SO incredibly easily.  Plus, we have the added benefit of the dog's person being able to join their dog, also becoming more relaxed.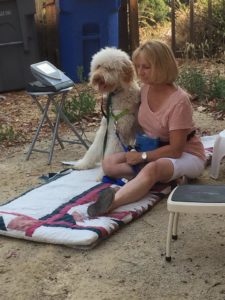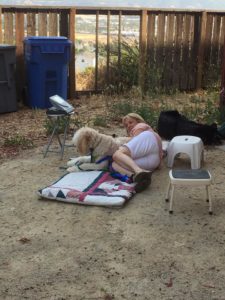 Pictured above are Andrea and Theo.  In the past, Theo has been lunging, plunging around almost uncontrollably,  and difficult to handle at best.  Here, he is relaxed, and easy going while laying on the BEMER.  The other dogs in class are nearby.  Previously this would have been an overwhelming distraction.
We have an additional four classes to go!  Imagine all the dogs and their peop are going to be learning together! 
I've been having some wonderful conversations with Linda Tellington-Jones, founder of TTouch, about the many exciting uses of BEMER in training dogs and horses.  
Linda is the North American spokesperson for the new BEMER veterinary product for animals.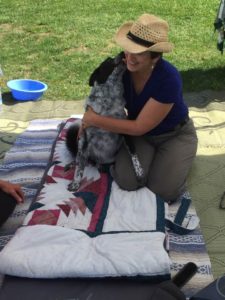 *What is BEMER?
In a recent newsletter, Linda wrote, "So what is the connection between TTouch and BEMER? Well, it's all about the CELLS. For TTouch, it is about cell communication. For BEMER, it is about cell health.
​​​​​Here are just a few of the health benefits we have seen happen for horses: 
Promotes Recovery and Regeneration
Helps Build Muscle
Reduces Stress (During Transport or Competition)
Improves Hydration & Water Retention
Accelerates Recovery after an Injury
Relaxes the Mind and Muscles before riding
Change is possible, and DOES happen. SO exciting, So lovely.  


We are positively affecting the behavior, performance and our relationship together.  Truly these are mind altering changes we are seeing, with so much more efficiency then ever before.
Isn't that EXCITING?
Let's change lives together – One TTouch and One BEMER at a time!
Are you feeling challenged with one or more of your animal's behavior?  I can help you.   Contact me today.  Sandy Rakowitz, or give a call 434-996-3595.  Let's talk about how to create these changes for you and your animals!
Join our community and follow us on Social Media
About Sandy: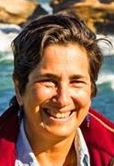 Sandy Rakowitz,  Vibrancy Business Strategy Coach and Founder of Heart Healing Center for People & Animals.  Serving clients across the country and around the globe for close to 30 years.
Sandy offers practical, creative and proven empowering solutions to create calm confidence and courage with animals and people while you develop practical skills, intuition, and your bond together.