I asked my Mom if she wanted to do something different and fun.
She said she can't paint. 
I suggested she think of it as moving the paint brush across paper with colors.
She agreed to give it a try.
Really she said YES to Herself!
Later she said,
'It absorbs you
and takes your mind off everything doesn't it?
I can see why you love it. This is so relaxing.' 
I quoted her mom,
'Everything is easy when you know how.'
We laughed, and nodded in agreement. 
I helped her question a long held belief of
'I can't do this'...

…By reframing what painting means,
and whether or not she actually could do this activity…
…She found out how simple this actually is… 
… And most importantly, she found out what she Could Do
 instead of being convinced she couldn't do this.    
Then, she felt pride in her accomplishment.
She framed her personal masterpiece instead of judging or dismissing it.
She even shared it with a friend – and with you!  
Question what you think is impossible for you.
As Grandma Sylvia said,
"Everything is easy when you know how."
Reframe the Hard Stuff…
Find out What is Possible For You.
Book your Akashic Record Consult now in this October Special,
so you can get a BONUS Before & After Consult.  
There are a Limited number of Akashic Record Consults left in October.
CLICK HERE and get started now.
Talk with you soon,
With love and appreciation,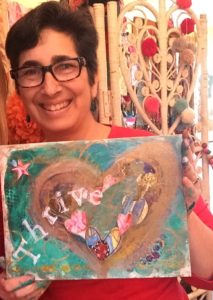 About Sandy Rakowitz:
Sandy Rakowitz is a Certified Akashic Consultant and Healer, Multidimensional Life and Business Coach, and Animal Communicator.  She creates empowering, heart opening, transformational experiences in 1:1 consults and through unique healing adventure programs.