Andre Bocelli and Celine Dion Performing/Transmitting at the 1999 Grammy's….
The Prayer…Still one of my all time favorite songs as a source of inspiration by two extraordinary singers who really embody this song.
"The Prayer" is not just any prayer.
I know this video has been seen by many, but hearing them sing this still gets me in my heart!
Want to know more about Energy Healing, Animal Communication, Tellington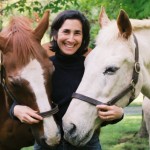 TTouch, Essential Oil uses with people, horses and other animals? Sandy Rakowitz of One Heart Healing Center for People and Animals teaches a monthly No-Cost Teleseminar. Register for the next class!
I invite you to explore our educational offerings. When you go to my site there is much information awaiting you. Here you have free access to listen to previous classes. When you sign up for the One Heart Newsletter you will receive free updates. https://onehearthealingcenter.com
From Sandy Rakowitz, Founder of One Heart Healing Center, Practitioner and Host, Essential Oils 101, an educational forum for holistic health and wellness with people and animals. Mentoring People and Animals for Healthier More Vibrant and Inspired Lives! 434-973-8864