I spent a magical day volunteering at the Mustang Horse Sanctuary called Return To Freedom in Lompoc, CA for my birthday a few years ago. (It's been a Lifelong dream to be with herds of mustangs!)
A young stallion had just arrived.
I stood nearby, transfixed by his remarkable presence, unlike anything I'd ever experienced before.
I took my connection with this magnificent being to the page after returning home. This Cosmic Horse painting emerged.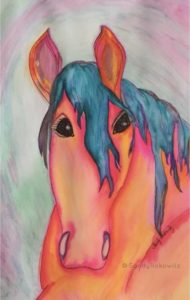 I'd never before been able to draw a horse – though I'd been trying all my life.
They always had come out strangely, inaccurate… I always judged them and didn't feel satisfied….
…Something happened – transformed- awoke- inside me while visiting with these mustangs.
All my years, the Cosmic Horse, the Divine Connection, had been attempting to come through me onto the page. I had unknowingly Stifled it.
Blessed to Awaken, and share. Blessed and touched deeply by these wild ones in Sanctuary.
I discovered my paintings are not just watercolors, not just an animal portrayed in fantasy colors. These are paintings tapping into Divine Connections that have transmissions of energy and healing.  Learn the process I use in the One Heart Journaling Series.
The Cosmic Horse Available now to purchase in print. Click Here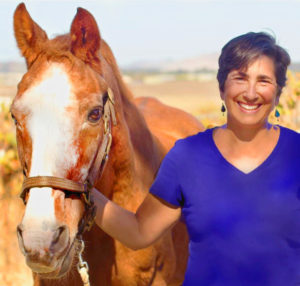 Founder of One Heart Healing Center and One Heart Journaling she's a Creative, Intuitive, Artist, Coach helping women create & live their most delicious, divine, innovative, authentic lives they crave & dream – personally, and professionally.
Sandy helps good people do good things in the world.