Lots going on here at One Heart Healing Center these days in transforming chaos, and cultivating the art of flow….Here are 3 Key events….
1. Join in The Art of Flow Movement
Engaging in your mind's eye 'What You Do Desire' sounds like a simple thing. 
Just think about what you want, and do it. 
Right?
Yet, often, many women have some part of themselves at
odds with another. Their mind says one thing, their heart feels another.
Sound Familiar?
This often translates into getting stuck, overwhelmed
and frozen.  They get out of sync with themselves, 
feel frustrated, and then don't create what they want in life.
It happens right?
Then, they're not feeling good about themself, sometimes 
feeling even downright crappy.  Often women don't even realize 
just how many yucky, not so nice messages they have about themselves 
as they go through the day, but just don't feel great, or positive.
For Valentine's Day last week, I created a special "Art of Flow" class online – 
here's a picture with me from the event…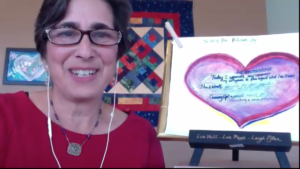 Why create this event – and offer it AFTER Valentine's Day? 
There is an epidemic proportion of people feeling so much pain….
– around Valentine's Day –  and, this is STILL relevent 
even through that day is passed…
There is SO much feeling of so much pain generally, and especially
these days with such troubling events happening.  
There is so much separation, fighting, arguing, deep pain, 
anxiety and fear about many issues.
This practice of "The Art of Flow" creative journaling has 
been a profound practice for me 
personally that I have been using for decades.
 I've really been tapping into this process deeply
through these troubling times. 
This practice has been life changing for me. 
 Ongoing over the years, and recently in shifting from
a not so great feeling inside, from anger, sadness,
anxiety, stuck places…. to move into
wisdom, insight, fun, positive….
Using this process of the Art of FLOW is so immensely pleasurable, 
and brings me so much Joy and Inspiration
– even from deep dark difficult places inside.
This is what I want to share with YOU! 
Ease your sense of self.  Liberate creativity. 
Find Your Flow, even if you are in a stopped or stagnant place,
or even if things just seem not great for wahtever reason, and,
even if you are In The FLow….
Shawn Bostrom wrote this:
"Thank you for the awesome class, Sandy! I thoroughly enjoyed it. 
I just wanted to say that doing this reminded me of the power of affirmations. 
I liked the steps that you gave us… Very pertinent. And creating art… 
…Here I am with three art AAs and rarely draw or create anything, 
so it feels good to do this and remind myself that I really am creative, 
and enjoy the process, & seeing my own creations!  
This is Meaningful to me… Feels very healing. So thank you!"


Engage your mind, with your heart and liberate your creativity, 
even if you don't feel like you have a creative bone in your body…. 
…to cultivate a habit of gentle, compassion…. with yourself.  
Like a muscle, practicing the art of flow needs exercise that 
engages both the mind and heart together… (this is SO simple, yet SO profound!)

The replay is still available from Valentine's Day.  
I invite you to hop on before the replay gets taken down this week.    
People from 6 Countries
and from all over the U.S. 
and Canada registered and joined in this event so far….
Join in the Art of FLow Movement,
Just Hop on the replay today, grab some markers and paper,
and join in as a way to finding, accessing, developing, 
and feeling your POSITIVE personal power. 
CLICK HERE TO hop on TO THE ART OF FLOW
Jill said, 
"I really enjoyed today's event!  Thank you!  
I felt really inspired and even made another picture after getting 
off the call.  I love journaling, but sometimes the writing 
gets burdensome.  I love that this process is creative and fun!"
2) Transforming Chaos 
– Join us Monday Night, February 26 
with Linda Tellington-Jones!
Most of you know of Linda Tellington-Jones, the most amazing heart-felt woman, 
creator of Tellington-TTOUCH®. She's is known world-wide for her powerful,
intuitive TTouch – with horses, dogs, cats, and with All animals, and 
with people too!   Many know her books, she has written over 20 books!
And, at 80 years young, Linda continues to travel the world hopping around
the countries teaching and sharing, and yes, she is still RIDING horses 
– very adeptly I might add! 
 
…and now she is sharing online more and more – she can often 
be found on Facebook Livestreams these days from her home in Hawaii, or
while teaching a training!  She LOVES connecting and sharing! 
Linda is a TRUE and inspiring example of LIVING in the Art of FLOW and Transforming Chaos.  
I am continuously inspired each and every time we speak and 
spend time together.  This is why I keep coming back for more 
with Linda… for decades she has been one of my mentors and teachers.
Recently, Elinor Silverstein (another lovely TTouch & 
Feldenkrais Practitioner) 
and I were talking with Linda about all the chaos, 
pain and uncertainty happening.  
We asked if she would be willing to do a Zoom meeting for
-and with all of us to inspire new ways to navigate and to be transforming chaos.  She replied with an Enthusiastic YES!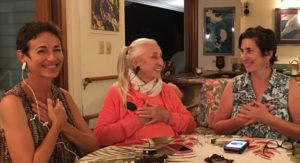 Here's myself with Elinor Silverstein and Linda Tellington-Jones in the picture using Tellington Heart Hugs with Heart Math in our recent TTouch For You Retreat together.
Now, We're bringing something NEW to you,
Join us ONLINE – Monday Feb. 26, 
We're offering your hearts, minds and wounds 
compassion, animals and nature. 
….No arguing, no fighting.
This has been a time of great change and huge pain with
so many challenges for so many around us and in our world.
Linda's words of Intuitive wisdom are so special, deep, healing.
For close to 30 years she has been one of my teachers, 
and for Elinor close to 40 years!  
Just last month we spent a week together at Linda's home delving
into TTouch for YOU and ways to bring this out more and more
in the world…OnLINE…
…to share increasing connections with nature, 
animals, and the magnificent Universes within….
Pictured left is myself, Linda and Elinor enjoying the beauty of nature, ocean and each other in a FaceBook LiveStream….while in Hawaii together…
We gather together next ONline – with YOU 
Join us for this hour together in Transforming Chaos….
Mon, Feb 26
4pm PST/ 5pm MST/ 6pm CST/ 7pm EST
In this online gathering "Transforming Chaos" 
We'll explore the support and gifts we can receive 
from honoring the connection with nature and animals, 
from the practical to the spiritual.
You already know Linda is amazing and brilliant 
!
Just join us – there is no other registration, 
this will be your only notice of this event.  
NOTE – This was announced on Facebook and there is 
IMMENSE interest in this from all over the world.  
SPACE is LIMITED. 
I encourage you to get on live, 
I am not sure the replay will be available afterwards!  
Join in early to make sure you get your spot to attend!!!!
Click here to get the info to Join In on Monday….
EVENT with Linda Tellington-Jones – Transforming Chaos – Zoom Meeting
DATE: Feb 26, 2018 
TIME:  4:00 PM Pacific Time (US and Canada)/ 5pm MST/ 6pm CST/ 7pm EST/ 
3) AND, This has just opened…..
A NEW SPOT Available to Work Together….
ONE new space just came available for 1:1 coaching with me, (Sandy Rakowitz!)

If YOU want to to get going and get yourself unstuck from whatever is blocking you…
You want to Live More in The FLow, cultivate your intuitive wisdom…
….So You CAN Create more of what you DO want,
in your relationships with people, with your animals, 
with your business….
…get support you need, this is hard to do alone!
…reply to this email. 
Tell me briefly what's stuck, what you do want to create, 
and let's see what is the best way to get you going.
I have 1 spot that just opened and I expect this to fill quickly.
MEANWHILE,
Find the Fun, and Thrive!
P.S.
Three uplifting things for you today:
1) Get onto The Art of Flow Replay asap: Click Here
2) Monday Night Transforming Chaos with Linda – CLICK HERE TO JOIN LINDA
3) Coaching to Get Unstuck and Create Your Flow – reply to this email asap

And, know of someone who'd be interested
in all these goodies?
Please share the love and share this newsletter with them so they can
join in too!